Sunrise Strategic Puts Cash on Grass with Vital Farms Investment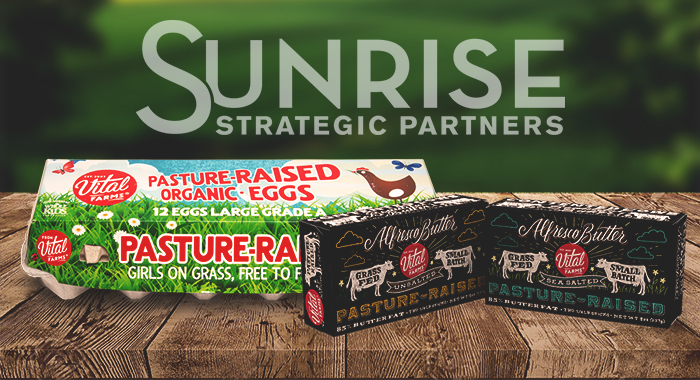 The hens have come home to roost for pasture-raised egg maker Vital Farms, which has announced a new minority investment from Sunrise Strategic Partners. The investment will help the Austin-based egg company scale its operation and grow its distribution.
Terms of the deal were not revealed but Sunrise typically invests $10-$25 million per investment. Vital Farms has previously taken capital but, said Vital Farms CEO and Owner Matt O'Hayer, only considers investment from "organizations that invest in sustainable and humane practices."
Founded in 2007, Vital Farms has a partnership with over 100 family-owned farms in six states who produce eggs for the brand. Previously Vital Farms had used an external facility to clean, sort and pack its eggs but the company will be opening its own processing facility in Springfield, Missouri this fall. Sunrise Strategic Founder and CEO Steve Hughes told NOSH that the new facility will allow the brand to lower costs and pass that savings along to consumers.
Vital plans to get its price point to roughly a $1 premium to conventionally-raised eggs; Hughes says research has shown that customers are willing to pay that increase for a better, more humanely-raised product.
Along with a new pricing model, Vital Farms is also launching new packaging that features "augmented reality" via an app, said O'Hayer.
The app is part of the company's 2017 focus on educating consumers through packaging or marketing about the differences between caged, cage-free, free-range and pasture-raised eggs.
"Cage-free has certainly been in the spotlight given that retailers and restaurant chains are all pledging to go cage-free in the next 3-5 years," O'Hayer told NOSH. "This is a move in the right direction, but as consumers learn that cage-free is not at all that they think it is, and we continue to do our work in educating them about the difference, they will continue to turn to pasture-raised eggs."
That's not to say consumer demand and awareness has not been high. Hughes says Vital Farms' all commodity volume (ACV) is 15 percent, implying there is much room for expansion. O'Hayer told NOSH that in 2016 Vital Farms had the top-selling egg item across the natural channel.
Following consumer demand, Sunrise has made grass-fed and pasture-raised based companies a key focus area of the fund's portfolio. Of the group's seven investments, three — Vital Farms, Maple Hill Creamery, and Teton Waters Ranch — are in companies where pasture-raised or grass-fed products are central to the company. One other, Perky Jerky, has begun to shift its beef supply to grass-fed.
By investing across the space, Hughes believes, any investment in consumer education around grass-fed and pasture-raised products benefits several of Sunrise's portfolio companies.
"Cage-free and free-range are the biggest pieces of marketing BS I've ever seen," Hughes told NOSH. "I'm a marketing guy from way back, what people think cage-free and free-range are is a gimmick. It's no better for the animal, it's no better for the egg."
Having spent time working at White Wave and ConAgra and then founding Boulder Brands, Hughes has been exposed to a variety of consumer trends and marketing strategies. He believes that grass-fed and pasture-raised have the potential to be as big as low-fat or gluten-free.
But, unlike those trends, Hughes noted, it's not necessarily easy to launch a grass-fed or pasture-raised product. "The nice thing about [Maple Hill, Vital Farms or Teton Waters] is that it's hard to follow. The barriers to entry are high," Hughes said. "It's hard for people to follow you quickly. Because they have to do what Matt did for the last ten years at Vital Farms."