With Soulfull Project, Campbell's Invests in Giving Back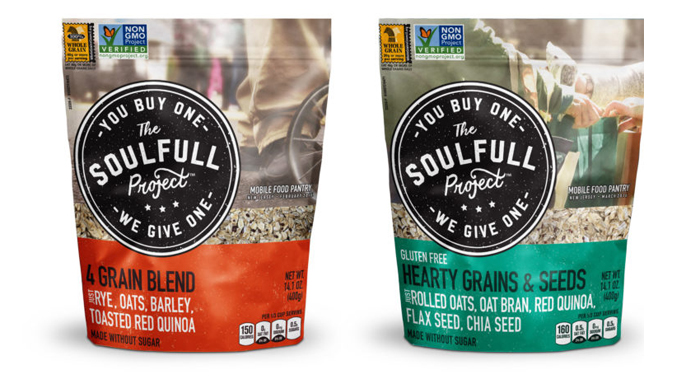 Like so many aspiring brands, The Soulfull Project made its national debut at the Natural Products Expo West show last week. Though the company wore its social mission as a badge of pride, occupying a lower-rent space in the ballroom of the Hilton rather than on the more expensive floor of the Anaheim Convention Center, it did little to flaunt the roots of its founding team. The four-person company is actually a part of a CPG giant: The Campbell Soup Company.
Launched in August 2016, The Soulfull Project is a public benefit corporation that operates as a wholly owned subsidiary of Campbell's.
Megan Shea, Soulfull Project's head of business and operations, told NOSH that while she was doing consumer field research at Campbell's, she and the three co-workers who would eventually comprise the company's founding members met a family struggling to make ends meet. The team pledged to help the family, but, once they were back at work, their own busy lives took over and no assistance was ever offered.
Afterwards, Shea and the group recognized that there should be easier ways to make a difference in their communities simply by going about your day to day life but by making smarter purchases. Working nights and weekends building out a business plan, the team developed a new business concept: for every single-serve cup of Soulful Project hot cereal purchased in stores, the company will donate a serving of multigrain hot cereal to a (family/individual) in need, a take on the buy-one, give-one model made popular by shoe brand TOMS. They pitched the idea to Campbell's, and, luckily, their employer wanted in.
Shea explained that Campbell's has not widely publicized its investment or co-branded the product, because the brand is still relatively small and the founders asked Campbell's to hold off until they had proven out the concept.
"You're going to buy products, your everyday purchases, and it's going to help your community." Shea said of the core principle fueling The Soulfull Project. "We're really seeing that the mission, and the ability to give back with your everyday purchases is something that… translates all up and down the east coast."
The line of hot cereal cups are currently sold in 64 Wegmans stores on the East Coast, including New York, Massachusetts, Pennsylvania, New Jersey, Maryland, and Virginia, with the hope for further expansion in the future. The cups are available in four varieties which retail for $2.79 each, and are complemented by a two-SKU line of multi-serve oats, which retail for $5.99. The brand plans to stick with breakfast for now, but also sees opportunity to move into other use occasions and lines.
Shea explained that the company chose to begin with breakfast because of a recognition that, regardless of income level, many people struggle with getting a healthy, convenient and tasty breakfast that can be prepared quickly. While oats are perhaps not the newest or most disruptive breakfast option, she said the brand is proud to have elevated the humble grain with the addition of quinoa, flax, fruits and nuts.
"These are [ingredients] we're all trying to get into our diets, but made super convenient," Shea noted. "It's taking those ingredients that are so aspirational and fitting them into your regular diet in a really convenient and accessible way."
The new ingredients and company mission may help oatmeal move past being a commoditized product, and instead a item consumers are willing to upgrade their purchase to.
The four-grain blends that are donated to the food banks were developed in conjunction with the Soulfull Project's non-profit partners. As an example, head of marketing Chip Heim, said the team originally proposed donating the individual cups, but the food banks expressed a need for multi-serve items.
Going forward, The Soulfull Project will potentially explore partnering with nonprofits beyond the food sector.
Heim and Shea believe that their brand resonates beyond the twenty-something many brands hope to appeal to. "We say our consumer is millennialally minded, but it's very much not just millennials. I think all of us want the ability to give back in a very easy way," Shea said. "Our belief for Soulfull Project is that you can bring purpose throughout all of your purchases.