Sir Kensington's Answers Consumer Demand With Expanded Fabanaise Line
Last year at Natural Products Expo West, Sir Kensington's launched its mayonnaise-substitute Fabanaise, one of the first products to use aquafaba as an egg alternative. Now the company is at it again, expanding the plant-based eggless mayo's portfolio to include a new version made with 100 percent avocado oil.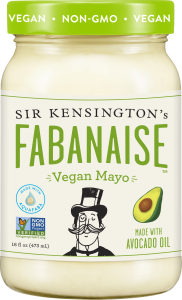 The new product, which will debut at Expo West 2017 in Anaheim next week, continues to use its base of aquafaba — the leftover chickpea water that has been infused with starches and proteins during the cooking process. However, rather than using sunflower oil like the original iteration, it's made with avocado oil and lime.
Sir Kensington isn't new to using avocado oil. The brand launched a version of its traditional egg-based mayonnaise with the ingredient last year. That product quickly became one of the company's best performing items, according to CEO Mark Ramadan.
"Ultimately, people choose Fabanaise for a variety of reasons — they might be vegan, they may have allergies, and more and more we're finding that they simply prefer the flavor," Ramadan told NOSH. "We think avocado oil has been skyrocketing in popularity for great reason: it's delicious, it's known as a 'good fat,' and it's versatile. So we're excited to be the first to bring 100 percent avocado oil eggless mayo to the food community."
This May, the new Fabanaise will launch nationwide in 300 stores, including Whole Foods Market and other natural and specialty stores. The original Fabanaise retails for $5.99 for a 16-ounce jar. This new iteration will retail for $8.99. The company was able to fund this innovation through its $8.5 million investment from Verlinvest in 2015.
"Verlinvest continues to be our primary financial partner and we've been excited to use their investment on innovations like Fabanaise, and a variety of other launches happening this year in retail and foodservice," Ramadan said. "Their focus on the long-term is what's enabled us to invest in fully custom supply chains, like that of Fabanaise, even if it's difficult in the short-term."
While some may view Fabanaise as a niche product, the company is committed to its growth. Ramadan said Fabanaise's brand awareness and sales are growing, in part due to new marketing and foodservice initiatives. Over the past year, quick service salad chains Chop't and Just Salad started using the product, meal kit company Purple Carrot included it in its meal boxes, and restaurants including Superiority Burger in NYC and The Wynn and Encore in Las Vegas began offering it to consumers.
"Customers have been spreading the word, retailers have been coming out of the woodwork to request it, and restaurant chefs have showed a pleasantly surprising pillar of support to a degree we didn't expect," he said. "We were lucky last year to see an enormous surge of interest in aquafaba as an ingredient around the same time as our launch. It grew from a niche community into a national following, and as the only commercial product made from aquafaba, we've benefited from the growing awareness."