Osso Good Issues Voluntary Recall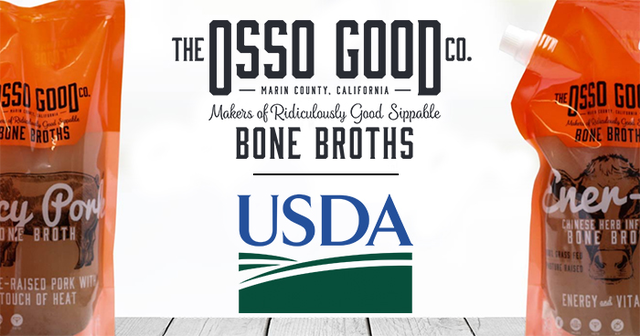 Yesterday craft bone-broth company Osso Good issued a voluntary recall for three of its products that were shipped to retailers. The 1,210 pounds of beef and pork bone broth were recalled because they "were produced without the benefit of federal inspection," the U.S. Department of Agriculture's (USDA) Food Safety and Inspection Service (FSIS) wrote in a recall notice posted online.
The issue was discovered when a consumer submitted a complaint to the USDA. Osso Co-Founder and CFO Toran Hilmer told NOSH that the complaint was submitted as an "anonymous tip."
"We can confirm that we have received no notices or complaints directly from our customers on this issue," Hilmer said. "We have never had a customer report a health issue that was caused by one of our products to us throughout our company's existence."
The recalled products were drop-shipped to retailers in Arizona, California, Colorado, New York and Washington, which Hilmer says represent less than 1 percent of the company's sales. Issues arose because Osso's products had not been properly inspected by the FDA for sale into that channel, Hilmer said. The vast majority of Osso's sales are direct to consumer. Because Osso produces broth fresh weekly, the recall will not impact product availability, he said.
Osso recently closed a round of investment as the first portfolio addition to Venice Brands. While terms of the deal were not disclosed, a recent Securities and Exchange filing indicated Osso had closed $600 thousand of a $1.2 million dollar round. Osso could not confirm if the round was still open at the time of the recall.
In the past quarter, Hilmer noted, Osso brought on an experienced member to the company's quality assurance team as well as a new board member with "deep experience in food safety regulations and testing procedures." Both of these additions, Hilmer said, will help the company avoid future problems.
"We are a small yet rapidly-growing company whose mission is to provide the highest quality bone broth with the highest quality ingredients to our customers," Hilmer told NOSH. "Going forward, we plan to continue to build out our QA team and tracking capabilities so that we can ensure that our product goes through the appropriate protocols."