NOSH Live Winter 2017 Highlight Reel: Afternoon Edition
Some turn to coffee for an afternoon pick me up, but NOSH Live attendees re-energized with inspiring insights and advice during last week's event.
The Thursday conference at the Loews Beach Hotel in Santa Monica, California, had a morning packed with educational sessions from a star-studded set of speakers — but the thought leadership didn't stop there.
Presentations continued throughout the day on topics ranging from consumer insights and shopping trends to lessons on how to build a lifestyle-focused brand. Companies also competed to win the third annual NOSH Live Pitch Slam. After the show, attendees hit Venice's The Rose Room for an after party sponsored by Forcebrands.
Here are a few highlights from the afternoon sessions at NOSH Live Winter 2017.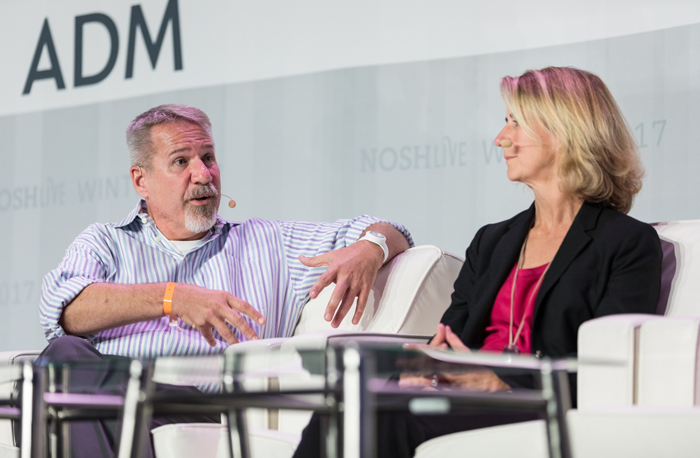 Brand Trends, Shopper Trends: What the Numbers Tell Us
Consumer behavior is changing rapidly, affecting how brands and retail channels operate. Kathryn Peters, EVP of retailer services at SPINS, and Brian Reed, principal of market structure at IRI, discussed how data providers have started to look at categories beyond the term's traditional definition.
"Today, those lines are blurring, so [we] need to think about how we are talking about products from a marketing perspective so it makes people think about [them] broader than categories," Reed said.
Peters added that retailers themselves are being "categorized," too. Natural and small independent stores are being thought of as incubators for innovative brands, whereas big box retailers are thought of being where mainstreamed products are sold.
One way to get consumers — especially millennials — to think past these constraints, Reed said, is through personalized messaging that shows the value of the product to a person's lifestyle regardless of where that product is sold. When brands "find their tribe," they better know their consumers and are able to better innovate to stay relevant.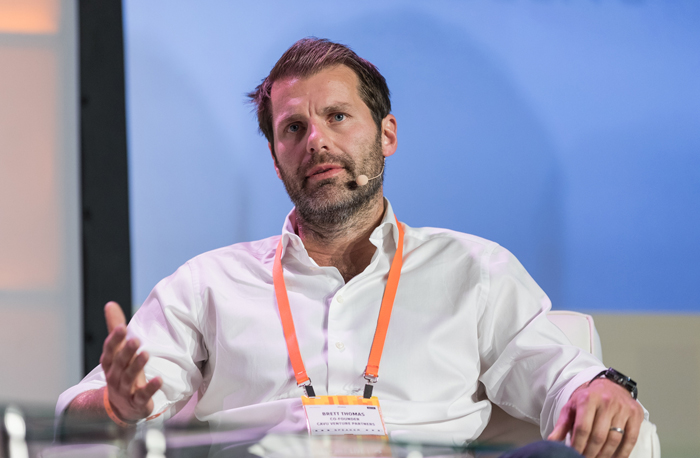 Investor Profile 2: Big Bets with CAVU
Brett Thomas, cofounder of CAVU Venture Partners — the investment firm that recently helped back industry darlings such as Hippeas, Bulletproof, One Bar and Vital Proteins — shared how the firm decided which companies to invest in and what entrepreneurs can do to make their businesses more appealing.
Thomas specifically noted the brand's recent $19 million investment into the "collagen-boosting nutrition" brand, noting that he wanted to invest in Vital Proteins in order to "make collagen cool."
"We had to make a judgement call, and we decided that collagen has the potential to be the next whey protein in terms of size and scale," Thomas said.
When it came to advice, Thomas said entrepreneurs can put themselves in a better position for success if they are honest about their own skill sets.
"One mistake some entrepreneurs make is [not knowing their] strengths and weaknesses," he said, advising entrepreneurs to put aside their egos and surround themselves with people who are experts in the team's weak areas.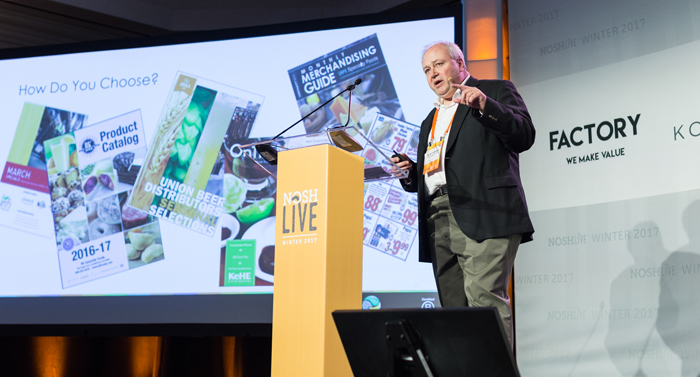 Distribution in Changing Times
With 35 years in the industry, Michael Renkosiak, the director of the regional promotions team at KeHE Distributors, is no stranger to grocery store aisles and what it takes to keep them stocked.
During his presentation, Renkosiak advised attendees on how snack companies can best utilize the offerings and promotions of their distributor, whether that distributor has a regional or national footprint. How do you choose? By having an understanding of what kind of support you are expecting, Renkosiak said. Once a distributor is chosen, he added, it's about constantly communicating with your customers and associates so you understand your distributors planning schedule and you can "help your distributor help you."
Distributors can help by collaborating on program schedules, by becoming an unofficial sales representative, and by acting as a retail consultant to understand the differing appeals of each channel.
"Those are definitely the whens of where to use that capital and really use your distributor or broker as your partner," he said.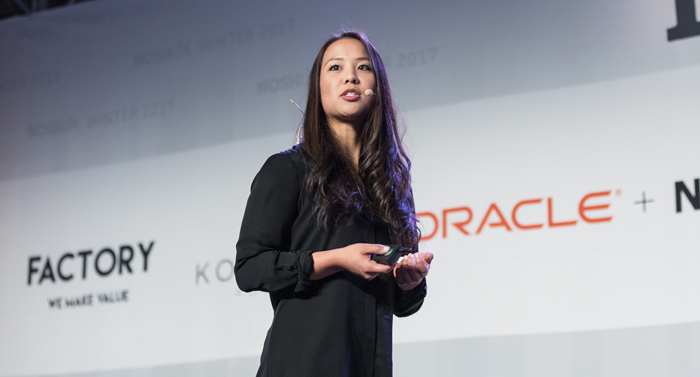 Investor Profile 3: Investing by the Numbers
Many investors base their decisions on their gut feelings and personal relationships. But according to Alison Ryu, managing director of CircleUp, that may not be the best way to determine where to invest.
"Heuristics and bias aren't just unfair, they lead to less informed investment decisions," Ryu said during her presentation.
CircleUp uses a data-driven approach to investing via a system called Heelio. Using this method, the company invests at a faster pace and expects to make 18 investments in its new fund within Year One.
Helio analyzes 1.2 million companies and drives data points, algorithms, and insights to predict future business success. This is how the company was able to identify premium pork rind maker 4505 Chicharrones as a worthwhile brand to invest in, Ryu told attendees.
"Helio helped identify that 4505 grew its door count 150 percent in its number of doors in the last six month period," she said. "That coupled with brand score in top of meat snack category were two good factors that resulted in us ultimately investing in the brand."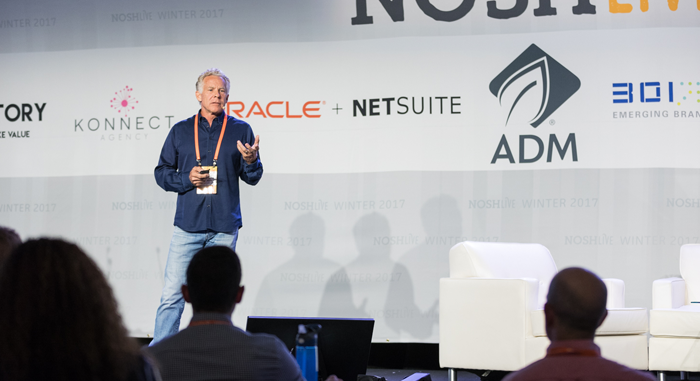 From Movement to Brand: Lifestyle Nutrition
Mark Sisson brought NOSH Live full circle with his presentation on how his passion and purpose for living a healthy lifestyle helped him create booming paleo-inspired brand, Primal Kitchen.
While Primal Kitchen may have less than three years under its belt, Sisson has been building his personal brand for more than a decade as a nutrition and fitness expert.
"This is a journey with the best of intentions that is molded by twists and turns and doors opening and closing, and then ultimately passion finds you," Sisson said. "So I tell my kids that I didn't know what I wanted to be until I was 47, and then it changed again at 60."
By the time Sisson realized his desire to enter the CPG space, he said he already had a dedicated community of hundreds of thousands of people who were willing to not only consume his products, but be brand advocates. This has been crucial to Sisson's success and is the reason why he believes honing relationships is one of the best ways an entrepreneur can spend their time.
"I really believe that 100 well placed bloggers and influencers is worth an email list of 300,000 people," Sisson said.