NatureBox Grows in Retail, Kroger Doubles I Heart Keenwah's Reach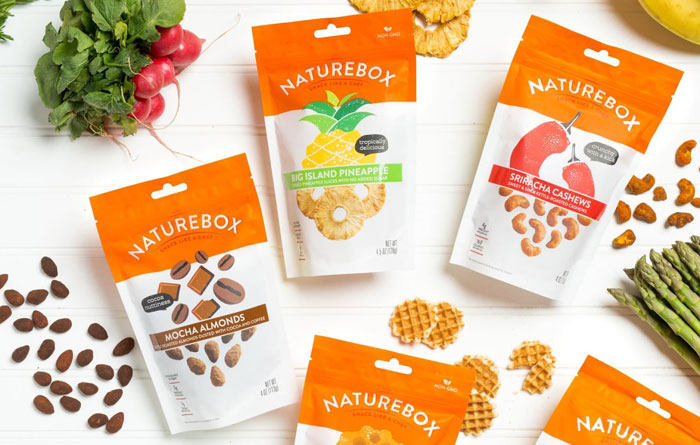 With classes back in session, food brands are hoping consumers' baskets will be filled with more than just school supplies. To better their odds, companies are increasing their distribution to reach as many mouths as possible.
From an online snack box market's move into physical stores, to a GMO-free cookie brand launching in club, here's the latest in packaged food distribution news.
Naturebox Goes Offline with Safeway and Sprouts
Online retailer NatureBox Inc is bringing some of its top snack SKU's to store shelves. Roughly a dozen of the company's products, including dried pineapple and sriracha cashews, became available in 220 Northern California Safeway stores and hundreds of Sprouts locations this month.
The move from online to physical retail distribution comes after a successful entrance into retail last year when the brand launched in select Targets nationwide. . CEO and founder Gautam Gupta told NOSH this is just the start of the company's planned rollout into brick and mortar retailers.
"We look at the online and offline world as very complimentary," he said. "[What] we've done is figure out ways to leverage each of these channels to feed the other. So one example that is with our retail partners, we are able to send consumers to their stores through social media and coupons in our boxes. That is something that is also exciting for our retail partners targeting this millennial demographic."
Gupta added that NatureBox's online sales give the brand and edge over their competitors. The company uses the real-time, consumer data it collects about ecommerce shoppers to inform product assortment and innovation in retail.
Launching in 2012, NatureBox started as a subscription service before evolving into a membership model as of last year. Since then, the company has tripled its membership base. At any given time, the company's online store features about 100 products with three to five new products launching each month.
FancyPants Brings Cookies to Club
Non-GMO specialty cookie manufacturer FancyPants is expanding its presence in club stores. The company's thin, chocolate chip crunch cookies will launch in select Costco and nationwide Sam's Club stores, adding 450 more locations to its previous 2,500-store count.
Maura Duggan, president and CEO of FancyPants, told NOSH that the team previously focused on selling into more natural supermarket chains, but due to improvements in both their supply chain and manufacturing efficiencies, the company is able to address the increased demand and ramp up in club.
"We have always believed that cookies could not only be made with quality ingredients, like organic butter and eggs, but also taste great and ring in at an affordable cost to customers," Duggan told NOSH in an email. "We are beyond thrilled to have reached a point where our brand aligns with what club store customers are looking for: high-quality cookies at a value driven price."
Fancypants is also launching a limited-edition seasonal flavor, Apple Crisp, available exclusively in the fresh bakery department of all BJ's Wholesale Club locations this fall.
Petite Pot Grows Distribution, Shrinks Packaging
French-inspired custard maker Petite Pot is coming to the Big Apple with its launch in select New York Whole Foods Markets. This win brings the brand's store count to 750 locations across the country.
The additions come as Petit Pot launches its new packaging. While the brand remains the same, the line puddings will now be sold in smaller sizes at a lower price point.
"I think a lot of Americans are recognizing that having good fat is not that terrible for you. It can be good for you," founder Maxime Pouvreau told NOSH. "It's all about portion size, which is why we are reducing our portion sizes."
The new 3.5 ounce glass packaging has lost half an ounce and will retail for $2.99. More importantly, each serving now clocks in at under 300 calories, according to the brand. New packaging hits stores this month.
Kroger Partnership Doubles I Heart Keenwah's Toasted Line Distribution
Quinoa-focused snack and grain brand, I Heart Keenwah announced last month that it doubled the distribution of its toasted quinoa line with the addition of 900 Kroger stores to its retailer list.
"We're ecstatic to be partnering with Kroger to bring Toasted Quinoa to a national audience," I Heart Keenwah Co-Founder Ravi Jolly said in a statement. "We're excited to be partnering with such a large retailer to support our Fair Trade sourcing of quinoa from Bolivian small-holder farmers."
Since launching the toasted quinoa line earlier this year, the company has also gained distribution in Safeway, Roche Brothers, and Kings Market stores in the Northeast, as well as Whole Foods Markets in the Midwest, and Albertsons and Raley's in the West. The company's portfolio includes puffs, clusters and hot cereal in addition to the line of ready-to-cook, toasted quinoa.
Abby's Brings Nut Butter South
Abby's Better Nut Butter is bringing its product line beyond the east coast and heading south with the addition of Whole Foods Market South region. This adds to the brand's previous 280 retail store-count, which includes retailers like Wegmans and Earth Fare.
Abby's Better Nut Butter is different for more than its use of innovative ingredients. The company was founded by then 15-year old Abby Kircher.
Kircher said she began the company because she was struggling with her weight, and while she wanted to eat almond butter, she didn't like the quality of her options. To create a more interesting flavor profile, Kircher combined various nuts, dates, strawberries and coconut.