Lunchtime Gets Cleaned Up for Back-to-School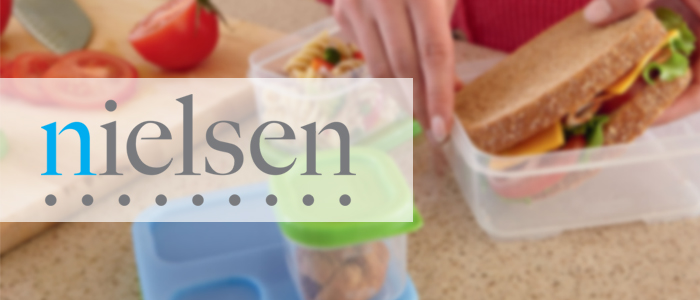 It's not just kids who are heading back to classes this week. With new demands from consumers for cleaner, natural lunchbox items, retailers and manufacturers are hitting the books to learn about how best to meet these needs with their offerings.
In recent studies, research firm Nielsen looked at lunchtime and snacking trends to find what shoppers are purchasing for their family's lunchboxes and why. Nielsen found that along with healthier options, products with natural and organic claims are posting double digit growth. But still, only 64 percent of Americans feel confident in saying that their children have a healthy lunch, making the quest to find items that meet these desires undeniable.
"Ultimately, what we wanted to do was understand the back-to-school season from a health and wellness standpoint so we could provide both manufacturers and retailers a view into thinking about assortment or promotional opportunities across the entire store, both fresh and center store," Andrew Mandzy, director of strategic insights for Nielsen's health and wellness business, told NOSH.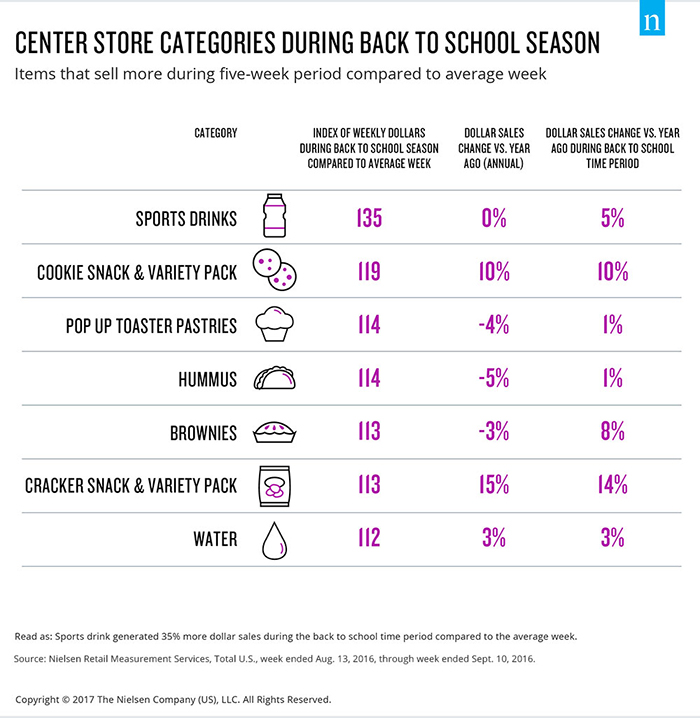 Even ahead of health, convenience remained king for parents, as evidenced by some of the highest selling items in the weeks before school starts compared to those from an average week. Cookie snack and variety packs, pop-up toaster pastries, and cracker snacks and variety packs were among the top items sold from the center store, with both types of variety packs seeing 10 to 14 percent more sales compared to this time last year.
However, Mandzy said regardless of product type, parents are seeking cleaner, healthier options, even if it doesn't seem like it at first glance.
"Even if you look at indulgent categories… we're seeing a shift towards cleaner products. Which means at the very least, don't contain artificial ingredients. Even in salty snacks and candy, those types of attributes are outpacing the total category," Mandzy noted. "People are still indulging, but if you peel back layers within the category, what's driving growth is not just the pure, indulgent version in the category, but the cleaner version that maybe thinks about things like ingredients."
The report also noted that what's most important to parents, like most shoppers, is not what's in an item, but more so what's been taken out. For example, parents are more concerned about an item not having artificial ingredients rather than having extra "bonus" attributes such as antioxidants.
Sports drinks were a representative category. Nielsen found that when looking at attributes of the sports drinks sold during back-to-school season versus an average week, 'free-from artificial sweeteners' and 'free from artificial colors' indexed higher than sports drinks advertising that they contained 'all-natural ingredients.'
Moving into sales data, Nielsen found that consumers spent 37 percent more on sports drinks that were free of artificial sweeteners, as well as 29 percent more on sports drinks low in sodium and 25 percent more on drinks free from artificial colors.
Even the turkey and cheese sandwich isn't spared from new trends. Within deli lunch meats sliced to order, organic items are seeing 13.8 percent growth in dollars and 18.5 percent growth in volume. While in pre-packaged lunch meat, natural is a "key driver" with 13.9 percent dollar growth and 19.8 percent volume growth.
Its because of this growth both in volume and dollars that Mandzy believes more and more companies, both large and small, will have to embrace having natural or cleaner options.
"In the coming years," Mandzy said, "this will just be the cost of doing business and table stakes within the industry."