JMK Makes First Food Investment, in Miyoko's Kitchen
Last week Miyoko's Kitchen, a producer of non-dairy, plant-based, vegan cultured cheeses, announced it closed a Series B round of investment. The round was lead by JMK Consumer Growth Partners, with Obvious Ventures, Stray Dog Capital, and the CircleUp Growth Fund also taking part.
The round closed at $6 million, according to CircleUp.
JMK Co-Founder John Kenney told NOSH that after two rounds of fundraising, founder Miyoko Schinner remains "the most significant shareholder both quantitatively and quantitatively" in the company. Former CEO and CFO Lisa Shanower, who helped launch the brand, departed the company in 2015.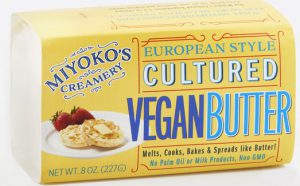 Miyoko's was founded by Schinner, a vegan chef, in 2014. Although Schinner had not studied cheesemaking, she was able to take the basic principles of the skill and translate them to working with plant-based milks. In the past two years, the brand has grown to be sold in 2,000 retailers.
Schinner was out of the country when the investment news broke and unavailable to comment for this story. In a press release, Schinner noted that she was drawn to JMK as an investment partner because "We weren't just looking for money, we wanted a shared vision for the future and a common goal. [JMK] understand[s] and appreciate my big picture vision for the company and long-term mission."
In the past year, Miyoko's has expanded beyond cheese. It's latest product, a cultured "veganbutter," has become a "hero product," said Kenney. Retailer Trader Joe's, known for carrying mostly its own, private label products, has even brought the Miyoko's branded item to store shelves.
"Miyoko is innovating in a space that's very outdated and she's creating a category…there hasn't been a lot of innovation in non-dairy, vegan cheeses since the seventies and eighties," noted JMK co-founder Sarah Woelfel. "If you actually try the product against a lot of the alternative options out there, you'll definitely notice superior quality."
The investment marks JMK's first in food and beverage. Founded two and a half years ago, the group has previously invested in personal care products Babo Botanicals and Supergoop and looks for companies with revenues of at least $2 million.
"Miyoko's was the first food business that really hit all the things we're seeking as to growth rate, strategy, position in market and all the other attributes we seek," Kenney told NOSH.
According to an SEC filing, Miyoko's last raised a series A round of $825,000 in 2014. Stray Dog Capital and Obvious ventures also took part in the earlier investment. The capital from the series B will go, in part, towards the completion of new manufacturing facility in Petaluma, California.