Halo Top Diversifies with Scoop Shops & New Products
Fast growing, high-protein, low-calorie ice cream producer Halo Top is popping out of pints and into the mall with the launch of a new scoop shop in Los Angeles, California. With its cult following, the brand hopes to provide its legion of fans a more experiential way to "indulge" with ice cream.
The store will open next week on November 15 at the Westfield Topanga mall. Future scoop shop locations are in the planning stages and will be announced in the future.
Along with the new location, Halo Top will also launch several new products, which will be available in stores only. Most notably, the new offerings include low-calorie soft serve — available in vanilla bean, chocolate, strawberry, birthday cake, peanut butter cup and pistachio. A small serving of soft serve will have roughly 90 calories with 5-6 grams of protein per 4 oz. serving while a large will have 270 calories with almost 20 grams of protein, the company said. An entire pint of Halo Top ice cream ranges from 240-360 calories with roughly 20 grams of protein.
Halo Top also plans to sell ice cream sandwiches made with vegan, high-protein cookies and ice cream waffle-cone "tacos" — both of which mark the pint producer's first novelty products. A company spokesperson told NOSH the novelties will remain a scoop shop exclusive and not move into traditional retail. While the brand currently does not have plans to sell its pints in the shop, that may also be reevaluated in the future.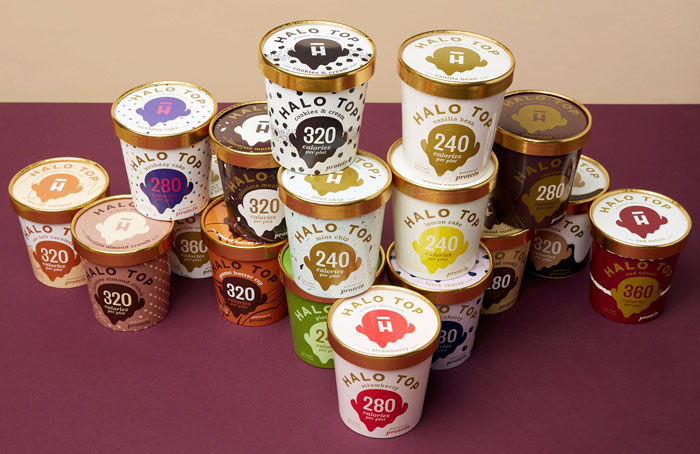 The inspiration for the scoop shop comes, in part, from founder and CEO Justin Woolverton's own dessert cravings, according to the company.
"The only time I 'cheat' on Halo Top is when I get frozen yogurt loaded with toppings," Woolverton said. "Our goal with the Scoop Shop is to let our fans add all the toppings they could possibly want to a soft serve version of Halo Top."
Those toppings will include items like marshmallow sauce, mango and coconut.
To support the new store, Halo Top will also launch an app-supported loyalty program for consumers. For now, the app will be limited to in-shop purchases.
Halo Top, which launched in 2012, has quickly developed a passionate fan base who, in the brand's early days, quickly cleaned out retailers as fast as the product landed on shelves. Although the fervor has died down a bit, the brand claims that according to IRI data, it is the best-selling ice cream brand in the US, surpassing ice cream kings Ben & Jerry's and Haagen-Daaz. As of today, the brand also has close to 600 thousand followers on social media platform Instagram, many of which are sure to share their own scoop shop shots.