Farmhouse Culture Announces 301 Investment & RTD Line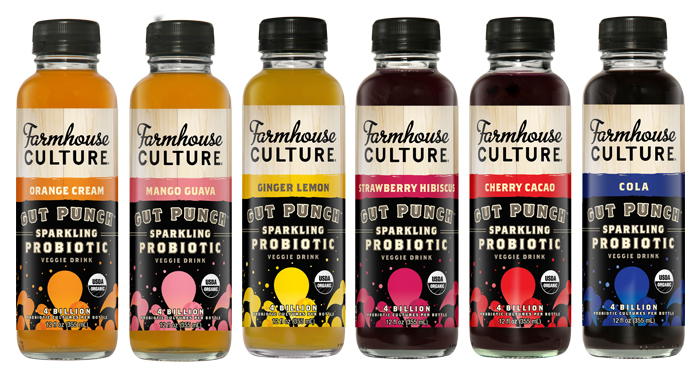 Walk into any retailer and there's a plethora of both national and regional brands promoting their product's gut health benefits, from yogurt to kombucha to fermented vegetables. It's enough to give any brand's innovation team a stomach ache trying to decide which probiotic boosted products to launch.
To surge ahead of the competition and grow its presence on shelves, gut health and probiotic-focused brand Farmhouse Culture announced Wednesday both a Series D round of funding and the rollout of a new line of beverages.
The investment was led by General Mill's venture arm, 301 Inc. Other investors participated in the $6.5 million dollar round, but will not be disclosed until after the deal has officially closed. Previous investors White Road Investments and Renewal Funds also re-invested in the brand as part of a separate round.
While Farmhouse most recently closed another round of funding in summer 2016, the brand decided to look for more capital to grow the company and increase the pace at which it scales. Farmhouse CEO John Tucker told NOSH that the assistance of 301 goes beyond a fiscal benefit.
"The world class resources that they bring to the table that will enable us to accelerate our innovation and our business in way that will allow us to bring more probiotic-rich foods to more consumers in a shorter period of time than we could ever possibly imagine doing through any other vehicle," Tucker said.
More specifically, the funds will go towards sales and marketing efforts, refining the company's operations and supply chain, as well as the brand's innovation pipeline, according to Tucker. It's the opportunities surrounding new product development that Tucker and John Haugen, 301's Managing Partner, said they are most excited about. The duo see a window to expand the brand's reach beyond traditionally fermented foods.
"We see a number of opportunities to bring a broader range of products," Tucker noted, "to consumers who are looking for more probiotics but may not be necessarily looking for, what I'll call, 'polarizing' flavors that are associated with a sauerkraut."
To this extent, at last year's Natural Products Expo East, Farmhouse introduced a line of chips that contained probiotics and fermented ingredients. This year at Expo West, the brand will launch a new ready-to-drink beverage called "Gut Punch" made with fermented vegetables. The single-serve,12 -ouncebottles will retail for $3.79 and rollout to retailers in Spring 2017.
Available in six flavors, ranging from Cola to Orange Cream, Tucker noted that Gut Punch is more refreshing and has a sweeter profile then the brand's Gut Shot line made from cold-pressed fermented vegetables
"We're charged at 301 Inc on betting where the consumer is going. You look at the growth in probiotics, half of consumers are looking to add [them] to their diets," Haugen told NOSH. "This is a brand that's in the right place, at the right time, with great vision, and I think the trajectory and growth curve of the brand really mirrors that of consumers [desire] to add probiotic rich foods to their diets."