Why DiCaprio and Strand Hopped to Invest in Hippeas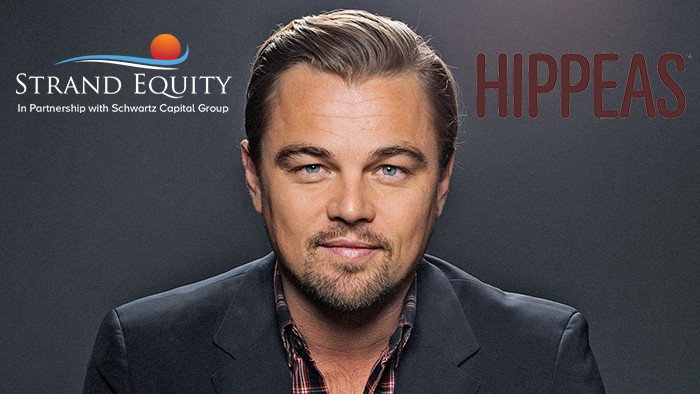 At the 2017 Sweets and Snacks Expo this week in Chicago, Illinois legume-based snacking brand HIPPEAS booth was pulsing with excitement – both due to the brand's popularity in retail, but also thanks to the announcement that Strand Equity Partners and Academy Award-winning actor Leonardo DiCaprio have joined as investors.
Terms of the deal were not disclosed.
The Green Park Brands-owned company launched in the U.S. market in Spring 2016, and is already sold in over 22,000 points of distribution, including Starbucks locations nationwide. Livio Bisterzo, Green Park Brands CEO and Founder, told NOSH that the new funds will mainly be used for working capital to support its retail accounts. This will include expanding full-time staff beyond its current 34 employees, as well as marketing efforts.
"HIPPEAS is a high-growth and differentiated brand that has been created in a short amount of time," said Seth Rodsky, Managing Partner of Strand Equity Partners, in a statement. "The unprecedented traction the brand has achieved is a testament to its unique offering that combines nutrition with a creative flavor profile. We look forward to partnering with Livio, and the talented management team at HIPPEAS, to lead the next evolution of 'better for you' snacking." Strand has also invested in pulse-based pasta brand Banza and snack brand PopChips.
DiCaprio, who recently invested in sustainable seafood brand Love in the Wild, is also an outspoken environmental activist. Bisterzo said the idea of a plant-based snack resonated with the actor.
Bisterzo said Hippeas wasn't seeking capital but the company felt the offer from Strand and DiCaprio was unique. "This partnership was opportunistic, it materialized very quickly," he told NOSH. "For us it was as much about people and values and alignment and having met [Strand founder Seth Rodsky], we felt really comfortable with him being involved in our business."
The Santa Monica, California-based company also recently added Joe Serventi, who invested in the brand earlier this year, as General Manager. Bisterzo said Serventi brings a rich understanding of the snack business, particularly impulse driven purchases, from his experiences as the EVP of Corporate Development at BarkTHINS and VP of Corporate Development at Pirate Brands, makers of fellow puff-brand Pirate's Booty.
Hippeas originally launched in the United Kingdom at the start of 2016. Bisterzo said that the overseas sales currently account for 25 to 28 percent of the business and that response has been overwhelmingly enthusiastic on both continents.
Bisterzo attributes this success to the winning combination of product innovation and a solid brand foundation.
"This is not my first rodeo in natural foods. I really wanted to build a brand that made sense and that had that big brand feel from the get go," Bisterzo said. "I think in today's fast growing, natural food industry, consumers want more than just a product innovation. If you can add real brand story to it, and real emotionality, that's how it works… That's what happened with Hippeas, the brand story was as strong and relevant as the product innovation."
Going forward, Bisterzo says there's opportunity for the brand to use its platform to expand into other pulse-based snacking categories. But he plans to focus on the puffs for at least the rest of 2017.
This year will also see the line move into club channels with Costco as well as increase doors in natural and conventional retailers. Bisterzo says he also plans to continue to build his field marketing team to encourage sampling among consumers.
"With the brand we have, we're in a really good place," Bisterzo said. "We just have to put our head down and execute."