Deal Analysis: Campbell Soup, Hershey, and the "Leaky Bucket"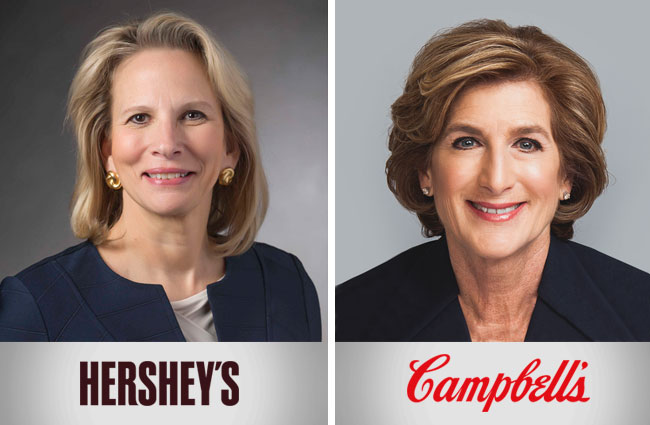 Hot tip for the end-of-the year prediction season accompanying the waning days of 2017: ignore any fortune-teller who didn't mention "consolidation" when compiling their list at the end of last year.
That's because the food world was rocked Monday by two deals that carried a combined $6.5 billion in value, both designed to allow companies with declining core business areas rearrange their portfolios around growing premium snack lines.
In one deal, pulling together a $4 billion snacking portfolio that will combine Cape Cod, Late July, and Kettle Brand chips and Snyder's Pretzels with Pepperidge Farm goldfish and cookies, Campbell's Soup Co. purchased salty snack maker and distributor Snyder's-Lance for $4.87 billion. In the other, erstwhile chocolate bar maker The Hershey Company continued its work to develop a snacking portfolio of its own, buying SkinnyPop parent company Amplify Snack Brands for $1.6 billion — around $920 million in cash, as well as $600 million in debt assumption and another $73 million in fees.
The deals — along with the aftershocks of rumors that Nestle was preparing to bid on natural products conglomerate Hain Celestial — built a curious crescendo onto what had already been an end-of-year deal check-writing symphony. It's a song cycle that includes the recent sales of privately-held brands RXBar to Kellogg for $600 million and Angie's Artisan Treats to Conagra for $250 million. KIND also sold a rumored billion-dollar stake to Hershey competitor Mars at a $4 billion valuation. Other key food deals over the past year included Conagra's pickup of Thanasi Foods, which makes Duke's meat snacks, Unilever's purchase of Sir Kensington's Ketchup, and Nestle which has broadened its coffee exposure, buying ownership stakes in Blue Bottle, Chameleon Cold Brew and Sweet Earth Foods.
There's a difference with Monday's deals, though: they involved the purchase of multi-brand public companies; they weren't just one hot brand that had to be taken off the table in a bidding war. They were big fish eating smaller fish to improve shareholder value, and the price tags reflected that. To observers, it was yet another sign that rapid consolidation in so-called "big food" is being forced by pressure from both investors and emerging brands.
"I'm not surprised by any of this anymore," noted Zoe Feldman, a venture capitalist in the food and beverage sector and a former PepsiCo executive. "There will be no independents in three years. It will be six multinational corporations."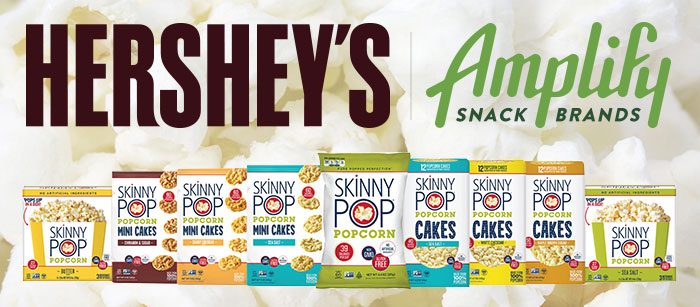 Snacking at the Center
In calls with investors and analysts, both companies pointed to the heat in the snacking category as the thesis behind the acquisitions, which were cast in terms of creating growth opportunities beyond their core products. In March, Michele Buck, the CEO of Hershey, told investors that snacking was a $1 trillion global opportunity; Denise Morrison, the CEO of Campbell's, is a bit more sanguine — she called U.S. snacking an $89 billion market annually, and her company will have nearly $5 billion of that when it finishes the deal. Regardless, with shares down 18 percent this year, Morrison is leaning into the snack business, saying the Snyder's-Lance pickup was radically "shifting our center of gravity."
"It's all in pursuit of growth," noted Mike Burgmaier, an investment banker and managing director at Whipstitch Capital. "It's not like Campbell's isn't selling any soup, but if you're trying to sell shareholder value, it's hard to put it on a category that's declining."
Nevertheless, Morrison has telegraphed the transformation for years. By adding Bolthouse and Garden Fresh Gourmet, it put roots into the supermarket perimeter via a Campbell Fresh (C-Fresh) division (despite innovation and presence from Bolthouse, C-Fresh results have been mixed at best to date). But Morrison also created a Global Biscuit and Snack Division, which was responsible for about a third of the company's sales, and was focused on center store.
So from one lens, the addition of the well-positioned Snyder's-Lance brands — including top or second-place performers in the pretzel, deli snack, sandwich cracker, natural or organic tortilla chip, and microwave popcorn categories — represents a company doubling down on the growth path it set out for itself: It created a snack division, and now it's added to it, just as it burnished C-Fresh with Garden Fresh Gourmet and bought Pacific Foods for its soup division.
Meanwhile, Hershey is also seeking to move beyond chocolate: from the launching pad of the Krave acquisition in late 2015 the company made it known that it was committed to adding $2 billion in revenue through a snacking portfolio. Since then, despite intent, it's been a slow build: Krave's sales in grocery, drug, some warehouse and natural channels were about $60 million, in the 12 months ending Sept. 3 according to recent IRI data. Hershey has also paid nearly $300 million for snacking chocolate brand barkTHINS, and even tried to innovate snacks internally, starting a half-popped popcorn brand of its own, Popwell, that hasn't made much noise.
Earlier this year, Hershey announced the intent to shed nearly 2,700 workers; before that, the company was considered a takeover target by Mondelez. So there's a need to grow its way out of trouble, and certainly, SkinnyPop, Amplify's foundational popcorn brand, is a fast grower in a category that has been incredibly crowded. But was it a good deal?
Hershey bought Amplify at a higher multiple than ConAgra paid for SkinnyPop competitor Angie's, which has about 40 percent of the sales but cost ConAgra about $1.3 billion less. That may be unfair, in that Hershey purchased about $600 million in debt alongside the $900 million in cash it laid out for SkinnyPop — but from one point of view, even on a dollar-for-dollar comparison, Hershey's still paid a big premium to land a brand that's not even the category leader (that's Smartfood), as well as a UK-based potato chip brand, Tyrrell's, that has shallow U.S. penetration.
Wayne Wu, a managing director at private equity firm VMG, however, pointed out that the deal also lets Hershey play in other snack areas. Overshadowed brands in the Amplify portfolio like Oatmega bars, Paqui tortilla chips, and Tyrrells will give the Hershey snack portfolio "a number of different form factors and occasions to get into" via Amplify. With their new parent company's scale and organization, he said, "I think there's an opportunity for growth there."
But here's another comparison that's indicative of where the market is heading: a little over three years ago, General Mills bought the entire Annie's platform — cheddar bunnies, mac and cheese, and all — for $820 million. The success there has other big companies afraid of missing out, notes Ross Colbert, the beverage global sector head at Rabobank.
"There's a certain amount of peer pressure at work," Colbert said. "These valuations are getting pushed up and there's only a few guys who can play that game."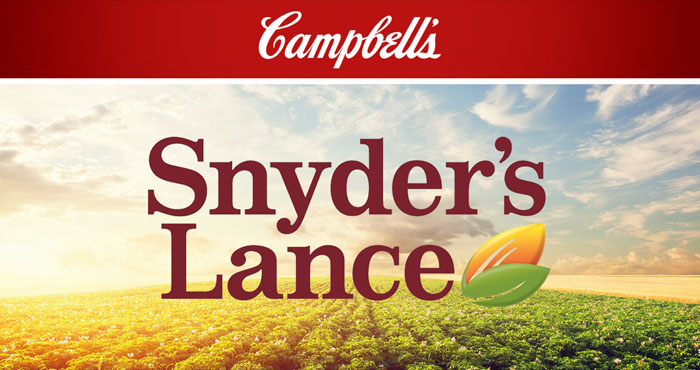 Defending the Core
Meanwhile, just how much of a sea change do even huge deals like this represent for the companies that write the checks? While bringing snacks on board might broaden their platforms, the deals don't mean that Campbell is getting out of soup or that Hershey won't be blowing Kisses.
That's because older companies don't just cast aside their core products to create growth — they adapt them for as long as possible, according to one investment-focused executive at a large CPG. The executive pointed out that Coke and Pepsi still innovate with their core sodas, there are still Chocolate Peanut Butter Cheerios and Pumpkin Spice Oreos, and there will be regardless of other diversification initiatives.
Both Campbell and Hershey are still searching for internal innovation: in addition to the Pacific deal, Campbell had earlier launched Well Yes!, a healthier, canned soup brand, as well as Campbell's Go, a soup in a bag focused on millennials. Hershey, meanwhile, has indicated it will be greatly simplifying its ingredients and committed to a 100 percent sustainable supply chain by 2020, both of which bring the company more in line with consumer preferences.
In the medium term, if those core, category-leading brands start to slouch towards obsolescence, they will become a less significant part of a company mix, but that doesn't mean their parent companies don't seek growth against downward trends, particularly in deeply established categories like soup or chocolate. No matter how unoriginal brand extensions can seem, if they juice revenue, it means that the brand managers are doing their jobs.
Fully eliminating that kind of core product is a much longer-range play, and few CPG brands can do that without hollowing out the core. Even Lance, in purchasing Snyder's back in 2010, continued to sell its namesake peanut butter sandwich crackers, after all.
Two Pillars of Growth
Regardless of their efforts to shore up existing brands, smaller, venture-backed food companies continue to steal consumer dollars away from the big guys. In one oft-cited Rabobank report from 2016, "Big Food" companies lost 4 percent of their market share over a five-year period.
"Scale is great for conventional brands," said VMG's Wu. "It doesn't change the underlying fundamentals that the consumer is still changing what they're buying."
According to Burgamier, of Whipstitch, it's those changing buying habits that will continue to fuel what has been an incredibly hot market for private brands. He pointed out a well-known pattern of big companies like Coca-Cola or General Mills setting up so called "two-step" deals through their own company-owned incubation funds. Campbell itself is the sole investor in Acre Partners, a $125 million fund that has spread bets across snack companies and agricultural technology, while Hershey has changed its sales and marketing infrastructure to create a unit to address emerging brands and incubation channels
Meanwhile, there's a thriving, robust network of CPG-focused firms that have helped fuel the growth of entrepreneurial brands: VMG, Boulder Food Group, CAVU, ACG, BIGR and more have been joined by Silicon Valley tech investors and family funds like Emil Capital, Ec and Verlinvest alike to sponsor a robust "farm system" of next-generation food companies.
Still, more than $6 billion is changing hands: with Campbell and Hershey digesting these two big portfolios, and as a result, will there be a slowdown in the ability of smaller companies to move on to an exit with a strategic?
Wu, of VMG, doesn't think so, pointing out that strategics are getting better at integrating smaller brands into their portfolios, but that they are still dealing with the pressure to deliver results on a quarterly basis. That means they will likely continue consolidating each other, while also hunting for entrepreneurial brands.
"The strategics that are thinking about this on a two-pillar front," trying to achieve scale for their conventional offerings while also fostering a strong incubation and acquisition environment for smaller brands, he said, "are the ones that are going to win in the years to come."
Carole Buyers, a managing partner at BIGR, which invests in brands in the $1 million – $20 million revenue range, told me she thought there might be a brief period of digestion by the acquirers, but that overall, having conglomerates compete in new categories was good for the "farm system" of venture-backed brands.
"They have a leaky bucket they have to fill," Buyers said. "In some ways companies do take a pause, especially if you think about the size of something like Snyder's Lance. But it broadens our outcomes. Campbell's will be a much bigger player in snacks. Hershey becomes a much bigger player in a lot of categories."