Brands 'Like' Instagram for Innovation Inspiration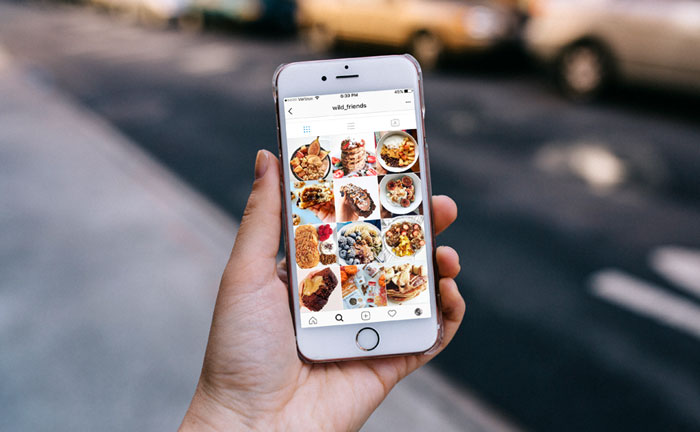 While Instagram may be a hub for photos of faraway places, playful puppies and elaborate latte art, for emerging brands it's also a goldmine of data– data that is increasingly being used to help shape companies' R&D strategies.
At this year's Natural Expo East in Baltimore, Md., both nut-butter maker Wild Friends and grain-free granola brand WildWay launched products in new categories developed through research and feedback that each team collected through social media, specifically Instagram. Wild Friends debuted their nut butter oat line with its two squeezable "super butter" packets together with oats, and Wildway moved further into functional foods with the launch of its smoothie bowl mixes.
Wild Friends co-founder Erika Welsh told NOSH that she and her co-founder, Keeley Tillotson, had been researching how to expand beyond jars of nut butter for more than a year and a half. They started by scrolling through Instagram — where their brand has more than 100,000 followers — to see how consumers were using their products.
"For years we have seen our customers eat our nut butters in a variety of ways, but the way we [saw] most frequently was putting spoonfuls of nut butter into their morning oatmeal," Welsh said. "We're never trying to completely reinvent the wheel. We want to make products that people are familiar with and that don't involve a lot of education, but does have that element of differentiation. We approached it as a nut butter company making an oatmeal product as opposed to the opposite."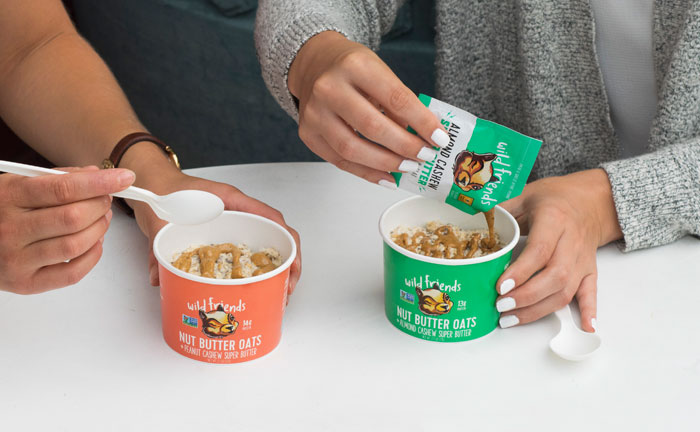 The nut butter cups, which will retail for $3.49, will debut in mid October in 300 Sprouts. The line has some growing to do in order to catch up to the 10,000 stores that carry Wild Friend's other products.
To develop the new line, Welsh said the brand used Instagram to form a team of 15 "trusted tasters" to provide feedback on the line. Each influencer, including Lyana Begret (@healthymood_sf) and Becky LaChance (@becks_liveshealthy), were sent four prototypes of the product with a survey to help the company select and tweak its final recipe and branding. The tasters also sent back photos and videos, which Welsh said the company shared internally and with investors. Welsh added that the company plans to use this method of testing again, adding more testers to future groups.
For Wildway, Instagram was just as important in helping the company move beyond its grain-free granola line and into other sectors of the breakfast category. While Kyle Koehler, co-founder of Wildway, told NOSH that Instagram helped the brand discover that consumers were using their granola as a topping for smoothie bowls, he said the social network's true value came during the ingredient discovery process.
"You can really get good insight into your core consumer by what types of ingredients that person is using," Koehler said. "Take someone who uses collagen in a smoothie; what other things is that same type of consumer looking for and using as well. … It really helped us hone in a lot on what ingredients we want to highlight and use that are most important to our consumers."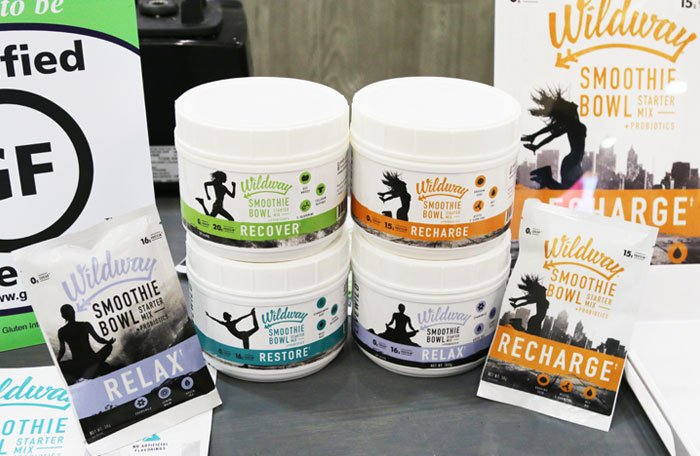 From research groups like SPINS and Nielsen to consumer focus groups, there are many methods for brands to get consumer data. However, for emerging brands both Welsh and Koehler noted those methods can be costly and take time that sometimes they just don't have.
"When you can't spend the money, time or resources on focus groups or the market research data, you have to get what you can get, and social media has become a way for smaller companies to get valuable information not only from their target consumers but also their competitors," Koehler said. "I can see that in a matter of five to 10 seconds."
Wildway will launch this product first online before bringing it to retailers. The bowls will retail for $3.49 and will hit Amazon before the end of the month.
Though Instagram is a hub of information with more than 800 million monthly active users, both brands warned fellow entrepreneurs to still think strategically and not be swayed by flashy trends.
"It's about not allowing social media to take you off onto a tangent that doesn't go back to your core values as a company," Kelli Koehler, co-founder of Wildway, said. "For us, our goal is to provide 100 percent real food ingredients in our products that allow people to do more with their life or to live Wild, so to speak. So it's about making sure we are not just jumping on a trend and we are incorporating things that we are seeing in the marketplace that go back to our core values as a company and why we exist."
Welch also noted that remaining authentic helped the brand stay clear of what could be the next "Pinterest Fail" or what could be a direction that was more fad oriented then trend.
Instagram as a platform holds a lot of power, including purchasing power. About 72 percent of Instagram users report making purchasing decisions based on something that they saw on the site. If the platform stays on course to reach 1 billion users, that massive audience, combined with how well interactive, actionable product ads can blend into feeds on a photo/video sharing service, could also make Instagram an incredibly promising e-commerce platform for emerging brands, in addition to serving as a data resource.