Australian Chip Brand Mamee Rebrands For U.S. Market
Mamee, one of Australia's most recognizable chip brands, is hoping their product will resonate more with U.S. consumers under its new moniker, The Good Crisp Company.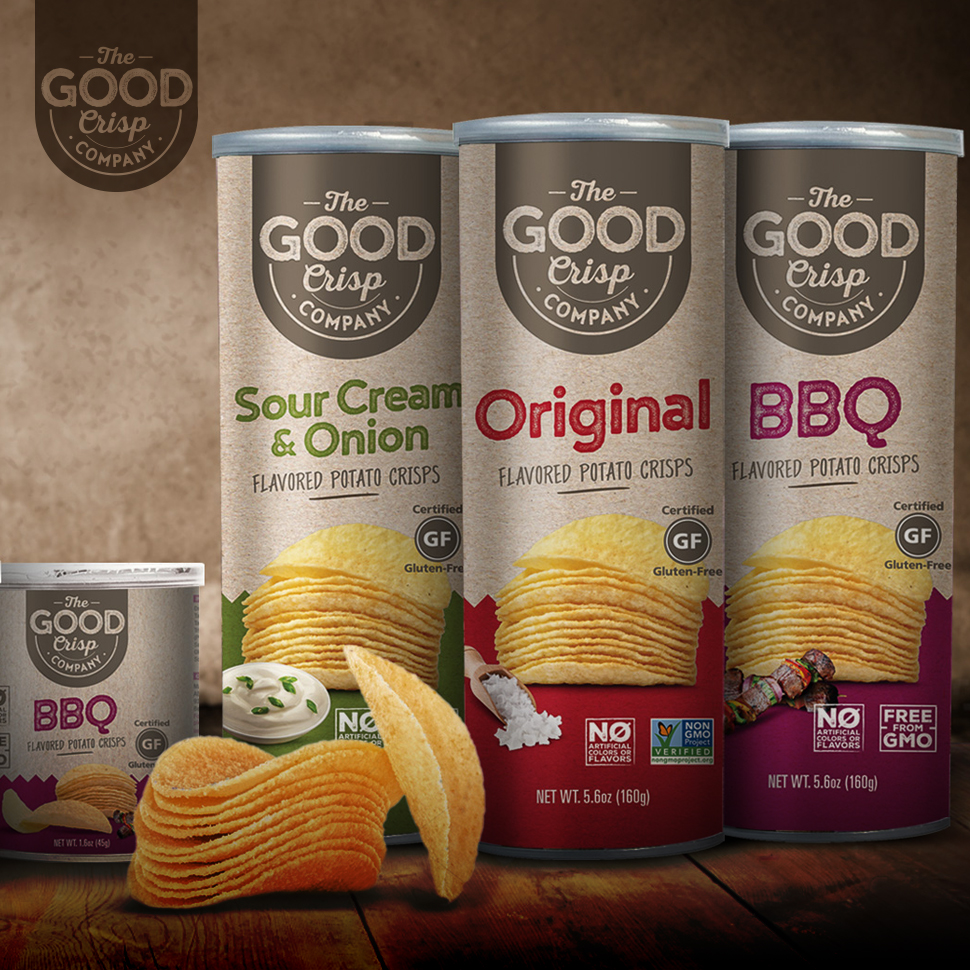 South Australia-based ABC Sales & Marketing bought the rights to sell Malaysia's largest snack brand, Mamee Snacks, in Australia over 30 years ago. This year, the company decided to expand its reach again beyond the "land down under" by bringing its version of a "healthier Pringle" to the U.S.
The transition was not without its growing pains. Matthew Parry, COO of ABC North America LLC, told NOSH that feedback from the brand's first nine months on shelves showed that U.S. consumers and retailers were not connecting with the brand's original name, Mamee, or its packaging.
"A lot of the comments that came in early on were 'love the product, love the idea, love the taste, but it looks too healthy, it looks a bit boring, it looks a bit private label,'" Parry said. "Our brand wasn't transferring well to the U.S. And now that we think about it, it makes sense. It doesn't stand for anything; it doesn't represent anything. I think we were a little bit in love with our own brand in that we thought we could take that brand and make it big in the U.S."
So Parry and his team went back to the drawing board and The Good Crisp Company was born. Parry said the new name is intended to reflect not only the crisp's good taste but also its "good ingredients." Mamee packaging is currently still on shelves, but will be swapped over by the end of the month. The Good Crisp Co. previously sold its crisps in 5.6 oz cans for $3.49, but Parry said the brand is also launching a 1.6 oz can geared toward convenience stores and food service.
In Australia, Mamee Snacks has seen success, with 11 million units of the 5.6 oz. containers sold in the country of 22 million people last year, primarily in a private label format. Even so, Parry, said he felt Australia's size was capping the business's growth.
"I don't want to talk Australia down," Parry said. "But I guess the struggle we have here in Australia is we've got two retailers and between them, they control 80 percent of the market. You only get two bites of the cherry then. So you need to either come up with new customers to grow your retail customers, which is few and far between here… or look at other markets."
2016 proved to be a big year of not only personal growth, but distribution growth for the company. The crisps entered the U.S. earlier last year in 45 Northern California Whole Foods stores. Since then, distribution has grown to about 300 natural supermarkets in northern and southern California and Washington.
Under its new name, the brand is hoping its extensive experience in the Australian market coupled with the energy behind its new venture can help it take on one of the biggest salty snack players in the U.S.: Pringles.
"While we are a start up in the U.S. essentially, we're a startup with 30 years of experience," Parry said. "We're able to use our experience to create healthier alternatives."
Pringles, meanwhile, may be trying to play to those notions of healthier with its newly announced LOUD line, debuting nationwide this month. The new chips are advertised as "vegetable-based," with a base of corn or a "vegetable-grain" combination for the actual crisps. This may suggest a healthier alternative, but its caloric content is the same as its standard potato-based chips. The Good Crisp's products, meanwhile, are gluten-free, GMO-free, and made with no artificial colors or flavors.