Year of the Pulse Sees World Peas Acquisition
World Peas, which makes snacks out of beans and other legumes, has been acquired by Snack it Forward, LLC, the buyer announced today.
As part of the deal, World Peas founder Anish Sheth will join the Snack it Forward team as President of Pulse Snacks. He will remain in Austin, Texas, while the rest of company operations are moved to Snack it Forward's Los Angeles headquarters. Financial terms were not disclosed.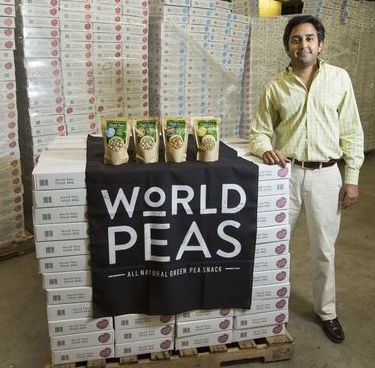 World Peas was founded in 2011 after Sheth, who was then working in cross border financing and international law, traveled with his family to China's Sichuan Province. He was so inspired by the culture and cuisine that he decided to shift careers and focus on creating a company that could merge his passions for food and travel.
Sheth originally intended the line to be a healthy alternative to wasabi peas, using the legume as "a base for global flavors and innovation," he said.
In four years, the company has grown to have national distribution and is found in stores including Whole Foods Market, Target, The Fresh Market, Costco and online retailer Thrive Market. In 2015, World Peas released a line of dried fava bean snacks and saw its door count grow double digits year over year. At the time of the acquisition, it had four employees and ten skus.
Sheth attributes the line's success to the fact that the products are "healthy but they don't scream health food."
The acquisition is Snack it Forward's first transaction. A previous iteration of the company, which at the time operated as more of a "rebagger" of dried fruit and nut products, had been forced to participate in a 2013 recall of its products due to one of its suppliers (Sunland, Inc) reporting that its peanuts had been contaminated with salmonella.
Recently, Snack it Forward has added several experienced team members, VP of Marketing Kevin Keuhler noted, and is in partnership with Sunkist on two product lines.
World Peas joins Snack it Forward during a year the United Nations has decreed is "The Year of the Pulse. "What's particularly exciting is this emerging trend of legume based snacking," said Keuhler. "They're very high in protein, very high in fiber, while being low in sugar and low in cholesterol and really low calorie as well."