Revolution Foods to Expand Center of the Plate Offerings
In a move into the meal space, family-focused natural foods brand Revolution foods is expanding their retail product line to include new Breakfast Hero and Dinner Hero lines.
"We see our mission and role in providing solutions to parents as one that we want to provide center of the plate solutions," Kirsten Saenz Tobey, Chief Impact Officer and Co-Founder of Revolution Foods, told NOSH.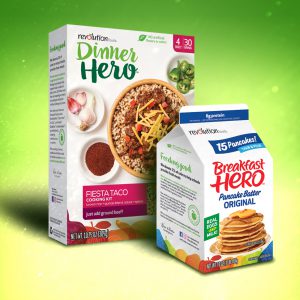 Revolution Foods' product line includes noodle cups, granola bites and lunchable-esque kits which are sold in 4,400 retail locations. The new Breakfast Hero line consists of three flavors of high-protein, frozen pancake mixes that just require parents to thaw, pour, cook and serve. Alternatively, the Dinner Hero line consists of four Hamburger Helper-esque kits that contain a grain, sauce and spice packet and require the addition of a protein.
Breakfast Hero will retail for $3.99 and launch in Whole Foods Markets in Northern California, ACME Markets in the Northeast and in additional Safeway stores in the near future. Dinner Hero will retail for $4.99-5.99 and will launch with ACME Markets as well as Safeway and Albertson's across several regions. Both lines are coming to Shaw's stores in the Northeast early next year.
The company, which according to Crunchbase has raised close to $100 million, most recently completed a round of $35.2 million in new funding in December 2015.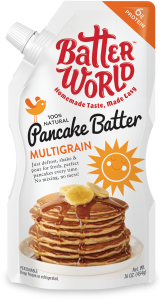 Part of this investment has gone towards expanding the retail lines, while part has helped pay to continue a strategy of acquiring smaller companies that align with the company's mission. In 2014 the brand acquired lunch kit brand Lunch Bundles and the Breakfast Hero line is based of the 2016 acquisition of regional, frozen pancake brand Batter World.
In addition to the retail line, Revolution Foods runs school lunch programs for schools around the country. The CPG side of the business is still a small part of the company's revenue, less than 10 percent. While the school meals business currently is growing at 20-30 percent annually, Saenz Tobey believe the retail products line could grow at an even faster rate.
Some of the inspiration for the new lines came directly from feedback on school lunch meals. "Across everything that we do, a lot of our ideas and innovations come from our work that we're doing with hundreds of thousands of kids every day in schools and the teachers, and school leaders and parents that we interact with as a result of that," Saenz Tobey said.
The on-the-ground research also helped the team learn that in terms of dinner, parents were looking for more aspirational meals then classic American skillet meals. As a result, the Dinner Hero line pulls from on-trend flavors such as smokey tomato, sesame garlic and coconut curry.
The brand also learned that the perception of "convenience" varies across dayparts. "What we've recognized is that the time and convenience needs for a breakfast versus a lunch versus a dinner are slightly different," Saenz Tobey noted. "For lunch you want something you can just throw into a lunchbox or bring in your work bag. For breakfast, you have a couple minutes to get something put together. And for dinner you might have thirty minutes, but you don't have more than thirty minutes."