Nomva Raises $3 Million for Noms on the Go
Phenomenal Foods, the maker of Nomva, a new food brand that merges current trends in cold-pressed juice and on-the-go snacks, today announced the closing of a $3 million round of funding. Nomva markets a line of high pressure processed (HPP), organic fruit and vegetable blends that are infused with probiotics and packaged in 6 oz. pouches.
Founded by youthful entrepreneurs Caroline Beckman and Nina Church, each 22 years old, Nomva's name is derived from a colloquial word for food (nom-nom) and va ("to go" in many romance languages). The company launched with $350,000 raised from friends and family and a $100,000 grant from tech billionaire Peter Thiel.
Beckman said that the new funding will be used primarily to support additional distribution of Nomva. The brand is currently represented in California retailers Gelson's and Jimbo's and Whole Foods Market stores in the retailer's Southern Pacific region.
Evolution Media and Taylor Fresh Farms were the two lead investors in the new round. Evolution is a joint venture between Evolution Media Capital, which is an affiliate merchant bank owned by Creative Artists Agency, TV and film production company Participant Media and TPG Growth, a middle market and growth equity investment platform. Last year Evolution invested in Suja Juice, which was co-founded by Church's father. Beckman was the vice president of special projects for Suja before leaving the company to launch Nomva.
Taylor Farms is the world's largest producer of fresh-cut fruits and vegetables. Beckman told NOSH that Taylor's investment will also give Nomva greater access to produce suppliers, a vital advantage over competing products.
"Making sure that your supply chain of organic foods is always secure [is] something that I think every entrepreneur in [California] worries about." Beckman said. "This is just a really unique opportunity to have access directly to the farms and to the suppliers."
From a branding perspective, Nomva targets on-the-go, health-conscious millennials, a group that includes Church and Beckman.
"For us, it's been a big thing of creating a culture who really lives our brand values and making it a really authentic experience for the consumer from the minute that they see our packaging in the store to the first time that they're trialing it by demo and having it be someone who really lives our brand," Church said.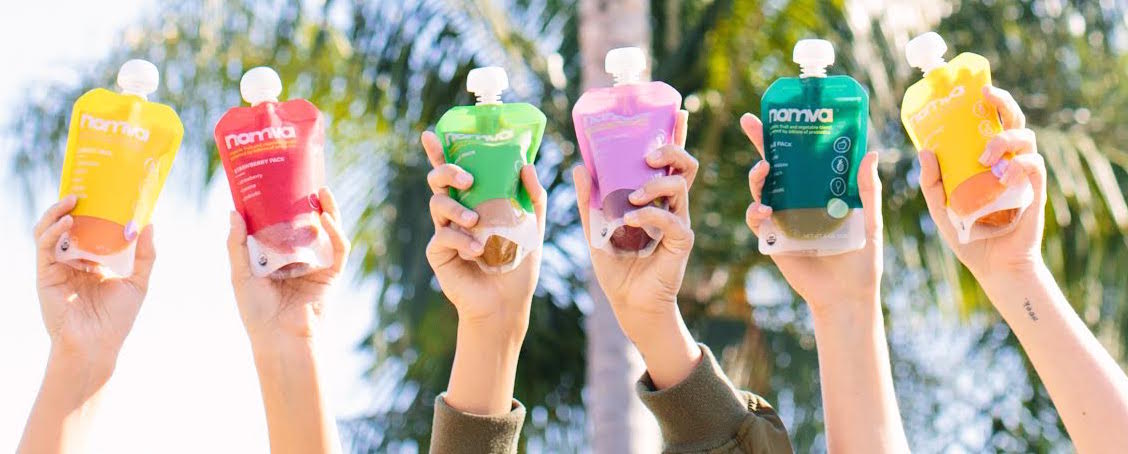 Nomva also promotes itself as an easy way for consumers to eat fruits and vegetables and an alternative to cold-pressed juices and smoothies. Retailers, however, believed that because of Nomva's probiotic content, the brand would be best positioned on the yogurt shelf. Beckman and Church have since pushed for the brand to be placed alongside premium juices and said that the move has resulted in doubled sales.
One aspect of Nomva that the founders hope to improve upon is the pouch package. Church said that while the format is great for busy consumers, "our goal has been and continues to be, to [develop and] be the first recyclable pouch on the market."
Despite Nomva's current package, Beckman said the company is more environmentally friendly than packaged juice makers, because the products are made with the entirety of its ingredients. Moreover, Nomva hopes to make use of fruits and vegetables that Taylor often rejects because of imperfections in the produce.
Regardless of how the products are crafted, however, Church and Beckman believe that in order for Nomva to best resonate with millennials, they have to think broadly. They see Nomva as representing two pillars of community and authenticity and hope to reach health-focused consumers with marketing initiatives that align product sampling with fitness-related activities.
"If we focus on those two pillars of our company… we're going to be able to develop the best and most competitive products on the market," Beckman said.