To Launch into Meals, Brands Use Their Noodles
In April of this year, search engine Google released a report on rising and declining food trends. One of their findings was that pasta, after four years of slow growth, was making a "comeback."
This week it seems that the tech giant was right in its prediction: two better-for-you brands moved their companies in a new direction by offering their consumers ready-to-eat meals centered around noodles.
Chickpea pasta brand Banza, which already had a line of extruded and decorative pastas, released four varieties of stovetop mac and cheese while Revolution Foods, which has a healthy lunchable-like product, released ready-to-eat "In a Cup" noodle meals in spaghetti marinara, sesame noodles and Thai-style satay rice noodles.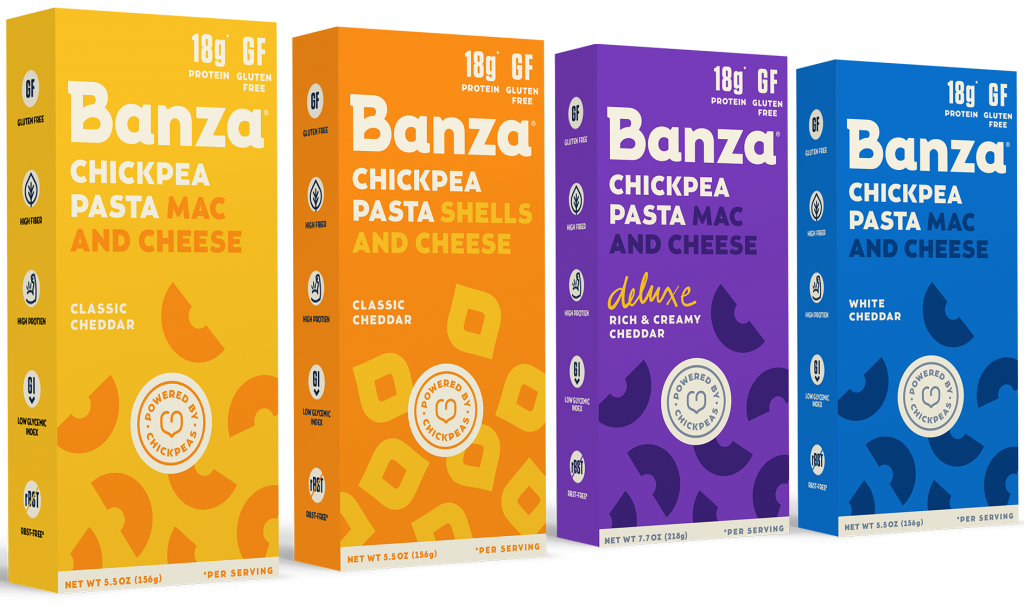 The two products do share similar health benefits in that both are high-protein, healthy options of family favorite dishes.
They also speak to the role convenience is playing in today's grocery aisles. "A major obstacle to eating healthy is this perceived notion that healthy meals require time, effort, and money," Lauren Roth, Banza Project Manager of Marketing and Product Development, told NOSH. "With Banza we set out to make a product that the most inexperienced chef, or even the busiest parent could use as the healthy foundation of a quick and delicious meal."
While both companies told NOSH they had extensive research and development periods, Revolution Foods was lucky to have a slight advantage in access to test subjects. In addition to their CPG products, the brand also has contracts to manage cafeterias around the country.
"We created these [products] based on insights and feedback gleaned from serving 1.5 million school meals to kids each week," Kirsten Saenz Tobey, co-founder and chief impact officer of Revolution Foods, told NOSH. "There are some regional preferences, but sesame sauce is very popular and familiar now. Thai-Style Satay is more adventurous, but Thai flavors are on the rise in popularity."
Each brand's research did leave them with slightly different takes on flavor profiles however. "Mac and cheese is on everyone's list of the 10 most-loved comfort foods," Roth explained on why Banza selected this flavor profile. The brand plans to stand out from other options with their use of chickpea based pasta.

Revolution foods chose a different path. "There are many offerings for mac and cheese on the market so we wanted to launch with some more diverse yet familiar flavors," Saenz Tobey said.
While Revolution Foods and Banza believe their products will appeal to consumers of all ages, it's clear both will resonate with a younger consumer.
Revolution Foods found that noodles, in particular, are a favorite of pint-sized eaters. "Kids love noodles," Saenz Tobey said "They are consistently in the most popular meals across our school menus."
Winning over the children of shoppers will help retailers as well as the brands. A 2016 report from Packaged Facts states that "Some 43% of households with kids spend in excess of $150 each week on groceries, compared to 16.1% of households without kids." As a result, retailers are eager to add kid-friendly items to their shelves. Both Banza and Revolution Foods have seen instant pickup of the new lines.
Banza's mac and cheeses will launch in between 500-1000 stores with an MSRP of $3.49. The brand expects to double their total store count from 1,500 to 3,000 retailers this year, and the mac and cheese line will be key to that growth.
Revolution Foods' In a Cup will have the same MSRP of $3.49 and launch in 400 Target stores as well as in Safeway, Albertsons and HEB. As a whole, the brand is currently in 4,000 grocery stores nationwide.