Ips Revamps, Retools, Relaunches
In an April 2016 research study, market research firm IRI reported that "The U.S. consumer packaged goods (CPG) industry registered its strongest growth in four years in 2015, and much of the fuel was provided by small and midsized producers of healthy, protein-rich foods and beverages."
One of the producers seeking to ride the protein-fueled growth wave was Ips Snacks. The line, which launched in 2013 as a line of egg white and whey chips, had already been picked up by roughly 1200 retailers by 2015.
That year, CEO and co-founder Sean Olson and his board of investors decided to hire a new management team and revamp the snack line. Just over a year later, the new team revealed the changes, including a new role for Olson himself, who has become a product development consultant for the company.
"I realized for me, my passion is in starting things up and getting them going," Olson told NOSH "When it comes to marketing and selling, there are more experienced people out there who really live and breathe it."
At the same time, a more veteran CPG executive, Adam Kamenstein, was hired as CEO.
Kamenstein, in turn, has hired a robust team to support his goals. In the past month alone he's brought on Dan McElwee and Christyne Baxter for his sales team. Both were previously with Simply 7 Snacks. McElwee, who will serve as Ips' Vice President of Sales, also was a Director of Sales for Hain Celestial's snack division.
Ips has also brought on a new VP of Operations and is looking to add to its marketing team as well. It's a big increase in headcount for a company that previously was mainly run by just the two founders.
The line has also undergone a reformulation (from using egg whites and whey protein to just whey). It's a change that Kamenstein and Olson note was over a year in the making. "The egg white wasn't what appealed to people, it was the protein," Kamenstein told NOSH. "Whey is something that people are broadly familiar with [as a source of protein]."
The switch also improved the chips flavor and texture, said the Ips team.
Olson had also been working on a line extension into protein popcorn and Kamenstein helped usher the new product into the marketplace. The popcorn, the team believes, is a huge opportunity.
"I think the chips are a good idea, I think the popcorn is an even better idea," said Olson.
When asked why the popcorn is any different than the multitude of other options on the market, Kamenstein explained that the protein addition separates them from the pack.
"If we were offering just another popcorn [to buyers], it's like 'I need another popcorn like I need another beef jerky,'" Kamenstein joked. "We would have had the doors slammed in our face."
The addition of popcorn also gives the brand two lines within the salty snacks set and the team claims it's the first salty snack brand to also have a popcorn line. It's a unique position that they plan to take advantage of. McElwee and Baxter are already pitching a shipper that has both products in one floor display.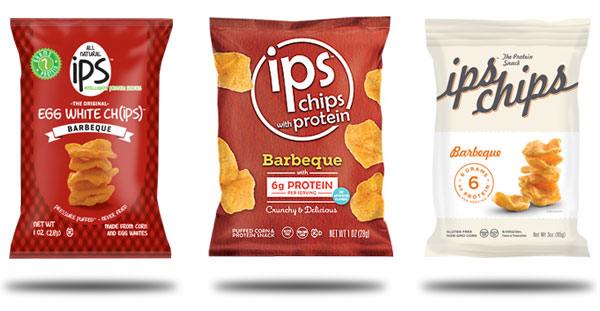 Finally, the line also underwent a makeover to become more clean and modern looking. "The goal was to make it a broadly, mass market, appealing package with a clear messaging of protein and taste combined," said Kamenstein. "Something that instantly connoted health and cleanliness and that could block well on a conventional grocery shelf."
Ips growth over the last year has remained relatively flat while these changes were in progress. The team believed that showing an outdated product to buyers wouldn't result in success, nor would showing a plan for what they promised would be to come.
With the updated packaging, new popcorn options and reformulated chips, Kamenstein said the future looks bright for the brand. "What we're presenting to the world is the improved, and in many respects, new brand."