The Food Revolution Brings About FDA Reevaluation
Any food or beverage company will tell you that the day a Food and Drug Agency (FDA) warning letter shows up in the mail is, in the politest terms, nerve-wracking. Sent for violations of packaging or processing regulations, the letters demand immediate response, resolution and (until now) conformation.
But depending on who you are, it seems you can sometimes fight City Hall. Despite what some believe is pressure from Big Food to keep with the status quo, it seems the FDA has realized it needs to start pulling some of its punches in the case of certain claims or claims used for specific functions.
Just this week, the FDA responded to public and industry criticism around a warning letter it had sent to KIND Healthy Snacks last spring by retreating from a position in which it tried to bar the use of the word "healthy" on KIND's packaging. Meanwhile, other key terms like "natural" are up for debate, while the agency has given ground to emerging brands that are making product claims featuring different base ingredients.
Rebecca Cross, Partner at law firm BraunHagey & Borden LLP, has seen changes in the FDA's stance "especially in the past year."
"The FDA regulations are about 20 years old at this point and they're antiquated standards that don't use current science and don't apply to the current market," Cross told NOSH. "[The standards for healthy] in my opinion, were very much as a result of the FDA's process and Big Food's lobbying process on certain terms, and the use of those terms as they apply to processed foods that were sold in the 80's. And now there's a whole new world of food."
This new world of food now contains upstart -but well-financed- brands like KIND and Hampton Creek, both of whom have taken on the FDA and walked away victorious.
Healthy Discussion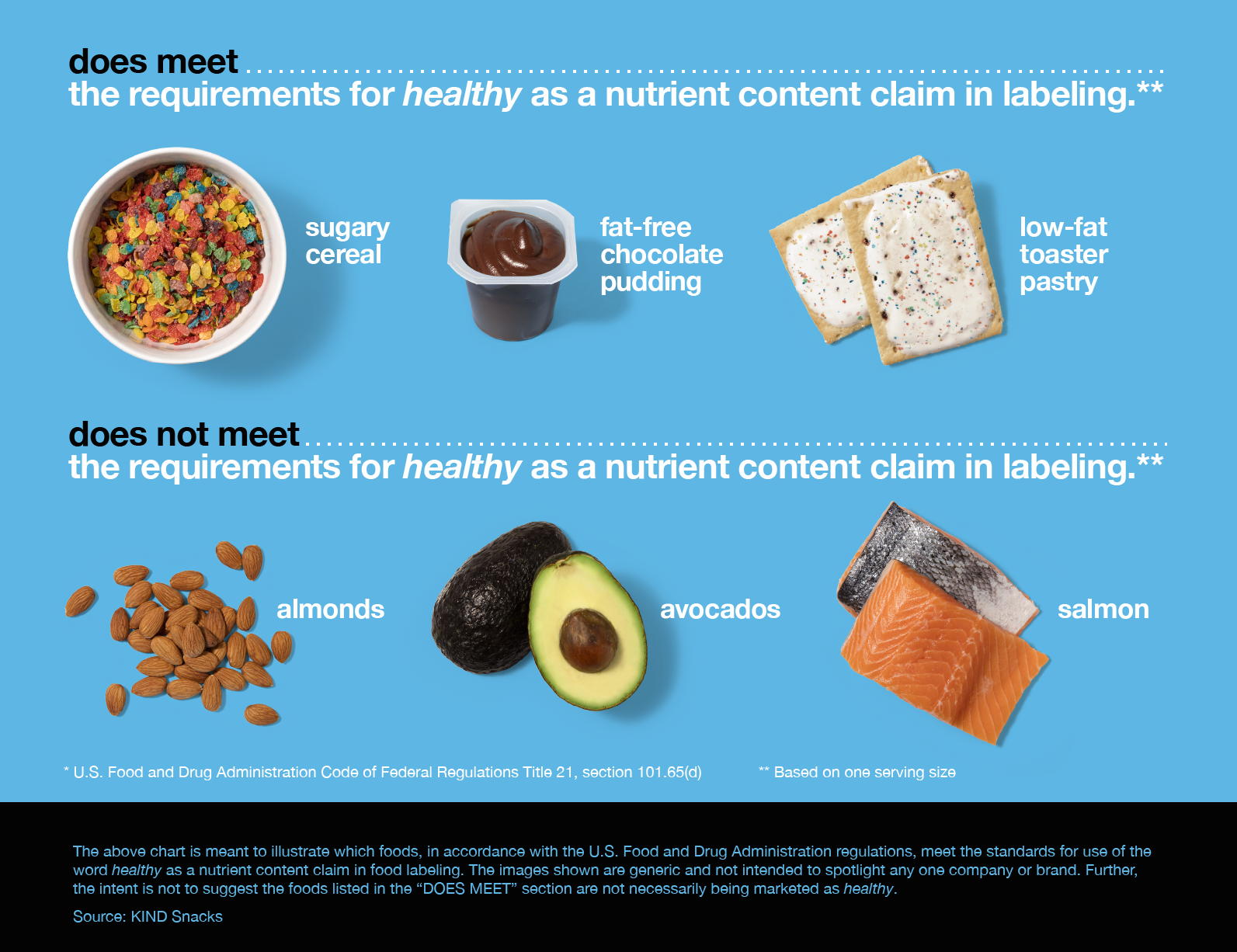 The KIND turnaround, in particular, is a big moment for the industry. The brand, which had protested that barring the use of healthy over concerns about fat content in its bars, which use nuts rich in saturated fats, represented a less-than-evolved view of overall nutrition. According to the company, sugar rich cereals and puddings were able to use the word "healthy" under established FDA policy, while foods more generally accepted as healthy, like avocados, almonds, and salmon wouldn't qualify.
In December, KIND released a statement requesting the agency update the definition and followed up by submitting a citizen petition to the FDA, and now, a few months later, the FDA has had a change of heart.
While the agency said on "reevaluation" it was ready to allow "healthy and tasty" as part of KIND's corporate philosophy, it also indicates a willingness to reconsider some of its policies.
"Consumers want to make informed food choices and it is the FDA's responsibility to help them by ensuring labels provide accurate and reliable nutrition information," the agency noted in its statement on the decision. "In light of evolving nutrition research, forthcoming Nutrition Facts Labeling final rules, and a citizen petition, we believe now is an opportune time to reevaluate regulations concerning nutrient content claims, generally, including the term 'healthy.' We plan to solicit public comment on these issues in the near future."
That decision may be part of a shift in agency philosophy, one that also encompasses the agency delving into the designation "natural."
While guidelines are murky, generally speaking the term can be used on products that don't contain artificial or synthetic ingredients (such as color additives). This has left brands and consumers confused and allowed Big Food producers to take advantage of the natural foods movement to release delicacies such as "Natural Cheetos."
After several lawsuits over the term, and three Citizen Petitions asking the agency to establish a more robust definition, the FDA decided that it was time for another look. In November 2015 it opened a public comment period to ask if the term should be regulated as well as what the definition should mean. So much feedback was given that the FDA expanded the public comment period from February 10th to just this week.
Just Working It Out
Besides simply recognizing the public and industry should be involved, this isn't the first time the FDA has been willing to work with a brand. In December, after initially saying Hampton Creek had to change the name of its flagship "Just Mayo," the agency allowed the name to stay because the "Just" referred to more of the company's ethos. The only caveat was that the brand was required to make some label revisions to call out that that the product is technically a dressing or spread and has a lack of eggs.
"I would argue something is a marketing claim in the context of the package as a whole," Cross said. "If you look at Hampton Creek's package as a whole, obviously they're not saying they're a mayonaise."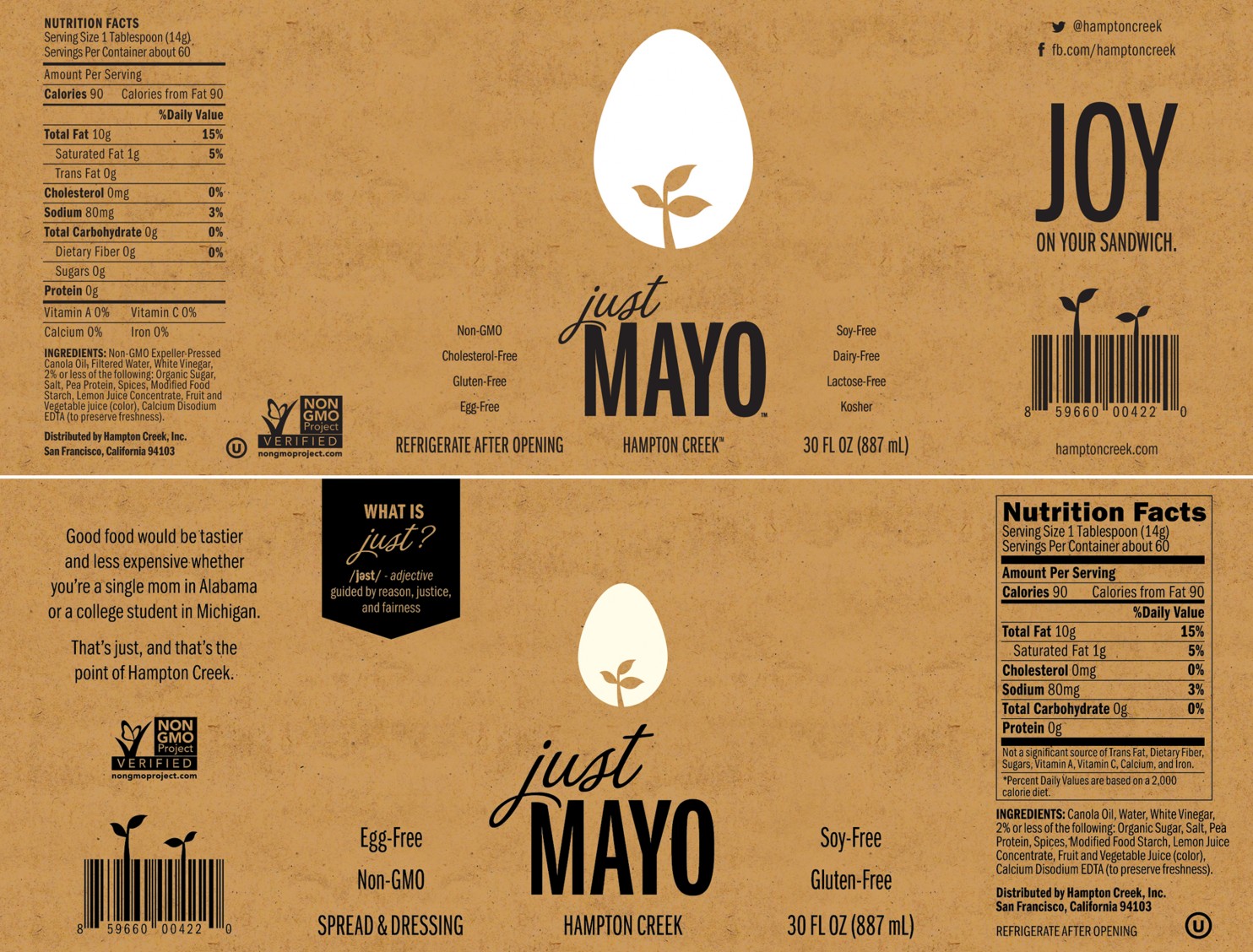 Part of the turnaround was again due to the separation of two disciplines: marketing and nutrition claims.. Hampton Creek posited its use of Just in the former camp, noting that "Just" refers to the product's lack of excess ingredients and trying to make healthier foods more attainable and "just" for all.
So where is the line between marketing and nutritional claim and how is this argument suddenly acceptable to the FDA?
Cross told NOSH that she's seen numerous cases (although not necessarily ones she's represented) where the FDA has previously sent warning letters over what i's essentially a marketing claim. The change, perhaps, is a way to buy some time while regrouping on next steps.
"The FDA is essentially creating that distinction now to keep some of its regulations in place, is how I see it," Cross said. "I think it's a way for them to kind of concede. KIND's science was very spot on and I think they didn't want to have that fight with KIND."
But, at this point, is this even a fight worth having? Some argue that the terms "natural" and "healthy" have become so overused that they essentially have become meaningless.
"All natural doesn't mean anything. That's just wasted space on a label," says Kara Rubin, a natural and organic industry consultant and former Senior Regional Grocery Director at Whole Foods Market. "When having a conversation with a brand, in the context of getting it on a retail shelf, my advice is always to make any claims about the attributes of your product as precise and as directed as possible."
There may be something to this recommendation. According to the International Food Information Council Foundation's 2016 Food and Health Survey, 47 percent of consumers reported that they look at the ingredient list when deciding to purchase or eat a food or beverage.
Also this week, the FDA itself released the findings from the most recent edition (2014) of its Health and Diet Survey. In it, "50 percent of adults said they read the Nutrition Facts label 'always' or 'most of the time.'"