Exclusive: Rampolla to Help Hail Merry Ramp Up as Interim CEO
Zico founder Mark Rampolla will step into an interim CEO role at plant-based snack food company Hail Merry, a brand where Rampolla is an investor.
In emails today to friends and colleagues, Sarah Chapin, the current CEO of the brand, announced that she will be stepping down. The full transfer is expected to take place by the time the company's third quarter ends, on Sept. 30th.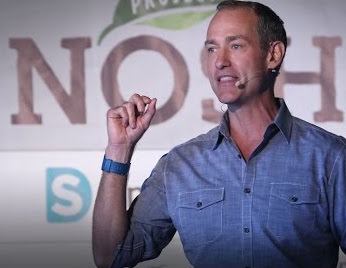 Rampolla has been involved with the company for some time, having invested in the brand through his venture fund, Powerplant Ventures, last summer. According a fund overview, Powerplant invested $1.75 million in the brand, which was part of a $6 million round lead by private equity firm HBC Investments.
The move came because Chapin and Hail Merry founder Susan O'Brien, whom Rampolla jokingly called his "sisters," asked him to.
"It's not typical habit of any venture fund to step in and run a company, and it's not our M.O.," he said to NOSH. "It's a temporary thing that's necessary and at the request of the management team."
Chapin will continue to advise Hail Merry in a board advisory role but decided to depart the Dallas, Texas-based brand in order to be closer to her family in North Carolina. She plans to consult for other brands, she said. In an exclusive interview with NOSH, Chapin noted that the move will "let me continue to be on the board of other public and private companies and be focused on the parts of Hail Merry where I can add the best value."
While exact sales data for Hail Merry is not public, for "better-for-you" brands in their portfolio, Powerplant typically looks for companies with $1-$10 million in revenue and revenue growth of 30 percent.
Although Rampolla's role will be temporary, the brand has no plans to begin its search for a new CEO until sometime in 2017. He said that "he's prepared to do this as long as it takes."
The goal for the rest of the year, noted Rampolla, is to come in with "fresh eyes" and "take a step back and say "Who are we, who do we want to become, and where do we go to start to put those pieces in place?'"
Rampolla said he and the team will work on growing the brand in the natural channel initially, focusing on more marketing, consumer engagement and awareness. After that, the brand will focus on bringing the product line to a wider audience, which will include "democratizing" the product to make it more affordable and available. It's a path that's similar to the one he followed at Zico, where the brand eventually shifted from a premium product to a mainstream option.
"[It's the] same product, same core brand, but hopefully with a burst of fresh energy and excitement and a great team to carry it forward." he said, emphasizing that he's not planning a brand overhaul. He also downplayed the idea that he might be seeking an exit strategy for the brand and its investors..
"In no way is this me coming in and flipping the business at all," he said."There's a lot of runway and a lot of time. Our endgame is to see Hail Merry become a leading, better-for you food brand in the country. Could that mean acquisition? It could, but it doesn't necessarily have to be."
For now Rampolla is content to admit that he and the company don't exactly know what the future holds or how it will play out, but 2017 will be an exciting growth phase. While the brand has seen fantastic growth, like the cookies and tarts Hail Merry makes, he said the company is "well formed, but it's not completely baked yet."