Campbell's Bets On Fresh Focus
Only a day before one of the busiest grocery shopping times of the year, Campbell Soup Company held its 2017 Q1 earnings call. After last quarter's disappointing results, the brand was quick to address their lukewarm sales and some of the changes it has made to reset its focus after a series of recalls.
For the upcoming year, the brand will focus on four? main goals: real food transparency and sustainability, digital and ecommerce, health and well-being, and snacking.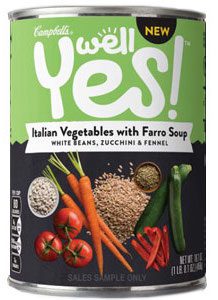 To start the call, President and CEO Denise Morrison reflected on how the current political climate has affected shoppers, food brands and Campbell's.
"In the United States, the length and tone of the Presidential campaign was unprecedented. There are many important issues the new administration will address that will impact the food industry," Morrison said. "Meanwhile, the seismic shifts that I have outlined in our previous discussions continue to impact our industry, including a shrinking middle-class, major demographic shifts [and] changing consumers preferences for food with an emphasis on health and well being."
Morrison also noted that center-store categories in particular were struggling, citing a center-store growth rate of of zero to 1 percent. This, she said, is resulting in increased competition for shelf space, consumer attention and market share along with increased pressure to deliver cost savings.
To stand out from other canned soups and capture health conscious consumers, Campbell's is launching Well Yes, a line of ready-to-serve (RTS) soups in December. The line has a modern look and incorporates on-trend, healthy ingredients such as kale and farro. The launch comes at an opportune time; At the beginning of every year, consumer interest in healthy options rises thanks, in part, to New Year's resolutions.
The brand is also working to phase out artificial colors and flavors for some of its lines, as well as remove BPA liners from its soup cans. Anthony DiSilvestro, senior vice president and CFO, acknowledged this move to attract new customers will also increase costs..
In Campbell's C-Fresh division, which includes Bolthouse Farms and Garden Fresh Gourmet, the company is still working to execute recovery plans to revive sales. Garden Fresh's recently launched refrigerated RTS soup line contributed to increased sales for Retail Fresh Soups and offset a decline in the sales of Garden Fresh hummus and salsa.
With a nod to innovation, Morrison quickly touched upon Acre Venture Partners, Campbell's venture arm, and its recent investment in personalized nutrition and meal-delivery company startup Habit. Morrison noted the investment is just the start of Campbell's plan "to diversify our portfolio in these faster growing spaces.