AccelFoods Announces Portfolio Additions
At Expo East one of the most popular topics of discussion was investment. Who's getting it, how much and from whom. Today, just a few short weeks after the show ended, the team AccelFoods, an accelerator and investment fund for packaged food and beverage companies, announced the newest additions to their portfolio.
The new round of investments signals a shift in how AccelFoods designates its partnerships. According to the founders, the change increases the horizon for the program, allowing more advisory services even before investment is announced, and keeping the relationships going after the fund's traditional operational involvement might have ended.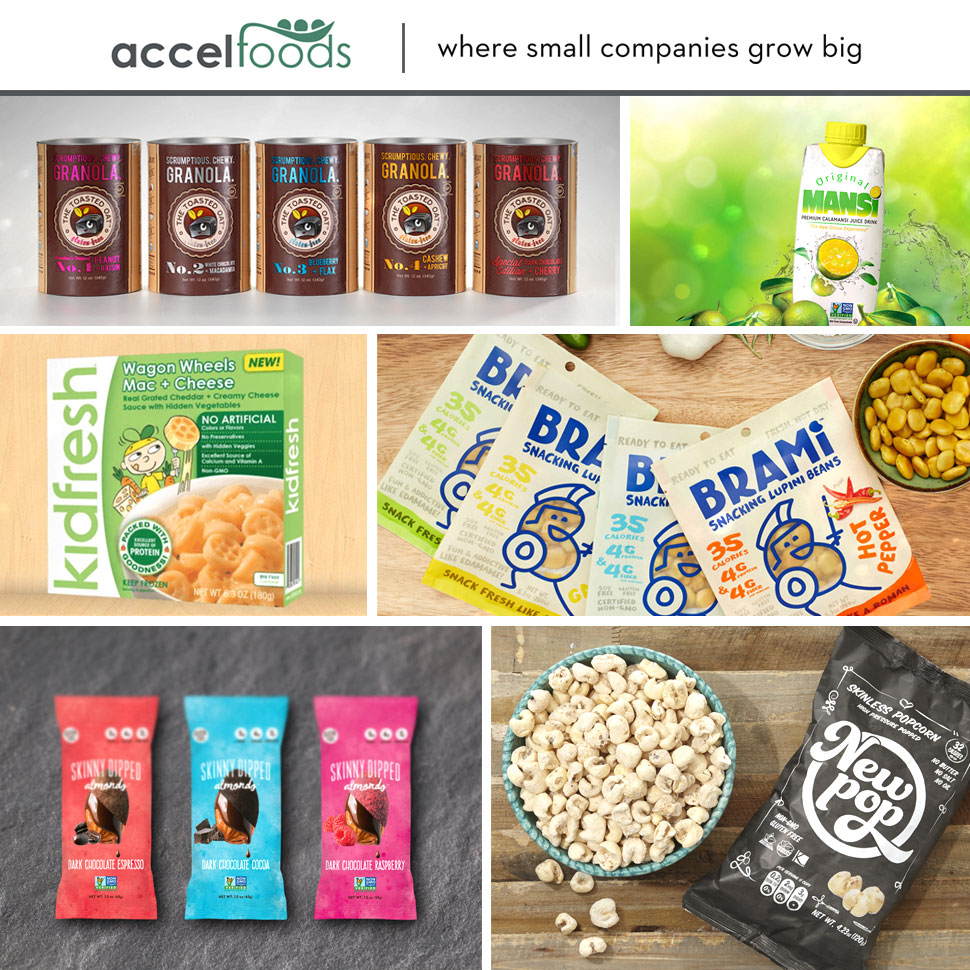 In the past, AccelFoods inducted its new "class" of companies several times a year, describing its program as offering "entrepreneurs funding, engaged support from an operating team, experienced mentors and corporate partners for a period of [several] months."
However the accelerator has decided to do away with the "class" designation, instead emphasizing a more traditional, long-term relationship that lasts longer than the period companies have been part of the accelerator's instructional program.
"AccelFoods continually evolves and improves with experience," Jordan Gaspar, AccelFoods Co-Founder & Managing Partner, told NOSH. "Our partnership with our brands never ends as we are continuing, long-term investors. By calling them 'classes' it misidentifies the scope of our partnerships."
Now, the investments will simply be referred to as additions to the AccelFoods portfolio. This shift also reflects AccelFood's new, larger $20 million fund, which allows the firm to invest larger check sizes in subsequent investment rounds.
The newest additions to the AccelFoods portfolio of 26 investments include:
Kidfresh: KidFresh brings nutritious food to children with a line of frozen meals, pizza and snacks filled with hidden vegetables.
NewPop: The first skinless popcorn, NewPop is made with no oil, butter, salt, or skins. Each flavor contains three ingredients or less.
Mansi: Made from the calamansi fruit, this juice beverage is packed with vitamin C and electrolytes and can be enjoyed both cold and warm.
Brami: Derived from an ancient Mediterranean super snack, Brami Snacking Lupini Beans provide a high protein edamame-like snack.
The Toasted Oat: The hand-crafted, gluten-free, soft-baked granola is reminiscent of a freshly baked oatmeal cookie.
SkinnyDipped Almonds: A low-sugar, modern take on chocolate-coated almonds.
This round, AccelFoods specifically looked for companies with proprietary processes, practices or qualities, according to Gaspar. For example, New Pop's pressure popped popcorn.
Both the Brami and SkinnyDipped Almonds investments found Accel taking part in a larger round of more than $1 million. AccelFoods' check size typically ranges from $50,000 to $2 million.
Despite being announced together, the investments across all brands have been made over the past several months. The fund closed its deal with KidFresh over the summer, for example.The children's food brand also is AccelFoods' largest partner to date by door count and revenue.
When asked if rising valuations were affecting AccelFoods' ability to invest or created more competition, Gaspar noted that "talented founders at the helm of innovative companies will always command premium valuations."
"Each investment [the firm] make[s] is structured differently," she noted. "It is important to us to be a nimble, flexible investor open to a variety of structures."