2015 Sweets and Snacks Expo Roundup
The National Confectioners Association (NCA) hosted its annual Sweets and Snacks Expo this week in Chicago. Featuring approximately 650 exhibitors and over 16,000 industry professionals, the event showcased the latest trends and products in chocolate, candy, gum, snacks, granolas, cookies, cakes and more.
According to Chicago-based consumer insights firm, IRI, both U.S. confectionery and snack sales increased in 2014: 1.9 percent and 2.7 percent, respectively.  NCA President and CEO John H. Downs explained in a press release that because sweets are enjoyed across every age and demographic group, it tends to have a very high household purchase rate, which results in about $35 billion in retail sales annually.
FBU wanted to give you a roundup of sweets and snacks trends at the expo as well as some innovative new brands we thought were noteworthy.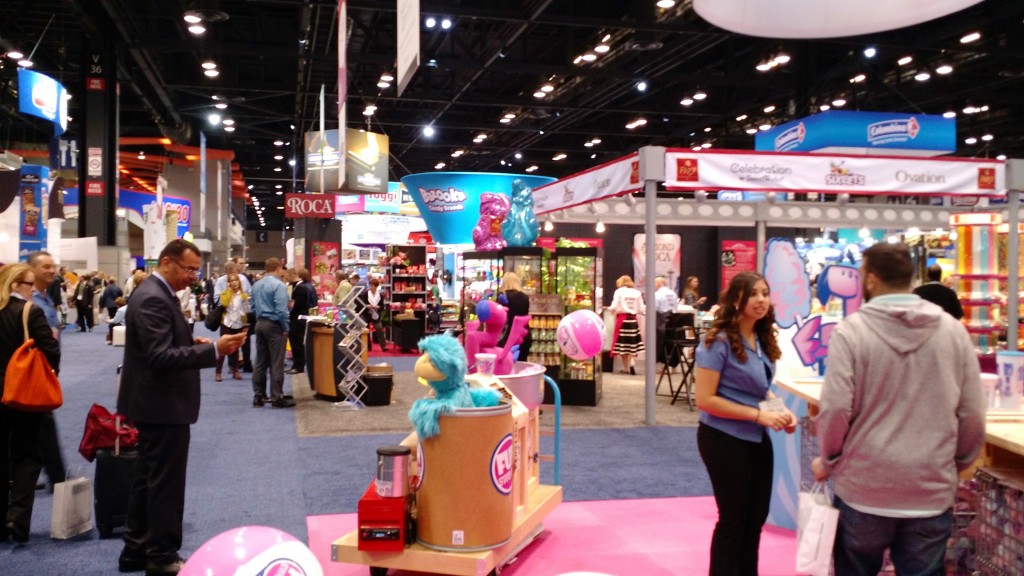 2015 Sweets and Snacks Trends
There were many trends present at the expo, some of which FBU mentioned in our State of Snacking article last month like indulgent snacking. Licensed restaurant brands like TGIFridays, Nathan's and Cold Stone took advantage of that trend.
Two trends we kept noticing were bite-sized, seemingly healthy chocolate snacks and a ton of flavored popcorn.  We spoke with Eric Bertheau, President of Next Organics, which makes a line of chocolate covered fruits and snacks.  Bertheau was a former marketer and has been in the business for about five years now.  He says the trend he is seeing in chocolate recently is a lot of "panned" chocolate – which is another word for small chocolate-coated items like chocolate covered nuts, candy or fruit; organic and better-for-you chocolate; chocolate in bite-sized snacks; and incorporating real fruit into chocolate, which is what Next Organics has done since the beginning.
FBU also talked with an associate from 479 Degrees, a San Francisco-based, organic popcorn brand garnering attention from the press for their unique popcorn flavors such as White Cheddar and Black Truffle and Toasted Sesame and Seaweed.
When asked why there were so many brands looking to go into popcorn – something that may seem simple and not overwhelmingly novel – 479 Degrees gave us its thought.
"Popcorn is a healthy alternative to chips and other fried snacks.  Because it is such a simple snack, it is easy to dress up with any flavorings you want," 479 Degrees said.
Others took established trends in different directions. Snack bars have been selling well, but savory snacks are just emerging, like Mediterra's Black Walnuts and Olive and Sundried Tomato and Basil nutrition bars.
In addition to the trends we saw, here are a couple the NCA announced in their press release to look out for:
Bringing Breakfast Back – According to the NCA, breakfast is no longer just for the morning and is making its way into snacks and candies.  (Ex. Jelly Belly introduced its Pancakes and Maple Syrup jelly bean)
Memory Lane – Classic childhood flavors are also coming back in the form of fountain sodas, pies, birthday cakes and lemonade.  (Ex. Wolfgang Candy Company's fountain soda-flavored mini pretzels)
A Focus on Fruit – In addition to the mainstay fruit flavors, candy and snack manufacturers are introducing more sophisticated fruit flavor profiles like Meyer lemon, blood orange and combinations like pineapple jalapeno to the mix.  The use of real fruit in candy and snack products are also on the rise. (Ex. Brookside Fruit and Nut Bars)
Innovation at Sweets and Snacks 2015
For the fifth year now, the Sweets and Snacks Expo featured a designated section for newer, small-scale startup companies called Innovation Alley.  FBU wanted to highlight a couple products we saw there that caught our eye.
Phoney Baloney's Coconut Bacon – Phoney Baloney is the first manufacturer of coconut bacon, which is a vegan, gluten-free bacon substitute made from coconuts.  Founder Kyle Domer first used it in his sandwich shop in North Irvine, California, and says it can be used in soup or toppings on pizza as a bacon substitute.
BumbleBerry Farm's Honey Cream – BumbleBerry Farm's owner, Karen Sandusky, is a beekeeper by trade and makes all of her honey creams (or honey butter) by hand.  She says the product can be used for spreads, to flavor coffee, or for glazes.  Sandusky recommends trying the Lovers' Leap Sea Salt Caramel for starters, but the spreads also come creative flavors like Molten Lava Spiced Chocolate and Sticky Buns Cinnamon.
goChia Superfoods Chia Bites – goChia Superfoods was started by Chandra Davis, who was looking for a nutritional edge while training for a marathon. Her brand began with a line of drinks and drink mixes and launched its crunchy Chia Bites made with energy superfoods such as quinoa and chia this year.
And FBU couldn't end without telling you all which brands took home the expo's Most Innovative New Product Awards.  The nominees, who were chosen by a pre-show panel of specialists on the basis of taste, innovation, sale-ability and packaging, were divided into nine different categories.  The winners were all voted by attendees of the show and here are the results:
Chocolate – Albanese World's Best Milk Chocolate Peanut Butter Peanuts
Non-Chocolate – Jelly Belly Pancakes and Maple Syrup Mix Jelly Beans
Sweet Snacks – Hershey's Snack Mix
Salty Snacks – Kettle Brand Thick and Bold Dill Pickle Potato Chips
Savory – Edward Marc Brand's Milk Chocolate Peanut Butter Snappers
Novelty/Licensed – Jelly Belly BeanBoozled Mystery Bean Dispenser
Seasonal – Roca Thins Dark Chocolate Peppermint Bark
Gourmet/Premium – Superseedz Sugar and Sea Salt Gourmet Pumpkin Seeds
Gum and Mints – Project7 Gum
Best in Show Award – Ferrero USA's TicTac Minions