Hu Launches Miniatures and Single-Serve Product Line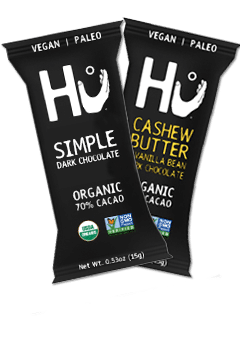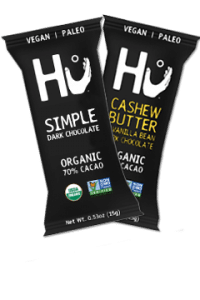 ANAHEIM, Calif.– Hu (pronounced "Hue" as in Human), makers of organic, paleo and vegan chocolate, is debuting two new chocolate lines geared towards the on-the-go snacker. After persistent requests from their engagement community on social media, they are now unveiling miniature Chocolate Bars along with single-serve Hunks at Expo West. Hu will also be sampling their new Grain-Free Crackers which has brought Hu outside of the chocolate aisle. In true Hu fashion, their crackers have a long list of ingredient guardrails, including no refined starches, no seed/"vegetable" oils, no tapioca, no maltodextrin — and many differentiators that set them apart from other gluten-free crackers. Expo West attendees are invited to stop by to experience the full product line of Hu at Booth #N549.
With the miniature and single-serve line, Hu aims to make on-the-go snacking easier for their current consumer base. The smaller portion sizes will also assist in driving trial of their paleo, vegan chocolate with new audiences.
"At Hu, our goal is to create delicious products with ultra-simple ingredients, and we are very excited to showcase our new line of miniature bars and single-serve Hunks™ to this year's Expo West attendees," said Hu Co-Founder, Jordan Brown. The miniature Chocolate Bars will first be available in two of their most popular flavors, Cashew Butter + Pure Vanilla Bean and Simple.
Hu began as a fully paleo restaurant in NYC in 2012 focused around simple, high-quality ingredients' ability to heal vs. overly-processed food's guarantee to hinder. Co-founders and family members Jordan Brown, Jason Karp, and Jessica Karp set strict ingredient parameters in the food they served, which resonated strongly with the health and wellness community. After struggling to find a delicious paleo chocolate they could use in their paleo baked goods, they created their own. The gluten, dairy and refined-sugar-free chocolate proved to be a hit. Seven years later, the brand's line of chocolate is stocked in over 3,500 retailer stores including Whole Foods, Sprouts, Wegman's and The Fresh Market.
Hu currently has nine flavors of chocolate bars, three flavors of chocolate-covered nuts and berries called Hunks™, snacking chocolate called Gems (2019 Best New Product from Project Nosh and 2019 Nexty winner), and now their latest ventures: Hu Grain-Free Crackers, miniature chocolate bars and single-serve Hunks™
About Hu
Hu (pronounced "Hue" as in human) is one of the fastest growing companies in the U.S. with a strict focus on clean label and highly vetted, transparent ingredients. Hu Chocolate, the first-to-market vegan, paleo, soy-free, refined sugar-free and non-GMO (or free-from) chocolate bar has been recognized with various gold, silver and bronze medals in the 2017 and 2019 "Best Vegan Chocolate Awards". Their NYC restaurant Hu Kitchen, where the CPG business was born out of, offers an elevated approach to fast-casual dining and is a haven for anyone with dietary restrictions. The restaurant serves over 1,000 people a day and focuses on delicious house-made food using only simple, high-quality ingredients. More information about Hu is available at www.hukitchen.com.