Greenjoy Launches New Algae Oil Dressings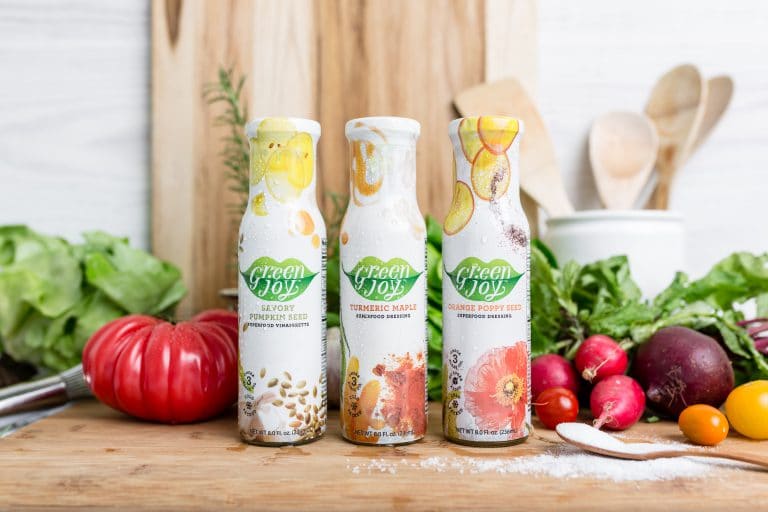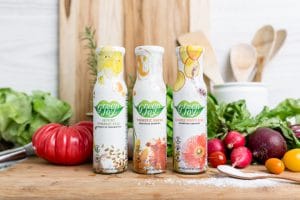 BLUFFTON, S.C.– Greenjoy, known for Making Veggies Irresistible, continues to reshape the salad dressing category with its new line of Algae Oil Dressings. Algae oil is packed with high levels of monosaturated fat and omega-3 fatty acids, the good stuff, which acts as an anti-inflammatory agent and aids in strengthening gut health.
Each new dressing has a delicious flavor profile, with no added sugar or emulsifiers/gums. Available in three tantalizing varieties – Turmeric Maple, Orange Poppy Seed, and Savory Pumpkin Seed, each foodie can have their own flavor!
These superfood dressings are a flavor blast to any salad and also add the perfect kick to any marinade or sandwich. Algae oil is a fantastic companion in the kitchen, offering a high smoke point, for ease in roasting, sautéing, or grilling almost anything!
Originally started in 2012 out of Founder/CEO Jenny Cawthon's kitchen, Greenjoy has been growing rapidly ever since. The brand now features 16 products covering three categories and is excited to launch these new innovative salad dressings with Wegmans and Whole Foods in Spring 2020. Customers are already raving about the flavors and innovative, nutrition-dense ingredients.
"At Greenjoy, we're passionate about bringing innovative, diverse flavors with transformative ingredients to as many people as possible. We are bringing joy and ease to eating vegetables." said Cawthon. "This vision guides us every day and informs our strategic and retailer partnerships. We're honored to partner with these fantastic retailers to bring our new products to the market and really admire the way they conduct business. Working with partners that are equally passionate about providing healthful products is a dream."
Growing its distribution by 800% in 2019, Greenjoy anticipates substantial increases again in 2020. Key contributors in growth stem from the addition of experienced advisors, key team members, and strategic partnerships. The company is in discussions with more natural and traditional retailers for continued national expansion in 2020.
About Greenjoy
At Greenjoy, our mission is making veggies irresistible! We believe you should love what you eat, and that healthy food can and should be delicious. We brighten salads with our award-winning dressings and crunchy superfood mixers and soon offer greens-to-go with our revolutionary pressed salad bar. It's a salad that fits in your pocket!
Greenjoy's Salad Dressings
Awaken your inner foodie with our award-winning selection of Superfood Salad Dressings. These delightfully refreshing flavor combinations are sure to make your salads pop. Plus, they can serve as a delicious ready-to-use marinade or dip — the perfect complement to any healthy dish and easily available to serve your family or friends. Try our superfood dressings and discover how to take veggies to the next level and live your best, healthy life.
About GREENJOY'S TURMERIC MAPLE SUPERFOOD DRESSING
Charm your taste buds with our Turmeric Maple Superfood Dressing – the perfect balance of maple, spice and all things nice! And, by nice we mean superfood powerhouses like curcumin loaded turmeric, omega-9 oil and omega-3 rich culinary algae oil.
About GREENJOY'S POPPY SEED SUPERFOOD DRESSING
The fresh citrus flavor of our Orange Poppy Seed Superfood Dressing adds zing as a dressing and zip as a marinade. This light, bright delight is bursting with true superfood benefits from Omega-3 rich culinary algae oil.
About GREENJOY'S PUMPKIN SEED SUPERFOOD DRESSING
Toasty pumpkin seeds, citrus and a drizzle of maple come together with Omega-3 rich culinary algae oil in our Savory Pumpkin Seed Superfood Vinaigrette to dazzle salads, pump up proteins and bring out the superfoodie in all of us.
For More Information
greenjoylife.com/