Abe's Launches Frosted Celebration Cake Line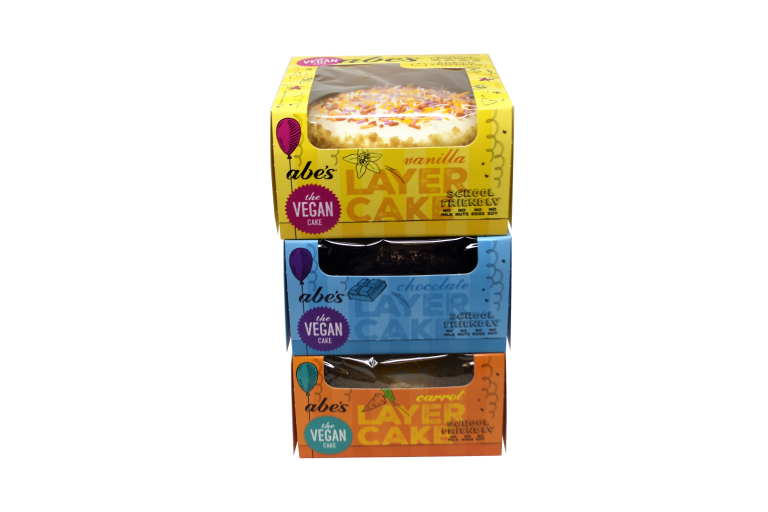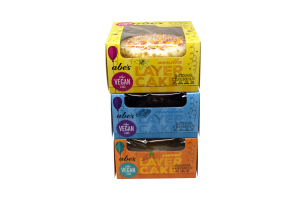 WEST NYACK, N.Y.— With the holiday season approaching, Abe's Vegan Muffins is the favorite of every Party with its new line of Celebration Cakes! The company, known for its allergy-friendly mini muffins, just launched three Celebration Cake flavors: vanilla, chocolate, and carrot. With oodles of frosting in between each layer and vibrant sprinkles on top, these new cakes truly are a "Party in A Box!"
Abe's founders are delighted by the response from consumers and retailers thus far. Marty Koffman (Abe's favorite Uncle) says that after announcing the launch, parents in the allergy community flooded his team with messages of gratitude and excitement, "Parents are telling us that this will be the first time they're able to purchase a store-bought cake for their child. They are thrilled to now have the option to purchase a cake at the store versus needing to bake at home." But for Marty, the most exciting thing about the launch is "that kids with food allergies do not feel singled-out at gatherings and can take part in the festivities like everyone else."
Most retailers cannot offer homemade allergy-friendly cake options in their own bakery displays because of potential cross-contamination. Consumers already trust the Abe's brand, which prepares their goods in a facility that is peanut, tree nut (other than coconut), sesame, and soy-free. Abe's festive celebration cake boxes are not only designed to stand out in the refrigerated bakery case, but also serve as an indicator to the 85 million Americans who avoid purchasing products containing major allergens that the items are safe for their families.[i]
Additionally, the launch marks the second phase of Abe's transition from plastic packaging to "Earth-Friendly" paperboard. The brand began moving to an eco-friendly packaging alternative last year when they switched their square cakes' plastic packaging to paperboard and are looking forward expanding this initiative to other product lines.
Distribution of Abe's Vegan Celebration Cakes is growing rapidly. Currently, they are available at Whole Foods stores in the Northeast and Mid-Atlantic region, Ralphs Fresh Fare Stores, and select HyVee locations.
MSRP: $22.99-$23.99
About Abe's
Do you know that Abe's Chocolate Chip & Wild Blueberry Mini Muffins ARE THE BEST-SELLING VEGAN BAKERY ITEMS IN THE USA?[ii] (#1: Chocolate Chip; #2: Wild Blueberry Smash)
It all began when Joby (Abe's Dad) and Marty (Abe's Uncle) started a commercial bakery, but Abe couldn't eat anything they made. You see, Abe was born was born anaphylactic to peanuts and tree nuts, and severely allergic to dairy, eggs, seeds, sesame, and soy. Abe's severe food allergies made being a kid rough. At parties, Abe was the only one eating fruit and crackers while his friends ate cookies and cupcakes. Even at home, Abe sat alone with something safe like a piece of mango or yesterday's leftovers while his siblings munched on their favorite treats. Tired of seeing Abe left out because of his food allergies, Joby and Marty set out to create a delicious treat not only Abe would love, but one that his friends and family would love too!…And they did it!! Since then, they've been on a mission to show that vegan and allergy-friendly can be absolutely delicious and fun for everyone!
Abe's does the hard work for parents of kids with food allergies struggling to find treats their children can safely eat and enjoy. And guess what? We now bake, pack, and distribute over 1 million muffins each week at our peanut, sesame and soy-free facility in West Nyack, New York. For more information please visit www.Abesmuffins.com.
[i] Food Allergy Research and Education: Food Allergy Consumer Journey. 2020 https://www.foodallergy.org/food-allergy-consumer-journey
[ii] SPINS Satori Software, 09 Jan. 2020.