Yasso Frozen Greek Yogurt Launches Snack Buddies Yogurt Bar Line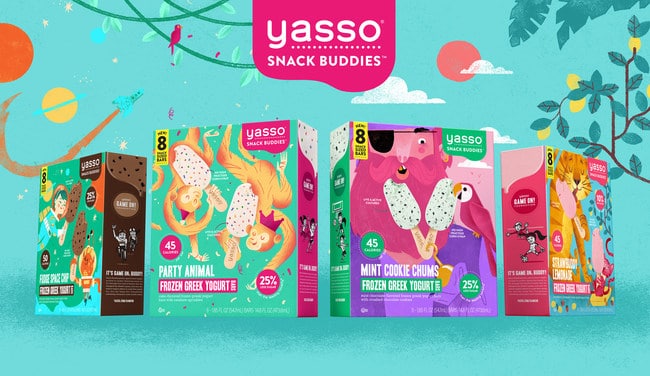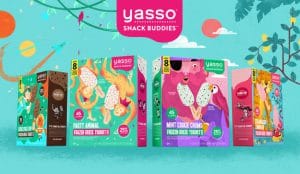 QUINCY, Mass.— Yasso Frozen Greek Yogurt, the world's first frozen Greek yogurt bar and fastest growing novelty brand continues to bring great tasting, better-for-you innovation to the frozen novelty category with the launch of Snack Buddies – a new line of 45-50 calorie frozen Greek yogurt bars that deliver indulgence in a smaller, snackable format for the whole family.
"As we did back in 2011 when we launched Yasso, we again identified an opportunity in the category to meet consumers' needs. The current novelty options available and marketed towards kids are largely water-based, packed with sugar and filled with artificial flavors and sweeteners," said Amanda Klane, Yasso co-founder and co-CEO. "Snack Buddies exists to fill that void and deliver an option for parents seeking healthier snacks for their children that can be enjoyed by the whole family."
Unlike current options, Snack Buddies will be among the first dairy based, better-for-you product, offering 25 percent less sugar than the leading novelty and 10 percent more protein, live and active cultures and no high fructose corn syrup or high intensity sweeteners. As a brand known for its indulgent offerings, Yasso's Snack Buddies flavor innovation was no exception and will be available for families in four mouth-watering varieties with eight bars per box:
Mint Cookie Chums: The ultimate best friend accelerator, this delicious flavor pairs mint chocolate-flavored frozen Greek yogurt with chocolate cookie pieces so you can pair dessert with your hungry buddies.
Strawbuddy Lemonade: Balancing out sweet and sour with creamy strawberry lemonade Greek yogurt, this ultimate collaboration is proof that two is always better than one.
Fudge Space Chip: Featuring creamy fudge chocolate frozen Greek yogurt loaded with crunchy chocolate chips, there's tons of good stuff packed into this out-of-this-world flavor.
Party Animal: Every snack is worthy of a celebration. And just like the best times come from good friends, the best flavors come from great blends. So this flavor mixes together cake-flavored frozen Greek yogurt and delicious rainbow sprinkles for a delicious result.
As the playful flavor names allude to, the Snack Buddies line is Yasso's delicious way of reimagining snack time through the celebration of friendship and creativity, pairing together delicious flavors with sensible nutrition and encouraging fans to enjoy with a buddy.
"No one knows snack time better than we do," said Drew Harrington, Yasso co-founder and co-CEO. "Amanda and I met in our kindergarten classroom during snack time and that friendship throughout the years ultimately led us to launch Yasso. We know when a snack delivers on great taste and nutrition, it deserves to be celebrated and shared. That's the promise of Snack Buddies – from the unique product, to the fun packaging, to the exciting digital engagement with fans."
The theme of friendship is evident through the unique Snack Buddies packaging design. Born from the same concept as its seasonal product characters, Yasso worked with creative agency Fortnight Collective and the husband and wife illustrator duo at Brave Union to create a variety of playful, whimsical characters such as friendly pirates and fun-loving monkeys to illustrate that even the most unlikely pairs can make memories together and enjoy.
In celebration of the launch, Yasso is tapping the great minds of the next generation of dessert disruptors for some flavor inspiration. Guided by contest instructions found on the Snack Buddies wrappers, snack-size fans are encouraged to draw their very own pair of Snack Buddies and invent a new flavor! Entries can be submitted on any social channel with the hashtag #YassoSnackBuddies for a chance to be turned into the real thing.
Yasso Snack Buddies are available at limited retailers nationwide. For more information about Yasso Frozen Greek Yogurt or to find a store near you, visit https://yasso.com/find-a-store/ and follow the brand on Instagram and Facebook.
About Yasso
Kindergarten friends turned entrepreneurs, founders Drew Harrington and Amanda Klane set out on a mission to create desserts that deliver on everyday indulgence with great taste, quality ingredients and superb nutritionals. Since hitting store shelves in 2011 as the first to market frozen Greek yogurt, Yasso quickly became one of the fastest-growing dessert brands in the world, disrupting the brand ranks of deeply entrenched competitors and attracting a loyal following of brand enthusiasts. Yasso currently offers 18 flavors of stick bars and 9 new pints, as well as its new line of Snack Buddies all of which can be found at major grocery and club stores nationwide, and is an active, positive contributor to the community via its Game On! Foundation. To find your local retailers and to learn more about Yasso, please visit www.yasso.com and follow @yasso.
About Fortnight Collective
A new model for the industry, Fortnight Collective is an independent brand marketing accelerator that is focused on helping brands be better, faster and was recently named an Ad Age Small Agency of the Year. With its unique AdHack, Fortnight Collective liberates the strategic and creative development process – all in two weeks. By putting the right talent around the table at the right time, the agency accelerates brand momentum for marketers. Based in Boulder, Colo. and with an office in London, England, clients include Nestlé, Patagonia Provisions, Vail Resorts, Health-Ade Kombucha, B Corp, Nestlé Purina, Yasso Frozen Greek Yogurt, Stranahan's Whiskey, YO! Sushi and more. For more information, visit fortnightcollective.com.