The Van Cleve Seafood Co. Launches Wild.Skinny.Clean. Line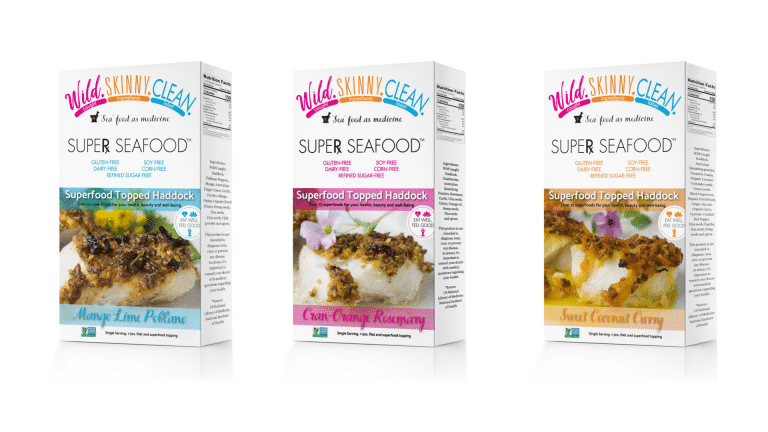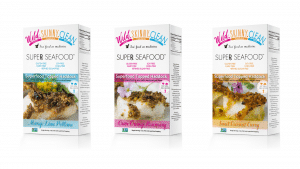 SPOTSYLVANIA, Va.— The Van Cleve Seafood Co.'s new Super-charged Superfood line consists of potent ingredients that have been used for thousands of years as both food and traditional medicine that can elevate health, happiness, mood, energy and overall well-being.
The lifestyle brand touts food that is wild-caught, has skinny ingredients with clean labels at the base and continues the healthy and healing appeal by being free from soy, corn, dairy, gluten, refined sugars and are also non-GMO.
The 5 frozen products ready for market include New England Haddock with self-activating superfood coatings in three 'spa-like', vibrant compounds: Mango Lime Poblano, Cranberry Orange Rosemary, and Sweet Curry Coconut, as well as Plant-based Crab-less Cake and Plant-based Pink Shrimp made from Superfoods, not soy, and are low in calories and unhealthy fats. Customers will be able to prepare all 5 entrees in under 15 minutes.
The all female and family owned company traditionally makes decadent gourmet seafood products and says the new health and healing line is part of a revolution brewing across America where people are taking charge of their health and well-being. Current food trends, seen with Gen Z's, Millennials and Baby Boomers alike, are gravitating towards functional foods with the desire to heal themselves with food, not drugs.
"This origin of this line, like most great products, was born from necessity. I aim to live a clean lifestyle every day for me and my family but it is so hard with the lack of convenient and truly healthy, healing foods on the shelves. We created Wild.Skinny.Clean. to give consumers more options, making it easier to live a healthier, happier life!" says co-owner, Monica Van Cleve-Talbert. "Seafood is the some of the leanest, healthiest protein you can eat, not to mention the health benefits that come from the powerful Omega 3 fatty acids. They can do magical things for your mind, body and well-being and we plan to enlighten consumers about these benefits," she adds.
The company searched long and hard to find the perfect fish for their new line. "It's time there is more transparency in not only where your seafood is coming from, but what the processors are adding to it once it's off the boat. Soaking seafood in Sodium Tripolyphosphate, a chemical that helps frozen seafood retain moisture, is common practice and yet most consumers are kept in the dark because the FDA doesn't require it to be disclosed on the label. "Even though the FDA has deemed it GRAS(generally regarded as safe), consumers like myself have grown so tired of finding out about 'hidden' chemicals in our foods. If it's safe then why not label it?" asks Monica. Because of this they wanted to know exactly where the fish were coming from, who the boat captains were and what the processing line looked like from the boat all the way to the freezer.
Wild.Skinny.Clean. boasts 100% clean, Sodium Tripolyphosphate-free Haddock that are wild and sustainably caught by American fisherman off the coast of New England, where the fish is MSC certified.
"It doesn't get any cleaner than this fish and I promise you'll be able to taste the difference!" says Monica. In addition, by creating more of a demand for this clean fish, Wild.Skinny.Clean. is helping to preserve the way of life for these American fisherman and their families. "This is a win-win situation considering the huge hit these fishing communities have taken in recent years with the increase in demand for cheaper, imported seafood. Wild.Skinny.Clean. aims to change that!" she adds.
Wild.Skinny.Clean's Plant-Based Crab(less) Cake and Shrimp items are catering to the growing demand for plant based alternatives to current protein options. "We see the trend turning into more of a movement and wanted to create something to satisfy everybody. Since we know seafood so well, who better than us to create the plant-based alternatives that taste just like the real thing?" said Shelly Van Cleve, co-owner and VP of Product Development.
Unlike many other plant-based items on the market, Wild.Skinny.Clean.'s plant-based items are healthy, promising no soy or hidden chemicals. "We're staying true to the line's mantra of healthy and healing- what good is eating plant-based if it's not good for you?" added Shelly. "Our plant-based products are made from superfoods and were created in a kitchen, not a lab."
Wild.Skinny.Clean.'s expanded product line includes their Superfood topping flavors in bulk for retail as well as new flavor compounds Wild Blueberry Lemon Verbena, Wild Lavender Meyer Lemon, and Wild Fig and Fennel launching in late 2020.
Look for the Wild.Skinny.Clean. line for sale online mid October 2019 and disrupting retail shelves in early 2020.
For more information visit www.wildskinnyclean.com.