Steeped Coffee Partners with Counter Culture Coffee on Single-Serve Steeped Bags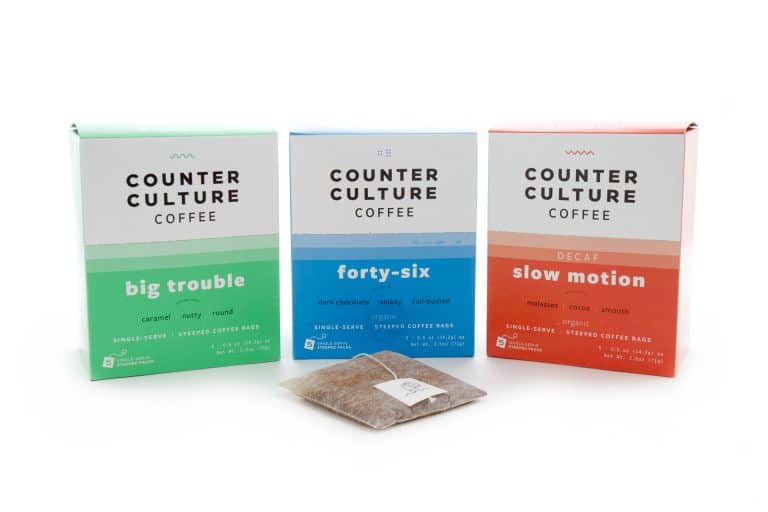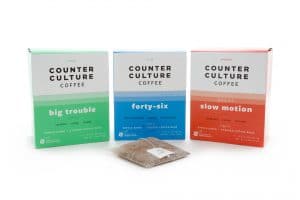 SANTA CRUZ, Calif.— Steeped Coffee, whose innovative brewing method is revolutionizing the premium coffee market, is working with Counter Culture Coffee, a leading pioneer of third-wave coffee, to transform the way people view single-serve.
Steeped teamed up with Counter Culture to transform their specialty whole bean roasted coffees into single-serve Steeped Bags that are conveniently brewed similar to tea. Each coffee bag is nitro-sealed for freshness in packaging made from compostable and renewable materials, which makes for a convenient and delicious cup of coffee that's sustainable.
Counter Culture is a globally recognized roaster known to be obsessive about quality and continues to pave the way for new sourcing standards and ethics across the coffee industry.
"Steeped's process produces a cup that is nearly indistinguishable from traditionally brewed coffee — and that really excites us," explains Counter Culture's blog. "The goal is to have our amazing coffees reach new audiences and venues by highlighting simplicity, flexibility, and convenience."
Steeped doesn't take its slogan 'Barista Approved' lightly. Wilbur explains, "We worked with Counter Culture for over 6 months of intensive weekly testing to scientifically validate every aspect of the Steeped Method, from freshness, quality, extraction, shelf life, and most importantly, consistent taste."
When asked about the response so far, Counter Culture's Katelin Resta says it's been overwhelmingly positive. "People are really excited for a convenient option that doesn't sacrifice quality. And we've been told this is a game-changer for fall camping trips."
The partnership – the latest addition to Steeped's roster of domestic and international partners – further solidifies Steeped Coffee's place as the premier single-serve solution for specialty coffee.
"Counter Culture Coffee has a stellar reputation on the specialty coffee scene," says Josh Wilbur, founder and CEO of Steeped. "Their Direct Trade practices, ethics, and transparent reporting mesh perfectly with our ethos, to focus on every detail from farm-to-cup and beyond."
The propriety Steeped Brewing Method is Wilbur's response to the over 10 billion unrecyclable coffee pods that accumulate in landfills each year — enough to wrap around the planet more than 130 times if placed end-to-end.
Steeped has established over 75 licensed partnerships with specialty coffee roasters across the country. Steeped Packs are available through top roasters, premium grocery stores, premier hotels, and directly online.
Features include:
100% Specialty Coffee: quality coffee ethically sourced directly from farmers
Full Immersion Filter: non-GMO filters that regulate ideal water-in and maximum flavor-out
Guilt-Free Packaging: made using plant-based renewable and compostable materials
Nitro Sealed: removes oxygen, stopping the clock on freshly ground beans
Micro Batching: specialty coffee roasted locally in small batches
Pre-Portioned: consistent SCA recommended water-to-coffee ratios
Precision Ground: consistent water-cooled grinding to the micron
Just Add Water: single-serve convenience with no machines required
Barista Approved: tested by multiple independent specialty coffee Q-graders for freshness, quality, and taste
About Steeped Coffee
Steeped, Inc., based in Santa Cruz, California, is a Certified B Corp focused on every detail from farm-to-cup and beyond, to bring people the most convenient, quality, ethically sourced, and sustainably packaged products available. Steeped Coffee provides a single-serve method that combines convenience and quality. The proprietary Steeped Brewing Method delivers 100% specialty coffee that's precision ground in Full Immersion Filters and nitro-sealed for freshness in Guilt-Free Packaging. Steeped Coffee is the simplest way to make a perfect cup of coffee, with no machines needed — just add water. Steeped, Inc. offers its brewing method to Licensed Partners throughout the country. For more information, visit Steepedcoffee.com/business. For business inquiries, contact sales@steepedcoffee.com