SMPL Expands Distribution of Functional Snack Line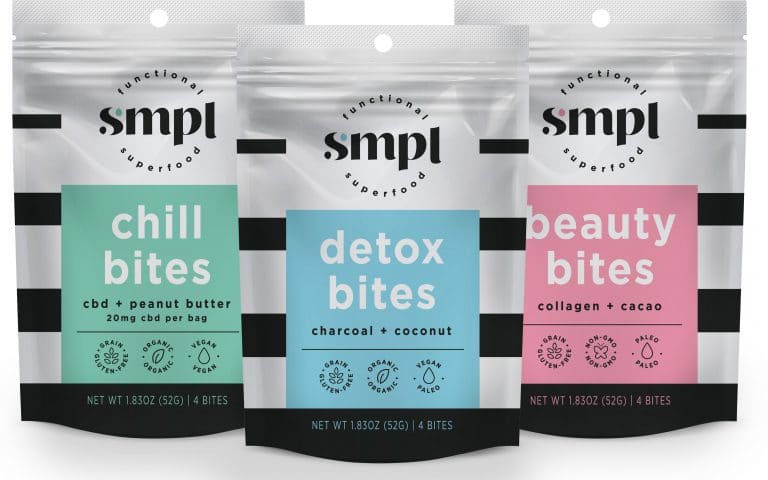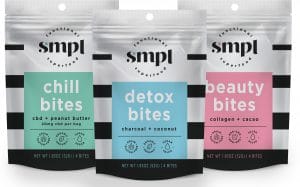 NEW YORK– SMPL, the new industry-defining functional snack brand, announced the entrance into the retail space with its three signature products: Chill, Detox and Beauty Bites, at 50 finer grocers, hotels, and spas throughout New York City, including Exhale Spa, HigherDOSE, The Goods Mart, and Equinox Hotels. SMPL Wellness Snack Bites are functional blends of organic plant protein, superfoods and adaptogens in resealable packaging to help improve your daily mood and physical well-being.
Founder and CEO of SMPL, Ellis Fried, knows the importance of strong nutrition and healthy body repair with plant-based superfoods. As a competitive ice hockey player growing up, he essentially lived off energy bars. However, he found that these bars were often filled with sugar and over portioned, leading to dozens of stale half-eaten bars left around his room. He came from a health-conscious family – his kitchen was consistently replenished with green juices, whole foods and a fusion of important supplements like vitamins, fish oil, and antioxidants. But, the only real way he could get the powerful benefits of these functional ingredients while on-the-go was in powder or beverage form. Ellis aspired to find a way to get the added health benefits of these ingredients and also an everyday clean nutritious snack – all in one.
As an undergrad at the University of Michigan studying economics and entrepreneurship, Ellis started SMPL as a class project, where he was named Entrepreneur of the Year. Shortly after graduation, at only 24 years old, he received a generous investment from the Ross Business School to pursue SMPL full-time and set out to create a trusted brand platform to push the boundaries of functional, clean-label snacking.
"People are learning about the benefits of whole food, plant-based nutrition, and herbal adaptogens for stress relief, sleep support, beauty, gut repair, and clean living more than ever," said Fried. "My mission with SMPL is to simplify daily health and wellness by bringing functional ingredients into everyday snacking in a delicious, yet convenient grab-and-go format."
SMPL Wellness Snack Bites have a base of organic fruit, nuts, seeds, and himalayan pink sea salt that are then infused with unique blends in three varieties that focus on function:
Beauty: Collagen + Cacao – Formulated with 3000mg collagen, lucuma, amla berry and chia seeds to support stronger hair and nails as well as improve skin elasticity and overall complexion.
Chill: CBD + Peanut Butter – Formulated with 20mg CBD from organic hemp and ashwagandha to help the body maintain homeostasis as well as regulate stress and anxiety.
Detox: Charcoal + Coconut – Formulated with vegan activated charcoal, organic pine pollen and chia seeds to help detoxify the body and improve your digestive health.
Non-GMO, gluten-free, paleo, and with no refined sugars, SMPL Wellness Snack Bites also ship nationally online ($48 SRP Chill, Detox, or Beauty 8-pack or $20 SRP Variety 3-pack). For ordering or more information, please visit getsmpl.us or follow @getsmpl.
About SMPL
SMPL is an NYC-based wellness snack brand founded by health and fitness enthusiast Ellis Fried. SMPL launched a line of wellness snack bites made from the highest quality organic fruit, nuts, superfoods, and adaptogens with no refined sugar in grab-and-go resealable packaging. SMPL targets the modern lifestyle consumer who desires a clean, functional snack while on the go. Products are made with organic, whole food, dairy-free, gluten-free and soy-free ingredients. SMPL is available in three varieties: Beauty: Collagen + Cacao, Chill: CBD + Peanut Butter, and Detox: Charcoal + Coconut. 8-packs are available online and at finer grocers, hotels, and spas in New York City, including Exhale Spa, HigherDOSE, The Goods Mart, and Equinox Hotels. For more information, visit getsmpl.us or follow @getsmpl.