Navitas Organics Launches CBD Wellness Shots, Latte Mixes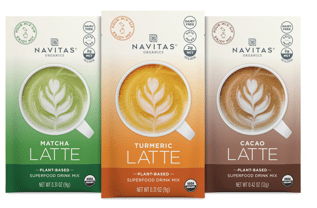 NOVATO, Calif.— Superfood pioneer Navitas Organics today announced the launch of three plant-based Superfood Latte mixes. The launch signifies the company's longstanding commitment to offering the latest in plant-based nutrition. As a category pioneer, Navitas' fifteen years of quality product offerings shape the trends seen in the organic superfood category, meeting the needs of curious consumers. The product, along with a new flavor of their successful Power Snacks line, will make its debut at this year's Natural Products Expo West.
Navitas' nutrient-rich product portfolio has expanded to include three organic Superfood Latte Mixes – a warm cup of wellness that is a nourishing remake of the beloved latte, and can be enjoyed any time of day.  Building on the success as a category leader with single ingredients and Boosts and Blends products, each plant-based latte mix is convenient and easy to use, made with a powdered coconut oil base. Supportive of a keto, paleo and vegan diet, the mixes include 2g of healthy energizing organic MCT fats from coconut. Each Superfood Latte can be mixed with 8 oz. of hot water, milk or a plant-based alternative for a creamy, delicious hot beverage. All mixes are certified organic, contain no fillers or artificial sweeteners and come in three flavors with a per-packet SRP of $1.99: Cacao Latte Mix, Matcha Latte Mix and Turmeric Latte Mix.
"With our Superfood Lattes we were inspired by the recent latte craze to provide our consumers with an alternative to the nutrient-void, sugar-laden drinks found in your mainstream coffee shops," said Adelman. "These mixes are under 45 calories and 3 g of sugar per packet, providing a portable, economic and healthier alternative to incorporate superfoods into your day."
In addition to the new products in the portfolio, Navitas has added a new flavor to their popular Power Snack line. The newest flavor, Chocolate Cacao, combines dark chocolate chips, cacao and dates with 9 superfoods in less than 80 calories per serving. All three of these new products reflect and embody Navitas' high-quality standard and are designed to offer every consumer a portable, guilt-free snack to help them Live Life Positive.
Navitas Organics Latte Mixes, Superfood Wellness Shots with Hemp CBD and new Power Snacks flavor will be available March 2019 online at navitasorganics.com. Navitas Organics recommends consulting your doctor before changing or adding any natural substances to your diet and medicinal routine.
About Navitas Organics
Navitas Organics is a premium organic superfood company offering the best quality, plant-based and nutrient dense superfood ingredients and snacks since 2003. Most Navitas Organics products are USDA certified organic, non-GMO and contain health benefits that have been celebrated for generations – handled with purpose and care to preserve their vital superfood nutrients. Navitas Organics offers a wide range of nourishing foods used for baking, cooking, smoothie making and ready to pop-in-your-mouth snacking to empower a modern, nutritious lifestyle. Navitas Organics is proudly a Certified B Corporation. For more information on Navitas Organics, please visit navitasorganics.com, follow them on Instagram at Instagram.com/navitasorganics, like their Facebook page at facebook.com/NavitasOrganics/ or follow them on Twitter at twitter.com/navitasorganics.