McConnell's Fine Ice Creams Launches Three New Flavors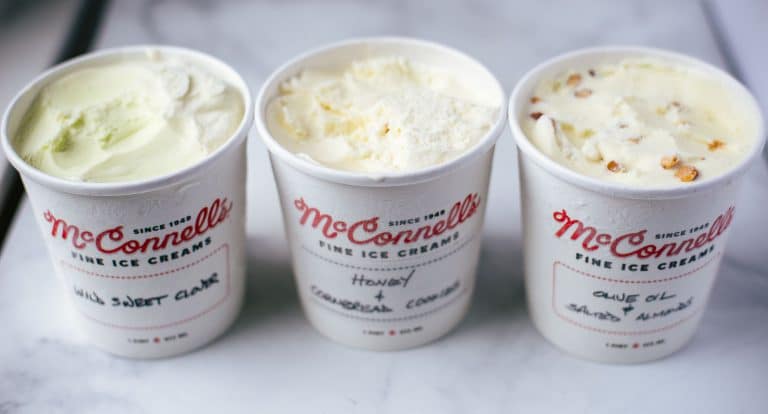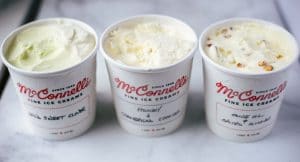 SANTA BARBARA, Calif.– This summer, McConnell's Fine Ice Creams, the family-run dairy and one of the most iconic ice cream companies, is celebrating 70 years! To commemorate the occasion, they've launched three new flavors with three wonderful partnerships, in accordance with the very same principles that has guided McC's since 1949 — the finest ice creams, made from scratch, using Central Coast grass-grazed milk & cream and the finest local, sustainable and seasonal ingredients, from partner farms & purveyors they've worked with for decades. Meet the new flavors!
Honey & Cornbread Cookies
Central Coast wildflower honey – from the hives of our fellow Santa Barbarians at San Marcos Farms – stirred into rich, sweet cream – then studded with chunks of our house-made, sweet & salty cornbread cookies.
Central Coast honey benefits from the extraordinary flora that grows year 'round in our sunny, Mediterranean climate. Wildflowers, sage, eucalyptus, and willow. Native species such as sumac, toyon and buckwheat, farmed citrus and avocados. But the local, raw, unfiltered honey from Santa Barbara's multi-generational, family-owned San Marcos Farms (Anne and Donald Cole), honey is simply extraordinary.
Wild Sweet Clover
Distinctly sweet & vaguely vanilla, clover is a dairy cow's favorite forage. It's also the inspiration for a very special collaboration with our friend, Ian Purkayastha, of Regalis Foods, the nation's premier purveyor of ingredients rare and delicious.
Each Spring and Summer, our local, Central Coast dairy cows take to the hills to forage on rich, wild clover. It's a key ingredient in the incredible and consistent, delicious milk & cream we source at McConnell's. Leave it up to our incredibly creative friend, Ian Purkayastha (aka Truffle Boy), who's created a unique extract from the very same clover.
Olive Oil & Salted Almonds
Vincent Ricchiuti's family has farmed California's Central Valley since 1914. Vincent's Enzo Olive Oil's delicately floral Arbequina olive oil is the perfect match to Central Coast, grass-fed milk & cream and (Vince's own) salt-roasted Valley almonds.
Olives have been cultivated in California's Central Valley since at least the mid-1700's. The Ricchiuti Family's All-(Italian) American story shares a good portion of that history. Our buddy, fourth-generation farmer Vincent Ricchiuti created his award-winning, Enzo 100% estate-grown Organic Extra Virgin Olive Oil so that others could share in the quality and deliciousness that comes from several lifetimes worth of dedication to farming and producing the very best.
All flavors are available in McConnell's Scoop Shops now and for shipping nationwide ($12/pint). Get social and follow McConnell's on Facebook, Twitter & Instagram.
A Stroll Down Memory Lane with McConnell's
Hello year 1949! America's industrial food complex was in full swing. Quicker, easier and cheaper was (and still is) the order of the day. Food companies (including dairies and creameries) had (and still do) long-since turned to artificial flavors, colorings, stabilizers and additives. This was against every principle that McConnell's believed in. McConnell's would forego the easy route. No compromises. No fake colors or flavorings. No additives. And no stabilizers. Ever. McConnell's would produce the finest ice creams in the world.
The Old Dairy, in downtown Santa Barbara – became a source of year-round, superlative, grass-grazed milk & cream. And local farms & purveyors provided a bounty of year-round, seasonal ingredients – the fruit, nuts and produce McConnell's would use to make house-made inclusions, jams, caramels and variegates.
In 2019, still family-owned and under the leadership of husband and wife – Santa Barbara chef Eva Ein and husband, winemaker Michael Palmer – along with dairy industry guru, Charley Price – McConnell's moved into The New Dairy – FIRST from-the-ground-up dairy built in Central California in over half a century. The New Dairy is a state-of-the-art facility that also houses a full-scale commercial kitchen and pastry staff. It allows McConnell's to continue doing things as they always have, producing not just their ice creams, but everything in their ice creams – house-made inclusions, jams, caramels and variegates – 100% from scratch. Visit mcconnells.com