Hakuna Banana Launches Novelty Bars, Expands Distribution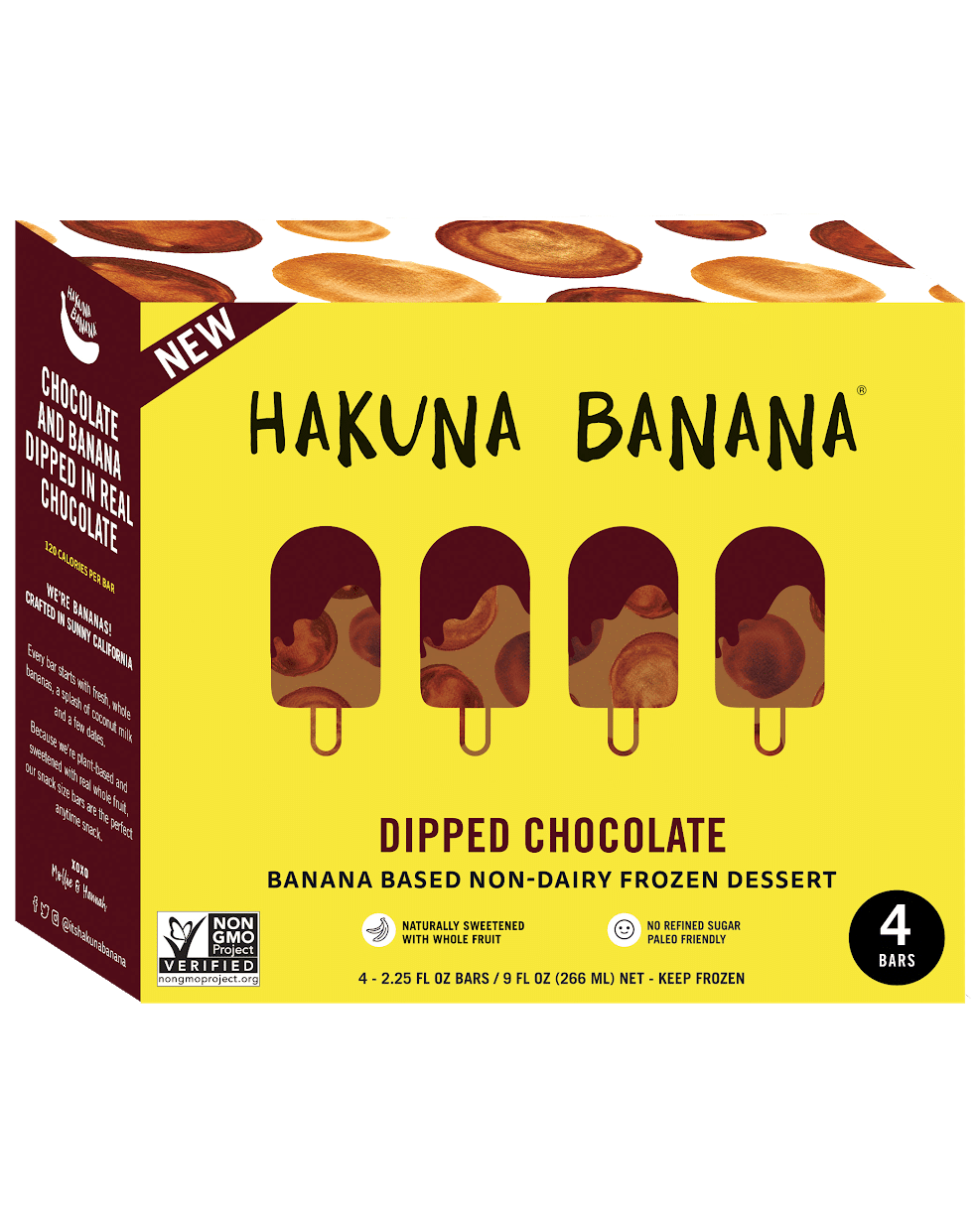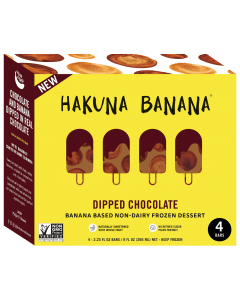 LOS ANGELES— Hakuna Banana, the leading non-dairy nice cream brand, has announced the launch of their new novelty bars. The 120 calorie bars come in packs of four bars and are available in three flavors: chocolate, "banilla" and strawberry. Only 120 calories a bar, the dessert makes maintaining a healthy lifestyle simple by meeting a number of wellness considerations, including being plant-based, non-GMO, no refined sugars or sugar alcohols, paleo-friendly and naturally sweetened with whole fruit.
Made from a combination of bananas, dates and coconut milk, the product is then dipped in real chocolate, to offer a decadent and portable twist to Hakuna Banana's fan favorite flavors. The product will be available in Whole Foods and Sprouts locations across the southern pacific region of the United States, including California, Hawaii, Arizona, Utah and Nevada.
"As consumers continue to prioritize wellness, it's important that we offer options that not-only help meet dietary goals but taste delicious," said Hannah Hong, co-founder, Hakuna Banana. "By creating a product that actually seems like an indulgence, we enable our customers to accomplish a healthy lifestyle without having to give up arguably the most important meal of the day."
In addition to the novelty bars, Hakuna Banana is rolling out a new and improved chocolate offering. The new product will be available for retail in April and is packed with even more chocolate and chocolate chips that are imported from Belgium.
Stay in touch and follow along with Hakuna Banana @itshakunabanana to learn about the latest flavor releases, get suggestions for recipes and pairings, and stay on top of all "nice cream" news.
About Hakuna Banana
Hakuna Banana is a Los Angeles-based "nice cream" company founded by UC Berkeley graduates and second-generation Korean Americans, Hannah Hong and Mollie Cha. Hakuna Banana began as a passion project between two best friends that prioritized healthy lifestyles but weren't willing to compromise on the flavor of their favorite dessert. Today, the company has more than nine flavors of vegan, non-GMO, plant-based ice cream in a variety of formats, including pints, novelty bars and soft serve. Products ship nationally and are available in select Sprouts and Whole Foods locations. You can also visit Hakuna Banana's nice cream stand in Honolulu Hawaii. To stay in touch or to order nice cream from Hakuna Banana visit the website at www.hakunabanana.com and follow the company on Instagram @itshakunabanana