FINE & RAW Chocolate and by CHLOE. Collaborate On 2 New Bars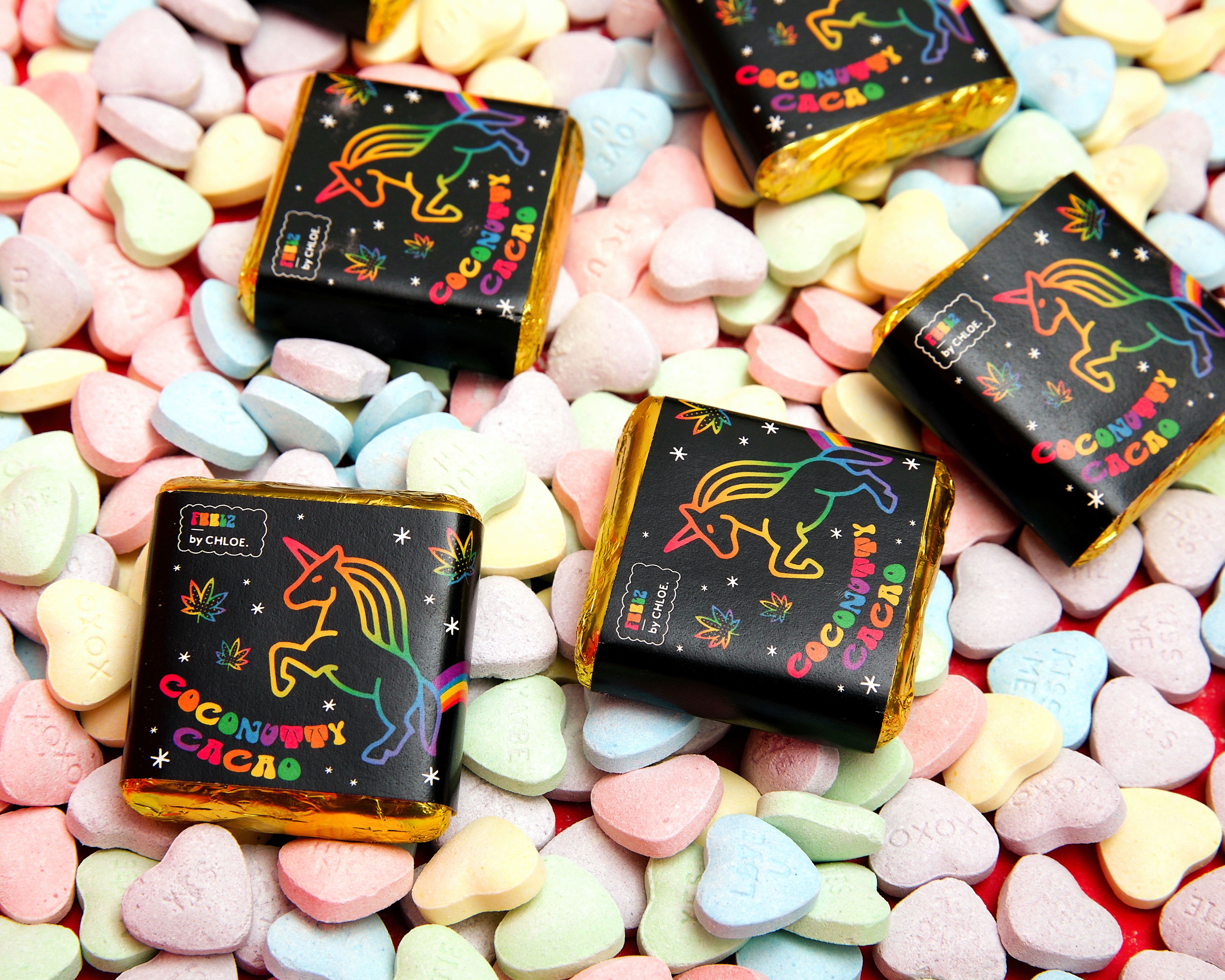 NEW YORK– When a small-batch organic chocolatier meets a leader in the plant-based movement, sweet magic happens. On Feb. 1, just in time for Valentine's Day, the plant-based brand by CHLOE. in collaboration with Brooklyn-based FINE & RAW will debut two delectable artisanal chocolate bars. Spoiler alert: One variation takes inspiration from the popular Feelz by CHLOE. collection, featuring 20 mg of full-spectrum CBD oil.
Obsessed with making the finest chocolate in the world, FINE & RAW is truly bean-to-bar, starting with organic cacao beans from sustainability-focused purveyors and crafting them into rich, dairy-free bars, convections and truffles. FINE & RAW chocolate is crafted exclusively with coconut sugar, which extracts caramel notes and deeper, more vital flavors of the superfood.
"This is one of the most deliciously forward thinking and creative chocolate collaborations we have ever done! The flavors and effects are beyond!" said Daniel Sklaar, FINE & RAW owner and founder.
"I am so excited to launch two delicious chocolate bars to celebrate the month of love! To help bring our chocolatey dreams to life, we've partnered with FINE & RAW, whose brand mission and values perfectly align with ours," says by CHLOE. founder, Samantha Wasser. "I can't wait for our guests to try our divine treats that make for the perfect gift for a Valentine's Day sweetheart."
by CHLOE. will offer two chocolate bar (1 oz. / 28 g) varieties in collaboration with FINE & RAW that are 100 percent unroasted for a more assertive/nuanced cacao flavor and nutritious value:
CHOCOLATE with Sea Salt ($5)
70 percent cacao
Made with sea salt and organic cacao beans, coconut sugar and cacao butter
COCONUTTY CACAO ($10)
Coconut + cacao chocolate infused with 20 mg of all-natural, full spectrum hemp extract with CBD
Made with organic cacao beans, coconut butter, agave, coconut sugar and cacao butter, and full spectrum hemp extract with CBD from Toast.
Filled with all the plant synergy and superfood nutrition of raw cacao, by CHLOE.'s CHOCOLATE with Sea Salt will be available at all by CHLOE. locations, and the COCONUTTY CACAO chocolate bars will be available in all New York City, Boston and Providence stores.
Additionally, by CHLOE. is thrilled to be partnering with some local friends who will carry their chocolate creations exclusively for the month of February. Featured retailers will include Morgan Lane, the NYC-based brand founded by Morgan Curtis that sells sexy yet cheeky lingerie and swimwear (available online); Pop Up Florist, the NYC-based plant and floral design company founded in 2016 by Kelsie Hayes that provides photo-worthy arrangements that are vibrant, unconventional and affordable (available in-store); Alison Lou, the fine jewelry brand founded by Alison Chemla that combines witty designs with modern elegance (available online and in-store); and others to be announced.
Founded in 2015, by CHLOE. serves up wholesome, plant-based dishes made with locally-sourced ingredients that energize, nourish and heal the planet. Always committed to growing sustainable and vegan lifestyles, by CHLOE. also lowers the carbon footprint and preserves the water supply through mindful ingredient sourcing and eco-friendly packaging.
For more information, visit www.eatbychloe.com or follow at @eatbychloe.
About by CHLOE.
by CHLOE. is a fast-casual brand that opened its flagship location in the heart of the West Village in New York City in July 2015. The plant-based restaurant aims to offer delicious, wholesome, vegan foods that fuel and energize without compromising flavor, taste or satisfaction. Since opening in 2015, by CHLOE. has grown to 13 locations around the world, including New York, New York; Boston, Massachusetts; Silverlake, California; Providence, Rhode Island; and London, United Kingdom. In September 2016, by CHLOE. opened Sweets by CHLOE., a plant-based bakery with two locations in New York City in the West Village and Seaport District. In 2019, in partnership with Kitchen Fund and Bain Capital Double Impact, by CHLOE. will open additional locations in New York City and London and is excited to focus on continued expansion and dedication to sustainable living and wellness. Visit eatbychloe.com.