Molli Mexican Sauces Expands Distribution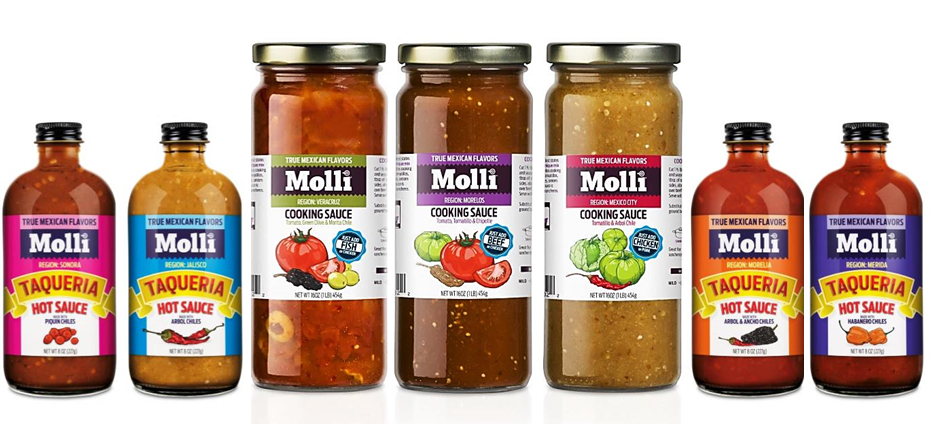 DALLAS — Summer temperatures are rising all across the country, but the demand for home-style regional Mexican cooking sauces is still steaming with the recent addition of 85 Foodtown locations carrying the highly popular Molli Sauces. Foodtown locations throughout New York, New Jersey, and Pennsylvania will be carrying Molli's three regional cooking sauces: Tomato, Morita chile and Green olive sauce from the Veracruz region; Tomatillo and Arbol chile sauce from Mexico City; and Tomato, Tomatillo and Chipotle chile from the Morelos region.  Molli Sauces is the first brand that makes it easy for people to enjoy the true flavors of Mexico at home without having to spend hours in the kitchen.
"The fast growth in demand and distribution for Molli Sauces speaks to a strong shift among consumers toward more intense and authentic flavor experiences, one we are happy to respond to and further fuel with our regional Mexican cooking sauces and our new line of Taqueria Hot Sauces," said Rodrigo Salas, co-founder and CEO of Molli Sauces.
West Coast Expansion
Earlier this year, two leading northwest chains, Haggen Food and Pharmacy, and the Oregon-division of Albertson's/Safeway added Molli cooking sauces to their Hispanic shelves.
Southern Expansion
In addition to Central Market (HEB) and Whole Foods, Texans will also be able to find Molli Sauces at all Tom Thumb, Randall's and Albertson's stores starting in October of 2018.
East Coast Expansion
In addition to FoodTown, East Coasters can also find Molli Sauces at:
–       Fairway Markets (16 locations in Manhattan, Long Island, New Jersey and Connecticut)
–       DeCicco's & Sons (8 locations in New York)
True Mexican Flavors
Molli Sauces is the only brand that makes it easy for anyone to enjoy the flavors of the different regions of Mexico at home. Our sauces are made the same way a Mexican home cook would; using real ingredients and the traditional chile peppers of each region; without gluten, sugar, or artificial ingredients. Molli cooking sauces are an easy and healthy way to add variety and flavor to any meal.
About Molli
Based in Dallas, Texas, Molli Sauces is a privately held company with a mission of bringing true Mexican food to America. Molli is a proud Food-X alumnus. Food-X is the #1 Food Innovation Accelerator in the World.