Haven Row Launches Fresh Convenience 'Do Anything' Sauces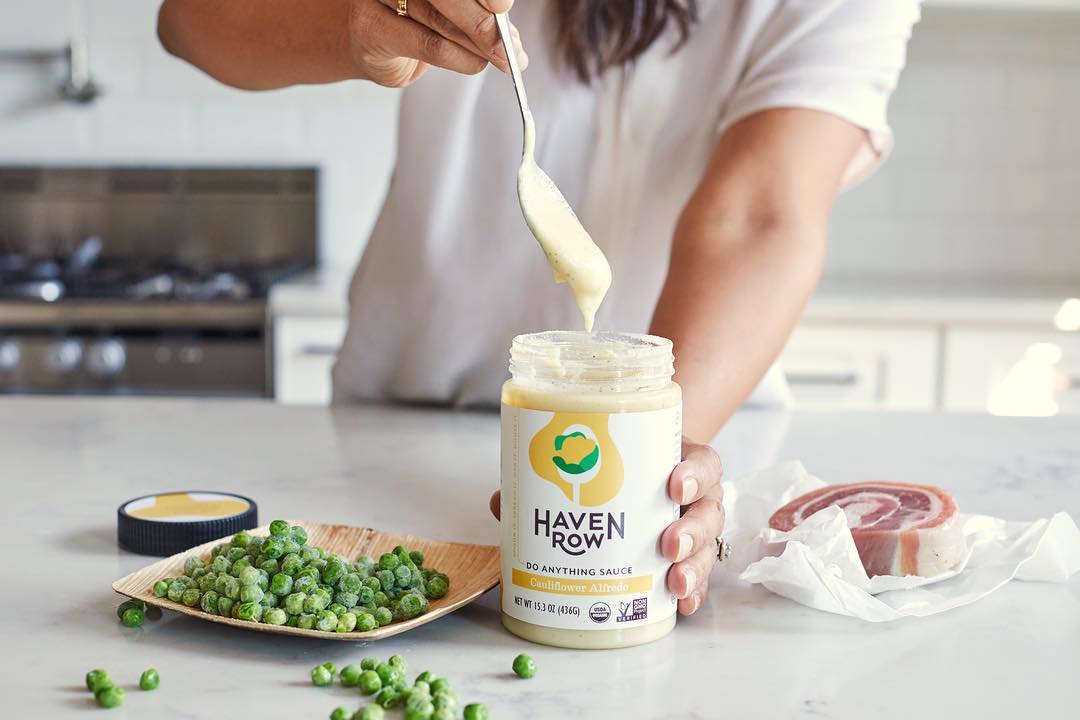 Haven Row launches their innovative, fresh "Do Anything Sauces" at Expo West 2018 and has been named a Nexty Award Finalist for "Best New Organic Food."
Haven Row has been named a Nexty Award Finalist for "Best New Organic Food" and debuts "Do Anything Sauces" at Expo West 2018Organic, non-GMO, HPP'd, vegetable-based lineup includes Kale Pesto, Beet Pesto, Cauliflower Alfredo, Butternut Squash Sauce and Tomato Veggie SauceCategory-defying sauces are a unique product, and one that is filling a clear gap in the growing market for fresh convenienceHaven Row's female co-founding team, Monica Salhotra and Allie Shanholt, have come together to bring to life an innovative brand that makes healthy eating fun, fresh and convenient. The company is launching with a line of versatile, vegetable-based "Do Anything Sauces" to help consumers get healthy, fresh, veggie-rich meals on the table in a snap.
"We're calling them the 'Do Anything Sauce' because they're so versatile, you can use them as a dip, a spread, a soup, a marinade and so on" explains Salhotra, CEO and co-founder. "I'm a Mom to three kids and the idea for Haven Row was born out of the weekly challenge I faced as a working parent to get interesting and nutritious meals on the table that we could all enjoy. I started making these sauces and keeping them in my fridge so on any given week night I could pull together a great dinner with whatever I had on hand."
The fresh, refrigerated sauces are certified organic, non-GMO and gluten-free; use no preservatives, dyes or artificial flavors; and are made with only the highest quality ingredients. "We have a real focus on our sourcing, always looking to improve the quality. We produce these sauces just as I would for my own family, no shortcuts" adds Salhotra.
Haven Row's category-defying sauces are a unique product set, and one that is filling a clear gap that consumers desire. "Food and wellness tastemakers have clued in their audiences to the magic of sauces made from vegetables like cauliflower or butternut squash, but there is nothing like it on a grocery shelf" says co-founder, Allie Shanholt. "We've done the picking, chopping, caramelizing and blending for our customers and put it in a jar. This way, they can enjoy these small-batch sauces as if they had made them at home… except without a sink full of dirty dishes!"
Haven Row is utilizing HPP technology to extend flavor, preserve nutrition and provide a 90-day shelf life. The extended shelf life is the key to establishing Haven Row as the new "fridge staple" for busy households who need to keep products on hand for a quick dinner or after school snack.
The Haven Row brand has positioned the company to be a straight-talking, real food advocate bringing practical mealtime solutions so healthy meals can become a part of everyone's daily life. "We have developed an entire pipeline of 'real food', vegetable-based products to fill the growing demand for healthy, fresh meal and snack solutions. Our goal for Haven Row is to be the go-to brand that families and busy individuals trust to provide 'tools' to help them eat nutritious and satisfying meals" says Shanholt.
Haven Row launched in select New York retailers in early February, and will be opening up broader distribution after their official Expo West 2018 debut. With strong early traction, rave reviews from early consumers and a co-founding team with a strong track record in launching and working with startups, Haven Row is on track to achieve rapid growth out of the gate.
Product details:
15.6oz sauces: Kale Pesto, Beet Pesto, Cauliflower Alfredo, Butternut Squash Sauce and Tomato Veggie SauceAll Organic, Non-GMO, Gluten Free and Nut Free. No preservatives, added sugars, emulsifiers, artificial flavors or colors. Must be kept refrigerated. Cold Pressure Pasteurized. 90 day shelf lifeAvailable at select retailersE-commerce launching in Q2 2018
About Haven Row
Haven Row was established in 2016, and produces high-quality fresh foods to make mealtime easier, healthier and more delicious. Haven Row launched their line of "Do Anything Sauces" in 2018 to provide innovative meal solutions so healthy eating can fit in to everyone's life.
About Monica Salhotra
Monica Salhotra, Co-Founder and CEO. At Haven Row, Monica brings to bear all of the wisdom she has garnered through a successful career in finance and investing, and being a passionate home cook. In the day to day management of the business, she focuses on Sales, Operations and Finance. She has a highly organized and no-nonsense approach to ensuring that the product is produced and distributed on time and at its highest quality. Before Haven Row, Monica had a notable career in investment banking at Goldman Sachs followed by a highly entrepreneurial role investing & launching new businesses for Richard Branson at The Virgin Group. Her first passion, however, has always been cooking. Three kids later and after a lot of trial and error in figuring out how to make mealtime really work, she now wants to bring some of the simple ideas that worked in her home to more tables everywhere.
About Allie Shanholt
Allie Shanholt, Co-Founder. Allie is passionate about building brands in the digital age, and has built her career around the new evolution of commerce and marketing. At Haven Row, she leads Sales and Marketing and Brand. She manages everything from social media to channel strategy, in her signature scrappy, creative way. Most recently, she ran Stumptown Coffee Roaster's digital business and marketing. Prior to Stumptown, she worked with innovative businesses as a venture capital investor and a management consultant. She's also a home cook hack: always seeking to make meals healthier, easier and more delicious; and can't wait to share with the Haven Row community.