ThinkFoodGroup and Tio Gazpacho Announce Beefsteak's New Ready-To-Drink Line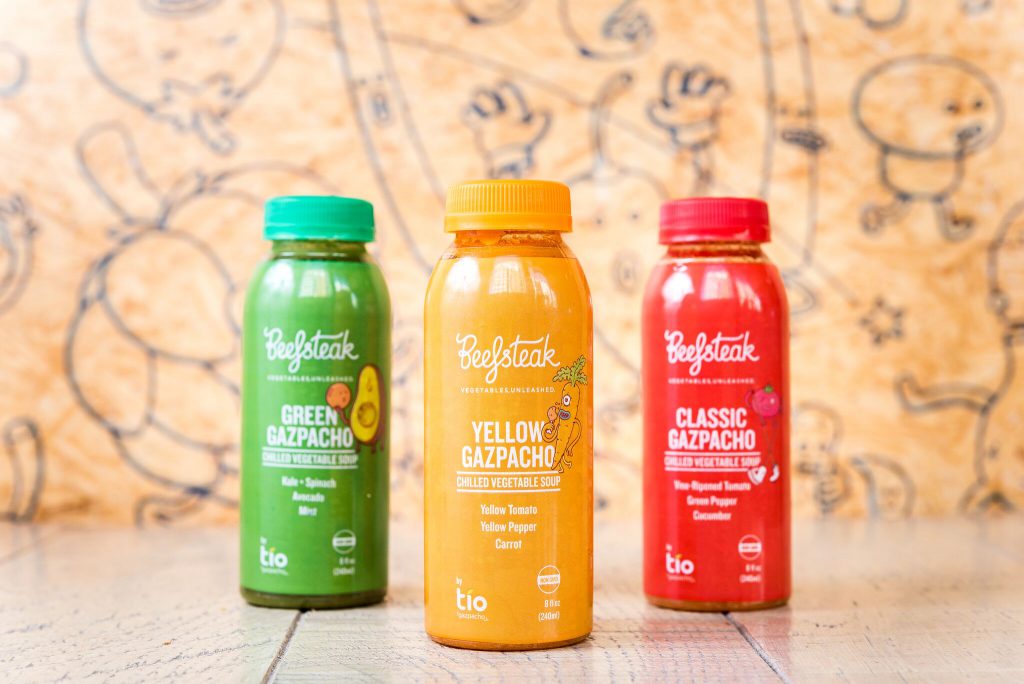 Washington, DC – Tio Gazpacho, the leader in the drinkable soup category, and Michelin-starred chef José Andrés along with his company, ThinkFoodGroup, are excited to announce a brand-new product to be sold at Beefsteak, his fast casual concept. This new product, Beefsteak by Tio Gazpacho, is an extension of the Tio Gazpacho brand and will be available at all DC area locations as well as Philadelphia.
Beefsteak is Jose Andres' fast casual concept where vegetables take center stage. The menu features hearty vegetable bowls with countless combinations of flash-prepared vegetables atop warm grains or field greens with freshly made sauces, (and if you want) a bit of protein, and crisp and fresh toppings. This exciting concept debuted in early 2015 and now has five locations across the D.C. area and Philadelphia.
"Gazpacho is one of my favorite recipes that I've been eating since I was a boy in Spain," said Andrés. "When I first tasted Tio Gazpacho I was so excited because he not only has perfected flavor, and found a beautiful way to play with colors and vegetable varieties but it's also portable! So you can enjoy anywhere. I'm so proud to partner with Austin and to continue to serve more and more Gazpacho."
Beefsteak by Tio will first be available in Classic Gazpacho flavor, with vine-ripened tomato, green pepper, and cucumber, then followed by the release of Yellow Gazpacho (yellow tomato, yellow pepper, and carrot) and Green Gazpacho (kale, spinach, avocado, and mint).
Tio Gazpacho first hit U.S. stores with three flavors in January 2015 and launched its two newest flavors in early 2017. In 2016, Tio closed on a $1.25 million Series A funding round with 301 INC, General Mills' business development and venture capital arm and other investors. ThinkFoodGroup's interest in the brand is yet another indicator that proves the category is quickly growing in the U.S. marketplace.
"I'm so thrilled to continue working with José Andrés." said Austin Allan, CEO and Founder of Tio Gazpacho. "I'm excited to have the opportunity to introduce a new product line to his customers."
About Tio Gazpacho
Tio Gazpacho was founded by Austin Allan after spending four years living abroad in Spain. Enamored with the country's way of life and love of the chilled soup, Austin knew that gazpacho could be a great way to bring a little bit of Spain to the US while creating a product as delicious as it is healthy. Austin spent two years in Miami testing recipes and sampling products before moving the company to New York. He became hooked on the idea of revolutionizing the soup industry and ensuring Tio Gazpacho's place as the front-runner in the newly created "drinkable soup" category in the U.S. In September 2014 Tio Gazpacho officially debuted at Natural Products Expo East. Tio's first three flavors launched in stores in January 2015. Tio launched its newest flavors, Gazpacho Rosado, Maiz, and Fresa in 2016 and early 2017. In 2016, the brand closed a $1.25 million Series A funding round with 301 Inc., General Mills' business development and venture capital arm. Tio is currently the leader in the drinkable soup category and available throughout the Northeast and on the West Coast. Additionally, Tio Gazpacho is committed to giving back and donates 5 cents for every bottle sold to Development in Gardening Partnership (DIG), a non-profit whose mission is to ensure that people all over the world have access to quality, nutritious food. For more information, visit www.tiogazpacho.com.
About Beefsteak
Beefsteak, created by chef José Andrés, and led by executive chef Pat Peterson, is a new kind of fast casual concept where farm-fresh, market-driven vegetables take center stage to create hearty, vegetable-centric meals packed with flavor and nutrition. To fuel busy lifestyles and the growing desire to eat well, the affordable and accessible concept executes good food, fast. Beefsteak currently has three locations in Washington, DC (Dupont Circle – 1528 Connecticut Ave NW; Foggy Bottom – 800 22nd St. NW Washington; Tenleytown – 4531 Wisconsin Ave NW), one location in Maryland (Montgomery Mall – 7101 Democracy Blvd), and one location in Philadelphia (UPenn – 3417 Spruce Street).
For more information, visit www.beefsteakveggies.com, or follow on Facebook at Facebook.com/beefsteakveggies, Twitter @Beefsteak & Instagram @beefsteakveggies