Suji's Korean Cuisine Introduces New Retail and Food Service Products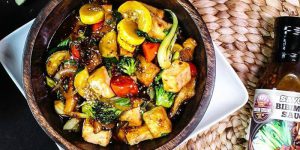 Suji's Korean Cuisine debuted its latest line of products for retail and foodservice at this year's Expo West.
"I'm very excited about our new products. They're a perfect fit for American food trends, but they are based on the age-old cooking traditions of my native Korea," she said. "Our entire line is clean-label and gluten free, both of which we know are very important to today's consumers."
Suji's Korean Cuisine captures the nuances of traditional Korean Cooking while serving up dishes that have broad appeal to the western palate. The high-quality meat is sliced thin, to absorb a rich marinade made of Asian pear, rice wine vinegar, garlic and soy sauce, all in keeping with age-old Korean recipes.
New to the Suji's Family of Products
Complete-meal Savory Beef Rice Bowl and Spicy Chicken Rice Bowl, in frozen and refrigerated varieties, Korean Style Chicken Over Rice, Udon Noodles with Chicken, Spicy Chicken and Potatoes and Kimchi Rice with Uncured Bacon will expand the national brand's line, which launched mid-2014.
"These exciting new Korean dishes reflect the cuisine's rich complexity and mild spiciness that today's consumers are seeking. They take just minutes to prepare, and can be eaten as-is or combined with other ingredients to create personalized family meals," Park said. "All Suji's Korean Cuisine products are made from all-natural ingredients, using non-GMO soy sauces and are free of MSG."
The new products available are:
*Korean Beef Short Ribs: 1lb. and 2lb. varieties
*Scheduled for late 2017 release
Four New Varieties of Bulgogi: 5lb (Foodservice) & 12oz (Consumer)
Savory BeefSpicy PorkSavory ChickenSpicy ChickenReady to Eat (Skin Packs):
Chicken over Rice – 9.5 ozUdon Noodles with Chicken – 9.5 ozSpicy Chicken & Potatoes – 9.0 ozKimchi Rice with Uncured Bacon – 9.0 ozKorean Fresh Rice Bowls:
Beef Bibimbap Bowl – 9.5 ozSpicy Chicken Bibimap – 9.5 ozKorean Fresh Rice Bowls: (Retail – 1 Bowl, Club Pack 4 Bowls)
Spicy Beef Bibimbap Bowl – 10 oz Spicy Chicken Bibimbap – 10 oz Korean Sauce & Marinade (Retail) – 14.4 oz @ 39 oz Varieties
Korean Sauce & Marinade (Food Service) – 1 Gallon, 5 Gallon, and 55 Gallon Sizes
Suji's Korean Cuisine is available in major warehouse club and food retail channels nationwide. Suji's meals, entrees and sauces are also available for sale to the foodservice industry.
About Suji's Korean Cuisine
Suji's Korean Cuisine brings delicious, authentic Korean flavors to the home chef in easy to prepare and personalize "clean label" refrigerated and frozen meals as well as shelf-stable sauces that instantly add a true-to-the-culture taste to foods. The company was founded in 2013 by international entrepreneur Suji Park, known for bringing America's New York-style deli to Korea and Tokyo. Suji's Korean Cuisine is based in Omaha, Nebraska.
Suji's Korean Grill, the first restaurant in the company's upscale Korean restaurant chain opened this summer in Omaha with the second planned in Seattle for 2018.
To learn more about Suji's Korean Cuisine, visit us at www.sujiskorean.com.