SaltWorks Debuts New Look for Artisan Salt Company Brand
WOODINVILLE, WA– Bulk sea salt supplier SaltWorks®, Inc. will debut three new retail-ready packaging styles for its reimagined gourmet and specialty sea salt brand Artisan® Salt Company.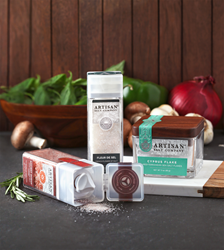 The Artisan line debuted in 2005 and was the first full line of gourmet sea salts ever offered, comprised of traditional sea salts from around the globe, artisanal finishing salts and all-natural handcrafted smoked salts. The new packaging offers tremendous benefits to retailers and consumers alike, and reinforces SaltWorks passion for and commitment to producing the highest quality sea salts available on the market.
"To reimagine and refresh our Artisan brand, we designed packaging and invented containers that are unique, attractive and highly functional," said SaltWorks CEO Mark Zoske. "We are confident that customers are going to love the beauty and versatility, and will be proud to display Artisan on their restaurant tables or in their home kitchens."
Designed from scratch in-house by SaltWorks, the innovative patent pending packaging includes:
New boutique glass jars: The jars were thoughtfully redesigned to be short and wide, making it easy to grab salt with your fingers or use a spoon. The lids are made of solid black walnut wood that is sustainably harvested in the NE United States and feature a food-grade silicone seal invented by SaltWorks to ensure the jars remains airtight.
New salt shakers: Designed to be the standard display width to fit in retailers' spice racks, the unique square shape ensures that the shakers always face forward. With the look and feel of glass, the containers are made of BPA-free polycarbonate that is highly durable for everyday use. SaltWorks' engineering team redesigned the lid to make the containers much easier to refill and ensure the caps close tightly to keep the container airtight when not in use.
Brand new cutting edge salt grinders: Exclusively designed and offered by SaltWorks, the grinder containers are made of the same high quality, unbreakable polycarbonate as the salt shakers and feature a revolutionary ceramic grinding mechanism that is infinitely adjustable to produce any desired granulation, from a very fine powder-like consistency to coarse, crunchy crystals. The container can easily be refilled and reused.
SaltWorks focused on sustainability and each packaging style is meant to be refilled and reused by consumers. The new packaging options are available for retailers in wholesale case quantities of six containers on SaltWorks' wholesale website: http://www.seasalt.com/wholesale.
About SaltWorks, Inc.
The most trusted name in the salt business, SaltWorks has been satisfying salt enthusiasts around the world since 2001. Serving wholesale, distributor, and bulk customers as well as individual consumers, SaltWorks offers a superior selection of the highest quality all-natural sea and mineral salts in a range of exact grain sizes and quantities to suit any application. The first and largest specialty salt company in the world, SaltWorks truly pioneered the gourmet salt business and produces the finest brands including Artisan® Salt Company, Ancient Ocean® Himalayan Pink Salt, Fusion® naturally flavored salts, Pure Ocean®, Pacific Blue® Kosher Flake Sea Salt, Ultra Epsom® and Bokek® Premium Dead Sea Salt. SaltWorks continues to revolutionize the natural salt industry with its steadfast dedication to innovation, product integrity and world-class customer service. Proudly certified SQF Level 2 with an Excellent rating, SaltWorks is also fully HAACP and GMP accredited by NSF International®. All SaltWorks products are all natural, kosher certified and guaranteed for purity and quality. Discover the SaltWorks Difference and shop the best sea salts in the world at http://www.seasalt.com.