Premier Protein Launches Improved 30g Protein Bars With No Artificial Sweeteners, Flavors Or Colors
EMERYVILLE, Calif.– Premier Protein has launched a new line of protein bars with no artificial sweeteners, flavors or colors. The new 30g protein bars join Premier Protein's existing lineup of shakes, bars and powders, and are packed with protein, not with sugar or calories (more calories from protein than sugar),* providing consumers with sustained energy to help them do what they need and achieve what they want.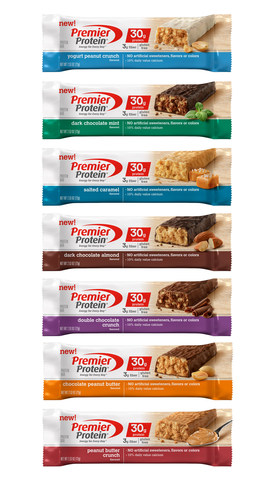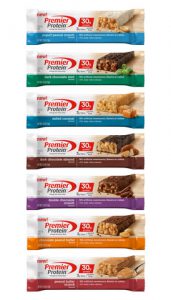 Five of the existing 30g bar flavors have been refreshed – Chocolate Peanut Butter, Yogurt Peanut Crunch, Peanut Butter Crunch, Dark Chocolate Mint and Double Chocolate Crunch. Plus, two brand new flavors have joined the lineup – Salted Caramel and Dark Chocolate Almond. Premier Protein's new 30g bars can help those looking to stay active with the help of great tasting protein, something that's on everyone's mind as they try and stick to their New Year's resolutions. Each gluten free bar contains 30g of protein, 3g fiber, and 10% daily value calcium.*
"Whether you're grabbing breakfast on-the-go or in need of an afternoon snack, Premier Protein's new and improved 30g bars give you sustained energy when you need it most," said Jennifer McKnight, Director of Marketing, Premier Nutrition. "Packed with the same great taste and protein our customers have come to love, but with no artificial sweeteners, flavors or colors, we're excited about this new line and are committed to continuing to innovate to bring delicious and nutritious products to our fans."
Premier Protein's new 30g bars are now available for sale at select grocery and club stores nationwide and will be available on Premier Protein's website this month. For more information on Premier Protein, please visit http://www.premierprotein.com/ and https://www.facebook.com/PremierProtein.
* See nutrition information for fat and saturated fat content.
About Premier Nutrition Corp.
Premier Nutrition Corporation (PNC), a subsidiary of Post Holdings, Inc., manufactures and distributes nutritional food and beverage products under the brand names of Joint Juice and Premier Protein. Our products have compelling, functional benefits and appeal to a broad range of people pursuing healthy lifestyles.