Jarlsberg Cheese Takes On A New Shape
Darien, CT– To celebrate their 60th Anniversary, Jarlsberg® Cheese is debuting the hottest and perhaps most thrilling new addition to their iconic cheese family yet: Jarlsberg® Cheese Snacks. Fans can now savor the delicious classic taste of Jarlsberg Cheese, with a mild, mellow and nutty flavor, in this delightful, portable snack. Jarlsberg Cheese Snacks are naturally gluten and lactose free and were created to satisfy customer demand for more convenient, wholesome and delicious snacking options.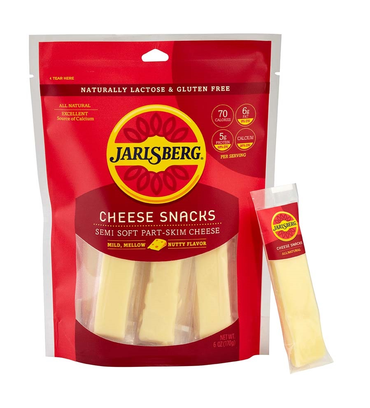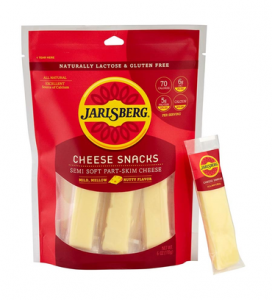 These individually wrapped Cheese Snacks are ¾ oz in the stick format and will be an instant favorite go-to snack for all ages. Stats show that snacking is a booming, $87 billion business, and on the rise, with snacks accounting for 51 percent of all food sales. These new Cheese Snacks will fly off the shelves and appeal to consumers for picnics, back-to-school lunches, or wholesome on-the-go snacking. Every Cheese Snack is portion controlled with only 70 calories, and is an all-natural snack with 5 grams of protein. Jarlsberg Cheese Snacks come in 6 ounce size packages of individual wrapped cheese sticks with an SRP of $5.99-$6.99.
"Jarlsberg Cheese Snacks bring the outstanding, delicious flavor of the most incredible cheese in the world to a totally portable snacking size, in the convenience of individually wrapped cheese sticks," says Debbie Seife General Manager of Marketing for Jarlsberg Cheese. "This is the first time Jarlsberg Cheese will be available in a cheese stick format, which are the go-to snacking option for all ages."
Jarlsberg Cheese is available nationwide in the specialty cheese case in the deli at grocery retailers, and comes in pre-sliced packages, or sliced at the deli counter, and is also available in club stores. There is a Jarlsberg Cheese available for every palate:
Jarlsberg® Cheese is famous for its characteristic mild, mellow and nutty taste and its large round holes.
Jarlsberg® Lite Cheese Lite has the same mild flavor as regular Jarlsberg® Cheese with 50% less fat and 30% fewer calories, than regular Swiss cheese. This reduced-fat variety of Jarlsberg® Cheese has the characteristic large round holes, with a lower fat content – perfect for those days when you crave the sweet, nutty delights of Jarlsberg® Cheese but need to watch your diet.
Jarlsberg® Hickory Smoked Cheese has a piquant smoky taste, and like most smoked foods has a darker, browner surface. Jarlsberg® Hickory Smoked Cheese is cold smoked over smoldering, hickory chip embers, this hickory smoked flavor will enhance your cold or hot foods, with its deep, smoky charms.
About Jarlsberg Cheese
In 1956, we created Jarlsberg® Cheese, using an original Norwegian recipe. Why does Jarlsberg® cheese taste so mild, nutty and delicious? It's all part of the legend…and Norway's most guarded recipe! Jarlsberg Cheese Minis is the winner of Men's Health Best Snack Award for 2014 and 2015. All Jarlsberg Cheese varieties are naturally lactose and gluten free.
For a complete product list and more recipes go to www.jarlsberg.com