Good Health Unveils New Avocado Oil Ridge Cut Potato Chips
Greensboro, NC– Good Health, creator of crunchy, crave-worthy snacks that make it easy to make better choices, is adding to its robust portfolio of better-for-you snacks with an exciting new line of Avocado Oil Ridge Cut™ Potato Chips launching at Natural Products Expo West at booth #2887. Harnessing the nutritional power of pure avocado oil, the crunchy new varieties are Certified Gluten Free and available in four flavors for every snacker: Sea Salt, Creamy French Onion, Jalapeno Cheddar Jack and Buffalo & Cool Blue Ranch.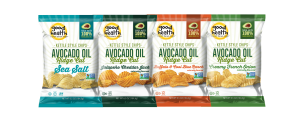 Natural Product Expo West attendees are invited to be among the first to sample and learn more about the Avocado Oil Ridge Cut Potato Chips, among other savory snacks like those with hidden vegetables, at booth #2887.
"Today's shoppers demand better-for-you foods for every eating occasion, and our new Avocado Oil Ridge Cut Potato Chips give people everywhere a unique snack that unites crunch and on-trend ingredients like avocado oil," said Mary Schulman, vice president of strategy at Good Health. "Avocado oil is a great source of healthy monounsaturated fats, and combined with the ridge cut shape and recognizable flavors, our new chips are a stand-out option in the crowded chip aisle. But beyond popping on retail shelves, our avocado oil chips are an approachable option for regular snackers and families who want a better chip for their kids."
Made with no artificial colors or hydrogenated oils, Avocado Oil Ridge Cut Potato Chips contain zero grams of trans fat. Containing 10 percent of the recommended daily vitamin C, the chips are also only 150 calories per serving and are available in 6.5-oz. bags for easy sharing.
Avocado Oil Ridge Cut Potato Chips join Good Health's existing line of crispy Avocado Oil Kettle Chips, in addition to the brand's other veggie, potato and sweet potato kettle style chips, Veggie Stix® and straws, popcorn, pretzels, tortilla chips and apple chips.
The new line will launch in retailers later this year. Additional Good Health products are available nationwide in natural and grocery stores including Safeway and Kroger, as well as national retailers such as Target, Walmart and CVS Pharmacy. For more information about Good Health or to view its full lineup of craveable snacks, please visit www.goodhealthsnacks.com.
About Good Health
Good Health® is the creator of crunchy, crave-worthy snacks that make it easy to make better choices. A trailblazer in common sense snacking, Good Health's robust portfolio of good-for-you snacks are made with better-for-you, high-quality ingredients the whole family can enjoy, including olive and avocado oils, whole grains, sweet potatoes and vegetables – all so you can Enjoy Being Good®! Passionate about making life and good snacks even better since 1994, Good Health has been at the forefront of growing consumer demand for snacks that offer something more than traditional options, without sacrificing great taste. For more information, visit www.goodhealthsnacks.com.