Dr. Praeger's Launches New Line of Veggie Bowls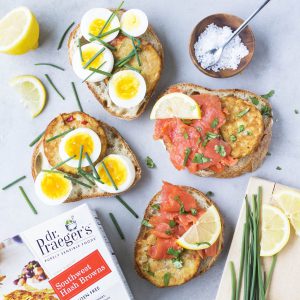 Dr. Praeger's is tapping into one of the hottest healthy food trends with its newest product innovation: flavorful, plant-driven bowls. The line of heat-and-eat bowls debuted at Natural Products Expo West, featuring both classic favorites as well as globally-inspired flavor pairings in six satisfying varieties spanning breakfast to dinner.
Mediterranean Falafel Bowl – Falafel, hummus and harissa covered cauliflower over a bed of quinoa and hemp heart tabbouleh. Gluten Free and veganVeggie Masala Bowl – A flavorful stew of veggies, lentils, kidney beans and tofu mixed with traditional Indian sauce over a bed of quinoa. Gluten FreeEgg White & Kale Breakfast Bowl – Cage free scrambled egg whites, kale, potatoes, onions and peppers, topped with cheddar cheese. Gluten FreeHuevos Rancheros Breakfast Bowl – Cage free egg whites, black beans, potatoes, salsa and cheese atop a corn tortilla. Gluten FreeMac & Cheese Bowl – Wagon wheel pasta and creamy cheddar cheese (with hidden veggies!).Hearty Breakfast Bowl – Cheesy cage free scrambled eggs, potatoes and a side of Silver Dollar pancakes. Shhhh… the cheese is made with hidden veggies, like carrots, sweet potatoes and butternut squash!"More than 22 million Americans describe themselves as flexitarian, whether they're looking to incorporate more plant-based foods or reduce meat intake with fish," says CEO Larry Praeger. "We're cooking up new recipes for a whole new generation of eaters who don't want to sacrifice health for convenience."
In addition to the new line of bowls, Dr. Praeger's is expanding its Veggie Cakes line with Brussels Sprout Cakes and adding to its lineup of Veggie Puffs with Four Potato Puffs, a twist on the brand's popular Four Potato Hash Browns. Both are certified gluten free and Kosher. Non GMO Project verification is pending for all new products.
About Dr. Praeger's
Dr. Praeger's Sensible Foods was founded in 1994 by two practicing cardiothoracic surgeons. The doctors set out on a simple mission to make eating healthfully delicious. Today, the family owned and operated company is a leader in the all-natural, vegetarian, vegan, gluten free, and kosher frozen food categories, and is the exclusive veggie burger provider for White Castle. The company's wide ranging line of products includes veggie burgers, bowls, cakes, puffs and hash browns, as well as sustainable seafood items, Kid's Littles, and more. For more information visit www.drpraegers.com.