Smart Flour Foods Announces Non-GMO Project Verification for Pizza Crusts
Austin, TX – Smart Flour Foods is announcing Non-GMO Project Verification for its popular pizza crusts. Having always placed high priority on creating premium products with a simple and clean ingredient deck, achieving Non-GMO Project Verified status for the crusts falls right in line with the company's values. Leading the way in creating great-tasting products with the power of ancient grains, Smart Flour Foods has brought a whole new level of gourmet taste and quality nutrition to the natural food category and frozen pizza aisle.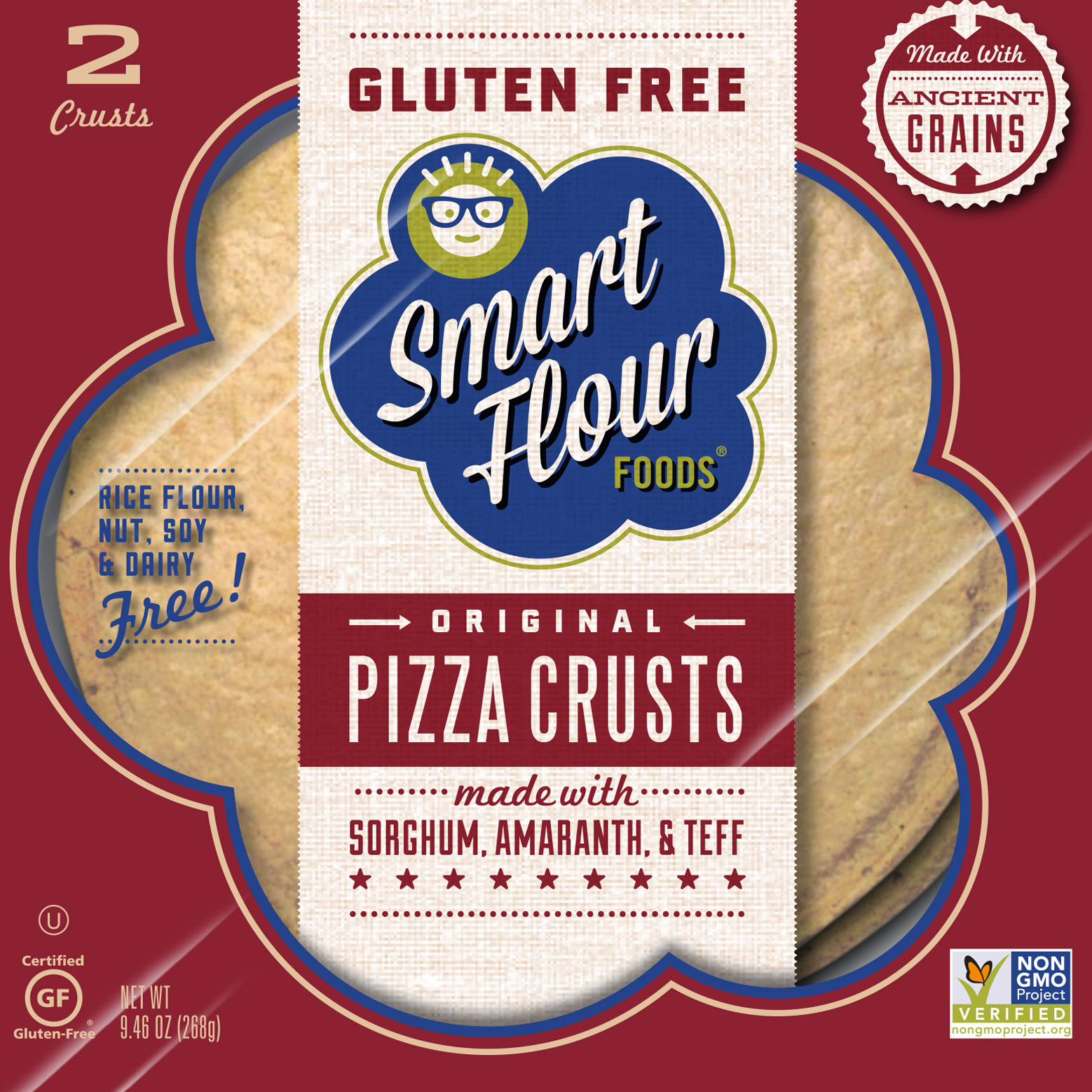 Smart Flour Foods' pizza crusts are made with a proprietary flour blend of naturally gluten-free sorghum, amaranth and teff, which provide a delicious taste, classic texture, and enhanced nutritional profile. They are also certified gluten free, vegan, soy free, dairy free, and Kosher. Smart Flour Foods' gluten-intolerant CEO, Charlie Pace, first fell in love with the crusts at a local pizza restaurant in Austin. Recognizing the product's untapped potential and popularity in restaurants, he led the team to introduce a retail lineup of frozen pizza and crust in September 2013. Smart Flour Foods' award-winning legacy flavors grew a loyal following and became nationally available at stores across the country.
Currently boasting 10 products in its retail lineup and experiencing significant growth in the restaurant business, the company continues to innovate with the introduction of chef-inspired, Italian varieties, including Tuscan-Inspired Uncured Two Meat and Chicken Sausage. Smart Flour Foods recently received Grocery Headquarters' 2016 Wellness Trailblazer Award, which honors innovators in the wellness segment, and the new flavors were selected as 2015 "Editors' Picks" by food industry media leaders Gourmet Retailer and Progressive Grocer. In addition, Smart Flour Foods recently launched a family-size lineup featuring classic flavors and a new Italian sausage variety. The larger product size is designed to appeal to mainstream consumers looking for better-for-you alternatives to classic comfort foods.
Sameer Shah, Smart Flour Foods' VP of Marketing, commented, "The feedback we've received over the years for our ancient-grain based products has been amazing. We're honored to not just be part of the natural foods movement but to be paving the way for higher-quality and more nutritious products that can be enjoyed by the whole family!"
All of Smart Flour Foods' pizzas are free of hormones, nitrates and nitrites. In addition, thanks to its ancient grain ingredients, Smart Flour Foods' pizza is higher in protein, vitamins and minerals than many leading conventional and gluten-free pizza brands.
About Smart Flour Foods: Smart Flour Foods believes that everyone should love what they eat and is passionate about creating great-tasting, better-for-you foods through the power of ancient grains. Smart Flour Foods' frozen pizzas and pizza crusts are sold at retailers across the country, including Whole Foods Market, Sprouts, Kroger, Wegmans, Stop and Shop, and many others. The company's pizza crusts and other foodservice products are also available at restaurants nationwide, including popular chains like Spago, Mellow Mushroom, Giordano's, Pie Five, Blue Moon Pizza, The Original Pancake House, and Lifetime Fitness. For more information visit www.smartflourfoods.com and find @smartflourfoods on Facebook, Twitter and Instagram.