Santa Cruz Organic Launches New Peanut Powder
CHICO, Calif., Jan. 6, 2016 /PRNewswire/ — From peanut butter cookies to PB&Js, peanut butter is a classic ingredient found in many pantries and favorite family recipes. Santa Cruz Organic® is one of the top branded organic peanut butter makers in the natural channel¹. The brand brings new innovation to the pantry staple with the release of Santa Cruz Organic Peanut Powder. Available in two delicious varieties – Original Peanut Powder and Peanut Powder with Milled Chia Seeds. The new peanut powder offerings also have a re-sealable pouch, making storage easy.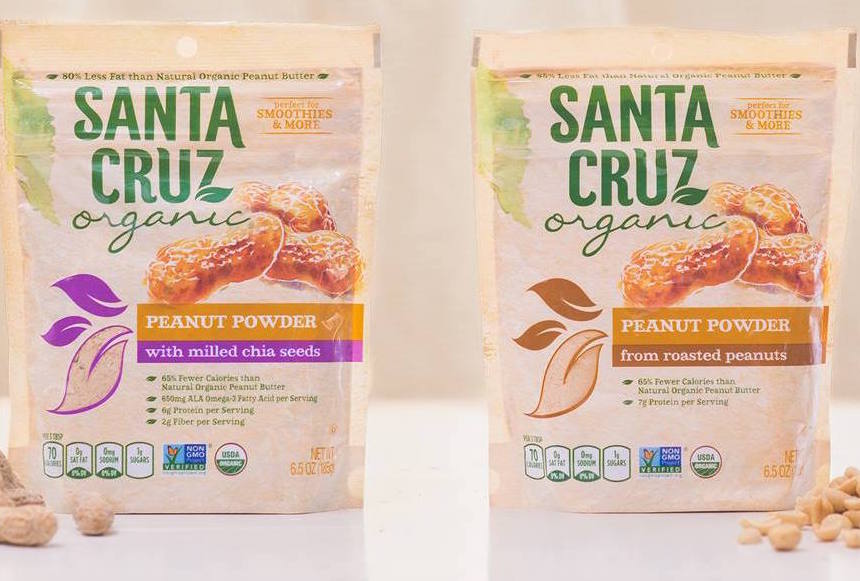 Substitute traditional peanut butter with Santa Cruz Organic Peanut Powder in smoothies and favorite peanut butter recipes. With at least 80% less fat and 65% fewer calories than natural organic peanut butter, Peanut Powder is an option for those looking for delicious peanut flavor without all the fat and calories of traditional peanut butter. Santa Cruz Organic Original Peanut Powder variety also has 7g of protein (9% DV) per serving, and is a tasty addition to any balanced meal.
All Santa Cruz Organic products are Certified USDA Organic Non-GMO Project® Verified.
The suggested retail price of Santa Cruz Organic Peanut Powder is $6.49 – $7.49. Both varieties are available for online purchase and can be found at select retailers. Santa Cruz Organic Original Peanut Powder and Santa Cruz Organic Peanut Powder with Milled Chia Seeds join more than 60 Santa Cruz Organic products; all made with Certified USDA organic ingredients.
About Santa Cruz Organic: As a pioneer organic brand, Santa Cruz Organic® was the first to have a wide range of organic, 100 percent juices and blends and the first juice processor to use all organic fruit sourced from growers certified by an independent, third-party certification organization. With a history of developing innovative products, Santa Cruz Organic currently offers more than 60 organic items ranging from organic fruit juices and lemonades to organic fruit sauces, chocolate syrups, peanut butters and fruit spreads. Visit www.santacruzorganic.com for more information.
Source: 1 – SPINS, Natural Channel, Peanut Butter segment, 52-week data through 10/4/15
Like what you're reading?
Subscribe to BevNET+NOSH Today
Subscribe today and get access to the leading industry resources in the food &amp beverage industries. News, trends, industry data, expert analysis and much more.
Access all of these benefits:
Unlimited access to all content on BevNET.com and NOSH.com
Exclusive access to hundreds of educational videos
Watch subscriber-only live programs such as Office Hours