Peanut Butter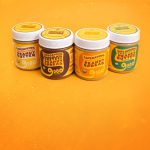 Good Spread is growing its "authenticity tracking system," transitioning all of its lines to organic, and expanding its food service division. But even as the company continues to scale, innovate and increase its operational capabilities, its mission — and love of peanut butter — has stayed the same.
Santa Cruz Organic brings new innovation to the pantry staple with the release of Santa Cruz Organic Peanut Powder, available in two delicious varieties – Original Peanut Powder and Peanut Powder with Milled Chia Seeds. The new peanut powder offerings also have a re-sealable pouch, making storage easy.
Peanut Butter & Co. is pleased to introduce its newest flavor of delicious peanut butter: Pumpkin Spice. The company has blended their smooth peanut butter with real pumpkin and yummy pumpkin pie spices like cinnamon and nutmeg to create its first ever limited edition seasonal peanut butter, available starting August 31st, 2015 while supplies last.