How a Peanut Butter Company Is Spreading Good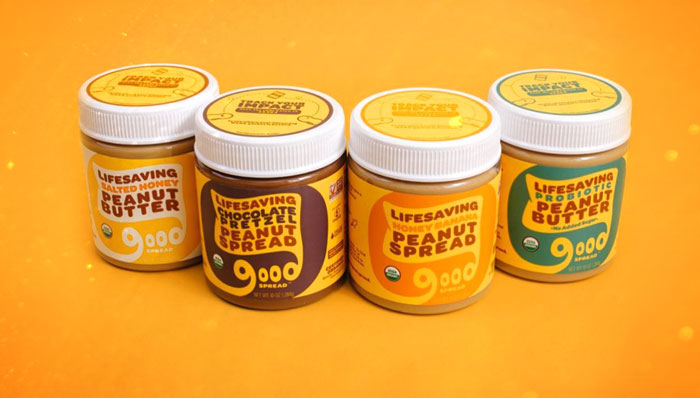 In a Nashville, Tennessee garage adorned with a single photo of George Washington Carver, Good Spread founders Alex Cox and Mark Slagle were working tirelessly to find a way to alleviate global child malnutrition. Their answer to the global crisis, however, was a bit unorthodox: sell peanut butter.
That was 2011. Six years later, the company is a long way from its garage roots thanks in part to longtime CPG investor Robbie Vitrano, who joined GoodSpread first as an advisor in 2013 and then as CEO in 2015. Now, Good Spread is growing its "authenticity tracking system," transitioning all of its lines to organic, and expanding its food service division. But even as the company continues to scale, innovate and increase its operational capabilities, its mission — and love of peanut butter — has stayed the same.
The idea for Good Spread was born when Cox and Slagle were working as brand advocates for MANA Nutrition, a nonprofit organization that provides malnourished children with Mother Administered Nutritive Aid (MANA), a pouch that contains essentially fortified peanut butter. The goal of the Ready-to-Use Therapeutic Food (RUTF), is to significantly reduce the number of deaths resulting from severe acute malnutrition in Africa, particularly Uganda where roughly 420,000 children have moved as refugees in the last four years.
Working with MANA's CEO Mark Moore, the duo started the company by embracing a "one-to-one" model: for every package of peanut butter sold, one packet of MANA's RUTF would be sent to a child in need. To become a for-profit business, Good Spread left MANA's non-profit umbrella and, later, added Vitrano, who was an associate of Moore, full-time.
"Before Robbie stepped in full time, Mark and I were so mission focused and we had no business skills or connections at that point. We knew we needed more business direction," Cox said. "If the business doesn't get solid and tight, and we don't find ourselves within the right niche, none of this matters anyway."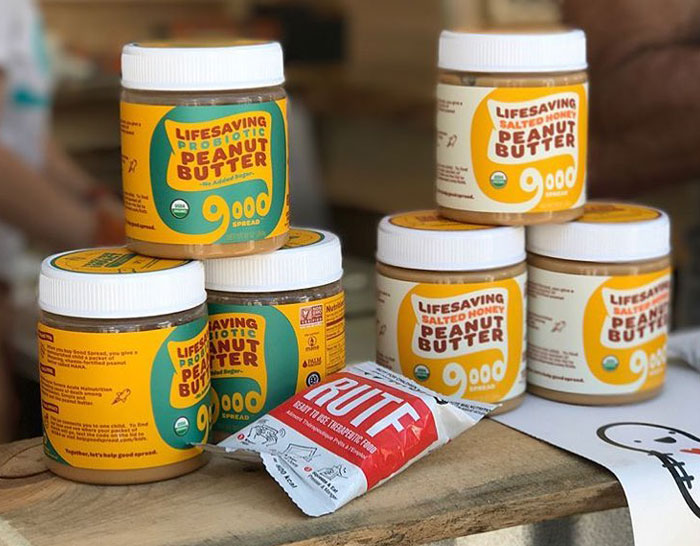 Vitrano said the first step for Good Spread to further its mission was to get the product on more shelves, which meant partnering with a new co-packer and changing operational procedures to go from a single-serve packets to jars.
In May, the company closed its first Kickstarter campaign after raising over $20,000 to help shift to organic production and launch three new flavors: chocolate pretzel, honey banana and unsweetened probiotic. The SKUs, which have an SRP of $6.99, were designed to help the brand stand out on shelf by offering consumers creative flavors.
The move to organic reflects the company's overall commitment to full transparency and integrity within its supply chain. Vitrano noted that peanut butter is a $3 billion global category, yet only a quarter is natural and organic.
"The idea was that we are not chasing trends — though we are paying attention to that — the idea is that as a company that was born from a very clear purpose and very concerned with the welfare of children who are malnourished, we should have equal transparency into our entire supply chain," Vitrano said.
In support of transparency, each product also features a unique tracking code that consumers can use to follow where their MANA packet is headed. To do this, Good Spread partners with local aid organizations like World Vision and MANA to identify areas with the most need. Right now about 10 to 15 percent of the brand's customers track their donations, but Vitrano said with increased marketing efforts the company hopes to grow that closer to 20 percent.
"The way we think about it is a marketing piece and a legitimacy piece," he said. "We love the ability to reach out to a customer who has opted in…I think as we tell the story more [it will] create a richer experience for the customer."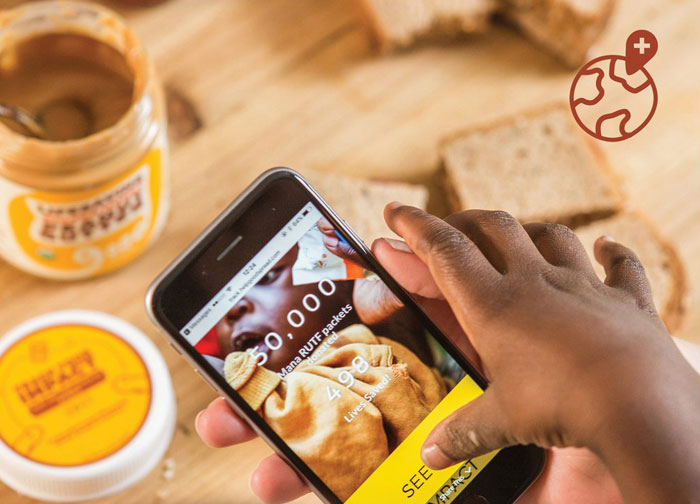 Good Spread is currently sold in over 420 stores including Whole Foods Market's Rocky Mountain region, Harris Teeter and Kroger, and expects to be in 1,000 doors within a year. Currently about half the brand's sales come from retail, with the remaining half split between e-commerce and foodservice, the latter a key focus for the company in 2018.
For the future, Vitrano plans to focus on the company's marketing efforts and product platform in order to gain both retailers and investors. Vitrano and Cox both also want to deepen the company's relationship with MANA through the sharing of ingredients and production equipment. Currently, the two businesses are fiscally separate, but Cox noted they share "deep philosophical integration." Moore agreed.
"My dream for both would be to have them under one roof in some way, but still independently operating and making their own calls" he said. "[Good Spread] could say yes to every crazy idea we wanted to launch and not be beholding to overpriced co-packing that comes to small volume companies like we are today. MANA has the food safety experts, the production experts already, all things that a small peanut butter company with Good Spread's current tiny market share would [find] impossible to fund or sustain on their own."
While the brand has serious intentions when it comes to effecting change with world hunger, Cox said it's also important to him that the brand has been able to maintain it's "fun."
"At the beginning, a lot of our inspiration was Dr. Seuss wanting to be whimsical, fun and funny," Cox said. "It was about relating the ease of purchase and process to the intensity of the mission to balance that out."