Peanut Butter & Co. Launches First Limited Edition Flavor: Pumpkin Spice Peanut Butter
NEW YORK, NY (PRWEB) AUGUST 31, 2015 — Just in time for the fall season, Peanut Butter & Co. is pleased to introduce its newest flavor of delicious peanut butter: Pumpkin Spice. The company has taken its award-winning smooth peanut butter and blended it with real pumpkin and yummy pumpkin pie spices like cinnamon and nutmeg to create its first ever limited edition seasonal peanut butter, available starting August 31st, 2015 while supplies last.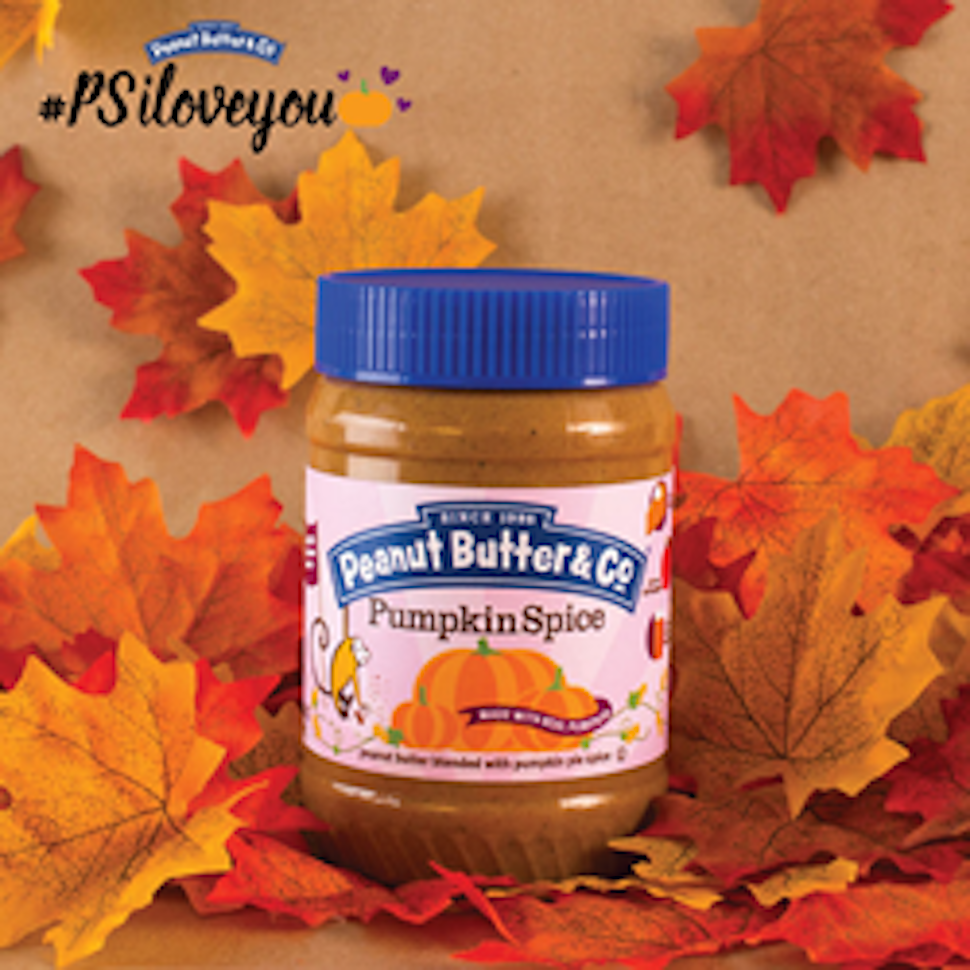 More than just a sandwich spread, Peanut Butter & Co.'s Pumpkin Spice peanut butter is delicious in recipes, amazing on apples, or perfect eaten straight from the jar.
Recipes using Pumpkin Spice peanut butter, including a Peanut Butter Pumpkin Spice Latte and Pumpkin Spice Peanut Butter Cheesecake, can be found at ilovepeanutbutter.com/pumpkinspice.
"Pumpkin Spice is our first ever seasonal flavor, and I hope our fans are as excited about it as I am," said Lee Zalben, Founder & President of Peanut Butter & Co. "With real pumpkin and delicious pumpkin pie spice, it may quickly become a new fall favorite and we hope it'll have everyone saying Pumpkin Spice, I love you!"
To promote the new flavor, Peanut Butter & Co. is giving away pumpkin spice-themed gift boxes containing Pumpkin Spice peanut butter and other treats as part of their #PSiloveyou campaign. The giveaway runs through September 2015 at ilovepeanutbutter.com/pumpkinspice, where consumers can enter to win a #PSiloveyou gift box. Additional #PSiloveyou boxes will be given away on Facebook, Twitter, and Instagram throughout October 2015.
The Pumpkin Spice limited edition seasonal flavor joins Peanut Butter & Co.'s lineup of ten varieties of delicious peanut butter made with simple ingredients. Like all Peanut Butter & Co. peanut butter, Pumpkin Spice peanut butter is made exclusively with USA-grown, Non-GMO peanuts and contains no cholesterol, no trans-fats, no hydrogenated oils, and is dairy-free and soy-free.
Beginning August 31, 2015, Peanut Butter & Co. Pumpkin Spice peanut butter will be available online at ilovepeanutbutter.com. Starting September 2015, it will be available at select Sprouts, Fresh Market, Shop 'N Kart, and Chuck's Produce locations, as well as online at Amazon.com.
About Peanut Butter & Co. — Peanut Butter & Co. began in 1998 as a cozy little sandwich shop in Greenwich Village, NYC and has since become one of the fastest growing natural/specialty food companies in the US. The company's ten varieties of non-GMO Project Verified, flavored peanut butter are available in over 15,000 supermarkets and specialty retailers. Peanut Butter & Co. is the #1 selling brand of all natural chocolate nut spreads in the US (Source: IRI). Peanut Butter & Co.'s products are made exclusively from USA-grown peanuts and were recently featured on The Dr. Oz Show, CBS Sunday Morning, and Fox & Friends. Find out more at ilovepeanutbutter.com, facebook.com/PeanutButterCo, and twitter.com/PeanutButterCo.