Enjoy Life Foods Showcases New ProBurst Bites and Baking Chocolate Snack Packs
Chicago, IL  – Enjoy Life Foods, the leading brand in the growing Free-From category, showcased new plant-based protein-packed ProBurst Bites™ and snack-size versions of the brand's best-selling baking chocolate, Baking Chocolate Snack Packs, at Natural Products Expo East. Hitting store shelves in the gluten-free aisles nationwide throughout October, the ProBurst Bites and Baking Chocolate Snack Packs are made with rich dark and semi-sweet chocolate and are available in bite-size snacks convenient for noshing on-the-go.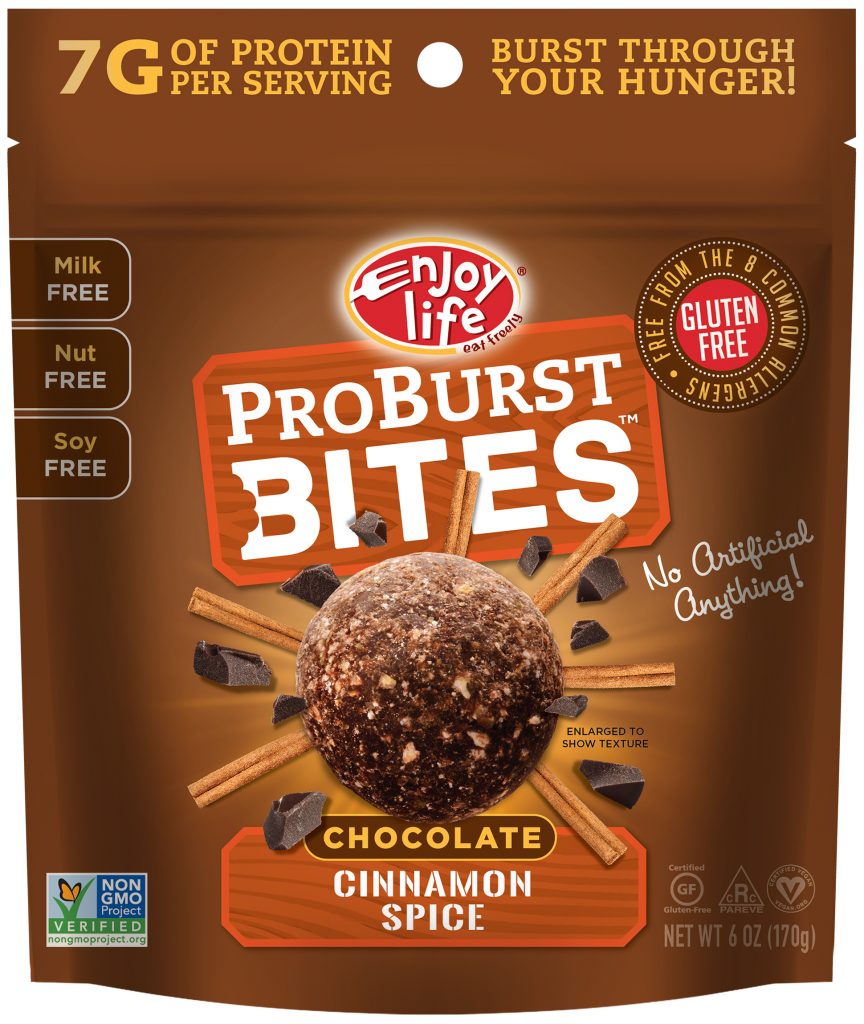 True to its Free-From product portfolio promise, Enjoy Life's latest Expo East innovations are baked in a dedicated gluten-free and nut-free bakery that produces products free-from the top eight common food allergens, identified as milk, eggs, fish, crustacean shellfish, tree nuts, peanuts, wheat and soy. Both products are also Non-GMO Project Verified and Certified Kosher and Halal.
"Following the opening of our new 200,000 square foot dedicated allergy-friendly bakery – the largest in North America – we're excited to continue growing our Free-From footprint with these exceptionally delicious and innovative new snacks," said Joel Warady, Chief Marketing & Innovation Officer at Enjoy Life Foods. "We've found that clean protein is one area that many people are trying to consume more of in their daily diets and we believe we've truly hit on something special with our new high-protein truffle-like ProBurst Bites. Coupled with our grab-and-go Baking Chocolate Snack Packs and other exciting launches that have hit shelves this year, we're proud to provide the 100 million Americas suffering from food allergies, food intolerances and Celiac Disease with safe, enjoyable options."
Bursting with six to seven grams of tasty plant-based protein in each poppable bite, Enjoy Life's new ProBurst Bites™ are an ideal protein boost post-workout, while snacking on-the-move, or as a midday pick-me-up. Varieties include Cranberry Orange, SunSeed™ Butter, Cinnamon Spice and Mango Habanero. Touting a convenient resealable pouch, each protein-rich ball is rolled in a crunchy blend of seeds and spices, with a creamy chocolate center. ProBurst Bites retail for $6.99.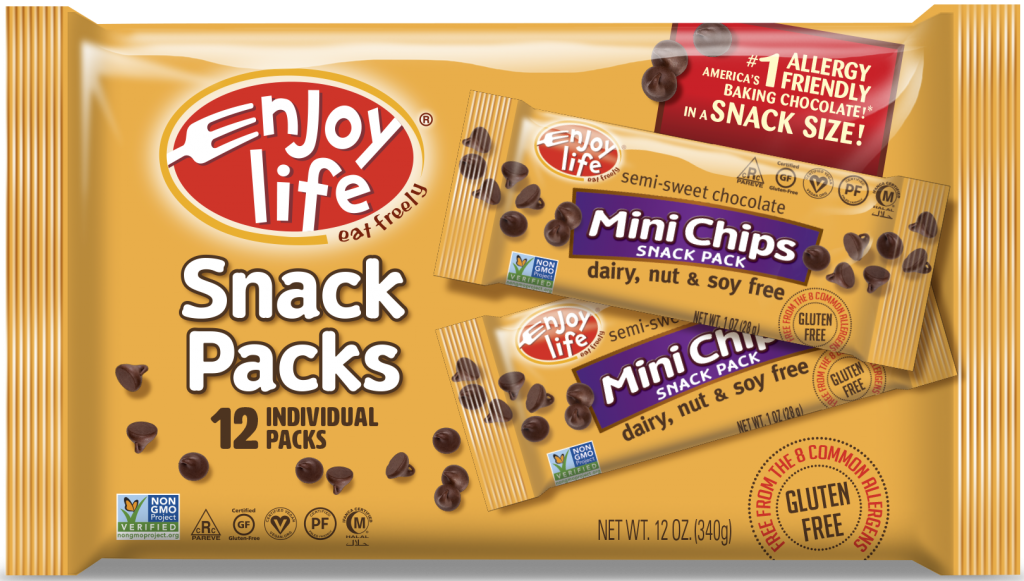 Introduced to the Enjoy Life lineup of allergy-friendly baking chocolates by popular demand, the Baking Chocolate Snack Packs have two varieties of decadently smooth chocolate chips: Mini Chips and Dark Chocolate Morsels. Containing perfectly portioned versions of the brand's top-selling baking chocolate, each snack pack is available in one ounce pouches and retails for $7.59/12 pack.
Enjoy Life will also be sampling two new flavors of its savory lentil chip product line, Plentils, that come in on-trend, bold flavors including Thai Chili Lime and Moroccan Spice. Embracing the uniqueness of Plentils, each variety contains 40 percent less fat than traditional chips, which embodies Enjoy Life's goal of adding additional plant-based SKU's to its portfolio.
In addition, Enjoy Life will also be sampling its new line of Mini Cookies, which launched in July 2016. Featuring the same wholesome ingredients and many of the same popular flavor profiles as the brand's full-size cookie counterparts, Soft Baked Minis flavors include Chocolate Chip, Double Chocolate Brownie and Snickerdoodle, while the Crunchy Minis are available in Chocolate Chip, Double Chocolate, Vanilla Honey Graham and Sugar Crisp.
To learn more about Enjoy Life's full lineup of allergy-friendly and gluten-free snacks, visit www.enjoylifefoods.com.
About Enjoy Life Foods: Enjoy Life Foods is the leading brand in the growing Free-From category, featuring a robust portfolio of Certified Gluten-Free and Non-GMO Project Verified products that are free-from the eight most common food allergens, identified as wheat, dairy, peanuts, tree nuts, egg, soy, fish and shellfish. Founded with the goal to create great-tasting, allergy-friendly foods, the Enjoy Life line includes cookies, snack bars, chocolate bars, baking chocolate, baking mixes, seed and fruit mixes, and lentil-based chips, called Plentils, all available in natural and conventional grocers and mass retailers throughout the United States and Canada. Enjoy Life's mission and brand promise is to deliver safe, better-for-you products free-from the top eight food allergens, but not free-from taste so everyone can Enjoy Life to the Fullest! To learn more about Enjoy Life, visit www.enjoylifefoods.com, 'Like' us on Facebook, or follow us on Twitter.